This post is specially dedicated to Miss Raeann Ho.
Friends who know me well will know that i had a hard time conceiving her. The 10 months didn't go smooth and easy for me. I had morning sickness, fever, mile pre-natal depression, etc. I cried many many times due to the pain, backache and quarrels with Raeann's daddy.
I hope everything will be worthwhile...
Here's a summary of the 10 hard months that i've gone through:-
P/S: The doctor did not give pictures on every scan i went...
Raeann's first ultrasound on 23rd January 2007.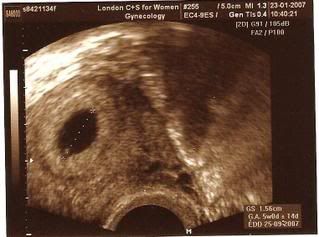 Doc told me she was 5 weeks old then, so tiny like an egg. But that time, both me and ZY were not prepared to have a kid yet. I didn't know how to tell my parents... So the thought of aborting her away keep running through my mind, i'm glad i didn't!
Few days after this scan, i broke the news to my mum. As i expected, things doesn't turn out really well (My mum was very upset about it.) but I'm quite impressed of myself actually for being able to pluck up my courage to tell my parents. Althought my mum didn't really like me to get marry at such a young age, she also accepted it eventually. As CNY was also approaching, everyone of us become really busy, especially me & Zy. We have to do so many things like; finding and booking of banquets, studio photo-shooting before i get really fat, buying wedding stuffs, etc etc etc...
One week after the scan, my morning sickness came...
I vomitted every morning and i think my body cannot take it so i had fever almost every week for about 1 month. Soon, morning sickness became evening sickness, i vomitted every evening and didn't had my dinner for that period of time. I will puke everything i eat (even birdnest, ma de so expensive!) so i think there's no point eating also. This lasted for about 4 months!!!! OMG.
FYI, my appetite totally changed completely. The food that i used to like, i avoided it like plague. The food that i didn't touch last time, i always crave for it... Being pregnant can really change a person huh?
-------------------------------
Raeann's 2nd ultrasound on 23rd February 2007.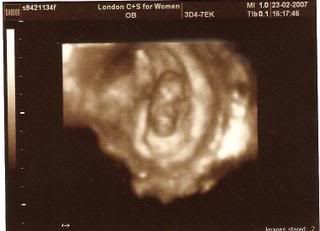 Finally can see the shape abit. It's still very small lah!
I loses weight at the initial stage of my pregnancy. The doctor asked me to eat more, but i can't! I puke everything i eat... And that's why resulted in the weight loss.
Still, busy with preparing of my wedding...
-----------------------------------
On
21st March 2007
, which is 3 days before my wedding, we went out for ladies night! I weren't that fat yet.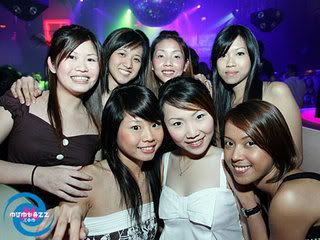 With the girls, hugz!
24th March 2007
arrived...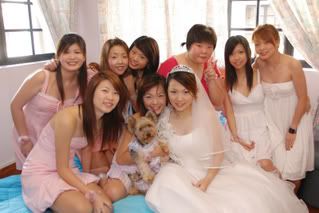 My 姐妹!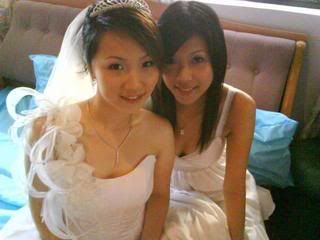 With Chanel.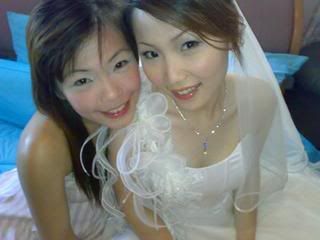 With Annie.
--------------------------------
Raeann's 3rd ultrasound on 2nd April 2007.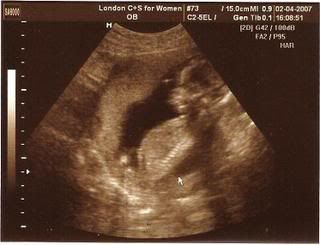 Growing and growing inside me... My weight didn't go up much as well, only about 1kg and doc is still urging me to eat more. But luckily Raeann is growing quite well inside. :) I will be extremely happy everytime i go for scanning, cos i get to see her growing bigger and bigger.
Also did my blood test on down syndrome risk, doc gave me some iron and DHA pills. I fainted outside Bukit Batok POSB bank when i was alone the next day, don't know issit due to the iron pills anot. Luckily there are 好公民 around whom helped me up and gave me medicated oil etc. I cried cos i was damn shock lah, suddenly black out for 1 minute. I hope they don't recognise me anymore, so embarassing!
--------------------------------
Raeann's 4th ultrasound on 30th April 2007.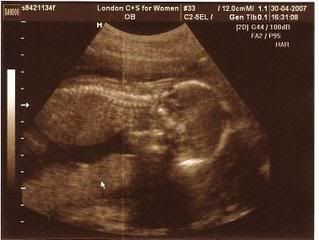 This is the most unhappy and worst scan i went for.
My blood test shows the risk of Raeann having down sydrome is 1:7200, which is super super low risk. But when i thought everything was going fine and smooth, the scan shows that there are 2 bubbles on her brain, one on each side. :(
Doc said this is the sign of down sydrome and he took my 羊水 for detailed test. He inserted one tube and pull out the water from my tummy. It's suppose to be quite painful but at that moment, i didn't feel the pain at all. But few days after that, the wound started to get very itchy and pain.
I cried for almost a week... cos i will have to abort her away if the test results shows negetive. And it's not normal abortion anymore. As her hands and legs were all formed by then, the doc will let me give birth to her as usual but will die shortly after she's out! I really cannot take it when comes to think of that. Luckily my families (especially my mum & Bobo), friends and ZY were there for me. We were praying hard that Raeann will be fine. Everyone was encouraging me, cos they were so afraid that i cannot take the blow.
2 weeks after the test, the clinic called. I was so hesistated to take the call cos i was so afraid it will be a bad news. But eventually, i answered. Doc congrats me and told me 100% a girl. :) :) :) I immediately called up ZY and my mum. Nothing can express my joy on that day...
Meanwhile at this time, Raeann started to kick. Light kickings only... But i was feeling quite uncomfortable already, sometimes even feel like puking. So, in order to stop her from kicking me, i stuffed her with food, lots of food... lol.
-----------------------------------
Raeann's 5th ultrasound on 28th May 2007.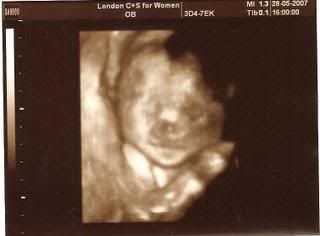 Notice that she still has a sharp chin then? She was suppose to look like me de lor!!! But who knows 2 months later?!!?!! Sigh...
My mum and Bobo went with me this time round too. They are quite worried about Raeann and they insisted to tag along to see the scan of her.
I put on 3.6kgs since the last scan i went for, that is about 1 month ago. Doc scolded me this time round. Ask me to cut down on snacks, rice, milk and etc. LOL. Sigh. Gain too little also kena scolded, gain too much also kena scolded. 很难伺候阿!
From then, my weight increases rapidly. From a 48Kgs to now a 63Kgs, 15 kgs is not a joke! How am i going to lose away the 15Kgs?
The doctor didn't give me any picture on the June scan.
But i took quite a few pics becos ZY bought me a Nokia N76 as my bday present.
4th June 2007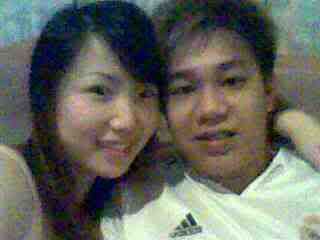 5th June 2007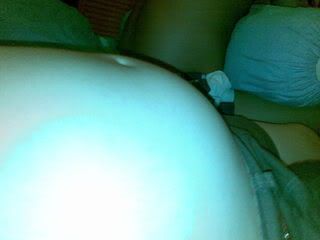 I still didn't have stretchmarks then.
9th June 2007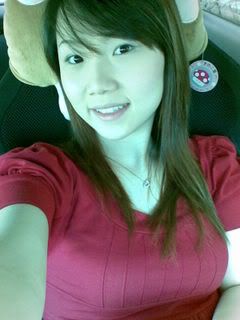 My face stills look ok lor. But body growing horizontally lah...
23rd June 2007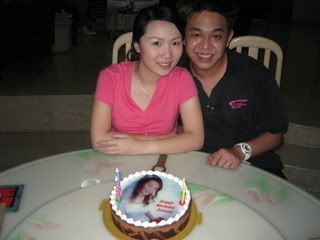 Friends and ZY organised a surprise bbq for me, i was only informed the night before and it's ZY accidentally leaked out de. Otherwise, it will really be a total surprise for me as i've got no clue of it at all.
Thanks once again to all friends who attended and of cos my dear girls & ZY who put in the effort to make this birthday a success. *hugz*
Time flies and i started to get all the baby items slowly... My money flows out very fast! lol. Baby things are very expensive lor.
P/S: Raeann's kick become more and more powerful liao. But still, food is able to control her kick for like 1-2 hours. I took this time to faster get to sleep at night. Sleeping right after supper, no joke!!
----------------------------------
Raeann's 6th ultrasound on 20th July 2007.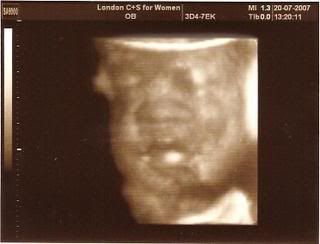 Notice the big changes in her??? Omg. She became so chubby and look like ZY so much lor. I promised that i will stop facing him when i sleep. Hahaha
But i expected will look like him also lah... Cos i feel she's more closer to him than me. :(
Backache started to develop at this time. Pain until i cannot sleep and i went to see chinese physician. I wonder why i got so much problems! Sian.
P/S: She got many many new stunts... She can kick me 24/7. I asked doc how come she don't need to sleep de... Doc tell me that actually
they don't sleep at all
. -_-" Now, food can only stop her from kicking for 10 mins. OMG. But she's very smart. When people want to feel her kick, she purposely don't kick. And when i'm alone, she kick me like crazy!
---------------------------------
2nd August 2007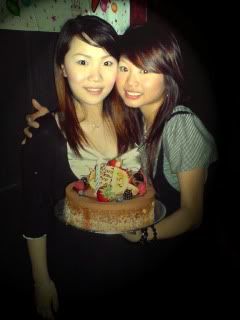 Miss Xueyi's birthday at Dragonfly's ktv. It's my first time there lor... I'm old aunty lah ok! I didn't want to take any pics at all de lor cos i know i look terrible. But she insisted... than i bo bian lah!
----------------------------------
6th August 2007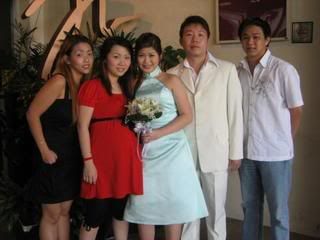 My dear girl's ROM. One and only pic i took on that day... Sigh, I look really horrible lor...
-------------------------------
17th August 2007
Doc never give me any pic on twice of August's scan. Must go once every 2 weeks to see if Raeann's doing fine inside, super troublesome lor! This scan shows her head is going quite low already. Doc says i will deliver 2-3 weeks earlier than my EDD... OMG! She's anxious to come out lah...
--------------------------------
19th August 2007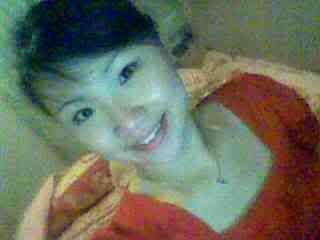 Taken at home after 7th month dinner. Fat face make my eyes smaller... Aiyo! Pardon the unclear camera. N76 secondary camera sucks, main one also sucks lor! I want to change phone!!!
P/S: I didn't realised my nose was swollen due to water retention until Melissa told me. Than i asked mummy, she also say yah lor. Than i asked ZY, he says got meh? He says he never notice... So i tell him, now since when will you notice me anymore? U notice your billiards and games more lor!
My backache slowly go down to my waist liao. I think it's becos my tummy is too heavy and my waist cannot support it. I walked only for a short distance and i'm like dying soon, i feel so short of breath. Probably becos i'm too fat now? Really jialat...
---------------------------------
25th August 2007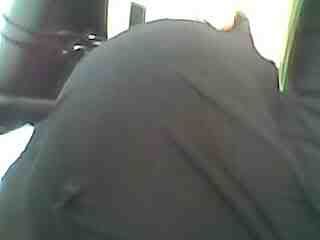 Look at the tremedous difference on the size of my tummy. Whahahahaha
I asked Uncle Teddy, "It's not easy being fat eh?" He replied me, "Now than you know ah?" Of cos now than i know lah. Putting on so much weight in such a short period of time is not easy leh. Not everybody can do it! lol. In fact, it's quite a big blow to me. Cos i don't know if i'm able to slim down and how to slim down...
Eating has already become my habit. When i'm hungry, i eat. When i'm not hungry, i also eat. When i'm sad, i eat. When i'm happy, i also eat. When i'm bored, i eat. When i'm tired, i eat. When Raeann's hungry, i eat... etc! How do i stop this habit of eating huh?
But right now, diet is still not in my mind yet. Cos i want Raeann to be fat & chubby so i must eat more!!! After birth than i will diet... So pls, all my dear friends, don't ask me out for food after i give birth hor! Tolong hor...
------------------------------
27th August 2007
Counting down 5 more days to birth if doctor is accurate in estimating that i will deliver 3 weeks earlier. Alot of feelings bottom up inside me now; scare, worried, happy, excited?!? Goodness. I hope it will end faster but at the same time, i hope it don't come so fast... Contradicting huh? Anyway, i'm going back for scanning again this coming Friday, maybe the last one loh! =)
-----------------------------
31st August 2007
Just back from my scan, as usual, doc did not give me any pic. Perhaps becos i stopped buying medicine from him since the first time i bought which was like few months ago. Cos i never eat lor, i always forget or lazy to take.
Raeann is 2.8 kgs now, doc says she is mature enough to come out le, anytime from today. But my womb is not open yet so i must wait. Maybe for few more days, maybe 1 or 2 weeks? Don't know! Today is my last day of work le, will be waiting at home liao... I wonder what should i do during my free time leh?! So bored.
Doc inserted something below cos my dunno dunno what got slight infection. It's pain lor but he told me labour pain was 20 times this pain. OMG! I cannot and don't want to imagine... :(
Gotta go back scan again next Friday if my womb is still not open yet... Sian!
---------------------------------
1st September 2007
Had a big fright! Watery & sticky stuff kept leaking out since 9pm last night, might be due to the medication inserted. Just came back from clinic, ma de, just check check nia cost $40. It's a false alarm anyway but doctor asked me to put sanitary pad to monitor for 1 day, if still leaking, have to admit hospital straight away.
Actually i know it will be a false alarm cos i asked Raeann last night le, i told her if she wanna come out le, kick me then i will know. But she never kick me the whole night so it means she doesn't want to come out yet lah. But mummy, zy and my mother in law keep urging me to go hospital last night and it took me awhile to calm them down and tell them i'm fine.
However, the leakage lasted whole night till i'm unable to sleep well also, started to get abit paranoid, i scare something wrong with Raeann so i woke up at 8am to call the doctor and get prepared for everything.
Just when i was bathing, i realised my feets are so swollen, like pig trotter! EeeeeEeee...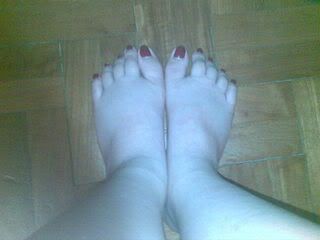 Very serious water retention, ma de, so 恶心!
---------------------------------
4th September 2007
Raeann still doesn't intend to come out yet. She told me she will come out on the 9th... Wondering how did she tell me? Cos i told her i will say the date and if i say it correctly, she will kick me. She rolled one round on the 8th and kicked twice on the 9th. Wahahhaahah before i asked her, i already blogged that my instinct told me she will be out on the 9th. Great mind think alike huh? lol.
I'll be cooking lunch tomorrow. Cos i'm freaking bored from my maternity leave. Thus, have to find my own programs...
Ma de, 5 mins ago, ZY said, "Wah pui eh, you look damn scary now leh. From your backview, you're bigger size than me leh!"
IDIOT lor...
Raeann ah Raeann, must remember how much mummy sacrifies because of you ah. Even have to take stupid remarks from your daddy... Sigh!
-------------------------------
7th September 2007
Went to checkup again... Now, everyweek also must go once until birth! Very very ma fan... But this time round, doctor tested her heartbeat.
She's super lazy lor. The test suppose to take 20 mins but Raeann fell asleep after 5 mins and doctor have to shake my press my tummy to make her wake up!! lol
But i was quite confuse lah cos that time doctor told me they don't sleep de mah, they only rest! How come this time round he tell me she fell asleep? Issit when they grow bigger, they will sleep?
Anyway, Raeann really resembles her daddy lor. Can fall asleep within 5 mins, very power leh!
--------------------------------
10th September 2007
Raeann lied. :(
She haven come out yet leh... My mum asked me to tahan until lunar 8th month now! lol. 1 more day nia, easy lah...
忍,忍,忍 !!!
--------------------------------
12th Sept 2007
Finally, finally and finally...
My labour pain came on this day at 2+am.
I reached hospital about 3+am cos ZY was working when the pain came. I need to wait for him to come back and send me there.
When i reached there, no delivery room lor. -_-" They asked me why i choose this date to give birth cos on that day alot of people give birth. One left and came another one... I waited till abt 4am than got room.
The moment i went in, i asked for epidural... cos the pain became more and more intense. I almost cried but
i never
!!! But the stupid epidural needle is so huge that i almost fainted when i saw it. And during the process of injecting, i kept moving cos it's pain and tickle-lish. I'm not suppose to move but i can't help it...
Actually injecting epidural has quite alot of side effects.
1) Backache after delivery.
2) Shivering before & during delivery.
3) Vomitting after delivery.
etc, etc...
But 2 hours after injecting, whole lower body was numb hence i do not feel any pain when delivery, cutting and stitching of below. But after the medication goes off, wahh... super kick! The below pain like hell. ZY kept asking me pain anot? I asked him, imagine someone cutted ur private part and stitch back, pain anot?
It's really not easy being a mother. Peeps, please appreciate your mother more! She suffered for whole 10 months + 1 month 'jail terms' + pain + losing her sleep + draining away her energy, and this is not short term thingy, it's a forever commitment!
My little princess is out to see the world...
16th Sept 2007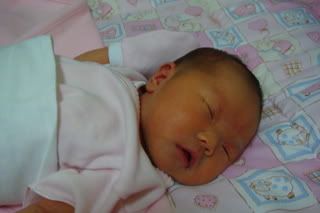 Now, who do you think she resembles?
Me?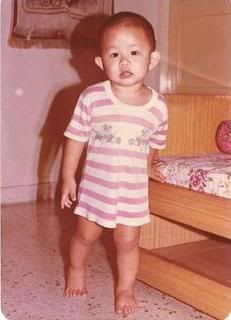 Or ZY?
Hee.