Hihi all,
I've a pair of mini BIG SISTER bows & a pair of mini LITTLE SISTER bows for sales.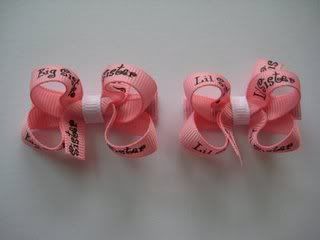 Size: 1.75" widePrice: $9.90 an identical pairPostage & Handling: $1.00 (Same for one or two pairs)
They comes in one pair of each design. You may choose either design but i only sell in pairs.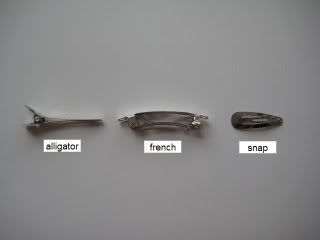 Clip types: SNAP
Suitable for any baby girls; little or many hair. All you need is few strands of hair for the clip to hold there.
It will not slip away
.
I ordered too much & wrongly for Raeann. I ordered 5 pairs together. She doesn't have any sister yet so it's meaningless to keep these 2 pairs. LOL I hope i've 2 daughters so i can wear for both of them but too bad, i don't have.
Doll up your little princess now! Trust me, it's so pretty & cute!
Anyway, to those who are interested, please email me at
all.in.one.cs@gmail.com
. Alternatively, you may also add me to your msn at
amicus@singnet.com.sg
for any enquiries or confirmation.
Thank you very muchie. :)