I didn't blog cos i am...
AS BUSY AS A BEE!
Sigh.
I've so many fucking things to do yet always not enough time.
I've to do
company
's
,
Lolly Poppies
's
, TLC Equipment's & now even ALZ Logistics's stuffs.
ALZ Logistics is a new company setted up by ZY & 2 other partners.
And merely 2 months, the accounts are messy like fuck.
I've to take over their accounts, invoicing & even filling up their daily job records. -_-"
Problem is, i know nuts about their work. They simply throw everything to me & make me find out everything myself. SIAN.
And worse is, NO SALARY!
Last Friday, i stayed in office till 7+pm, to check their accounts. And from morning till now, i've been doing their invoices, not completed yet lor.
I'm taking a break now & so i'm here blogging...
Ok, way back to 18th October 2008.
KUSU ISLAND
We decided to make a trip to Kusu Island on that Saturday. We were lucky cos it was not crowded but unlucky cos it rain halfway.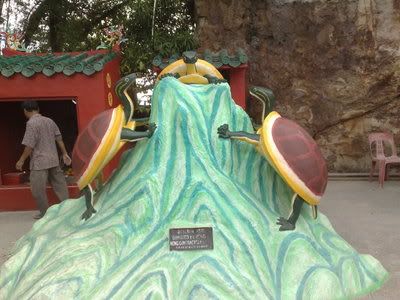 The 30 yrs old 'mountain turtles'.
Everything remained the same actually... But it has 'quiet down' alot as the year goes by...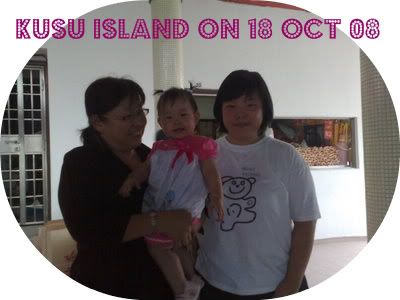 Raeann's 1st time there & she was happppppppppppppppyyyyyyyyyyyyy...
---------------------------------------------------------------
Raeann finally... walk now! Yesterday, she keep walking here and there like a little penguin. LOL
But she is getting very very noisy & horrible. Everyday sure tio scolded or beaten by
ME
.
I REALLY HATE IT WHEN SHE CRY OR SHOUT FOR A SINGLE MINOR ISSUE.
I feel that it's damn irritating. I read a mother's magazine before & i will never forget that sentence inside one article.
"NOT EVERYONE WILL TOLERATE YOUR CHILD LIKE YOU DO."
For me, i will never give the reason 'she's still small' to let her escape from punishment. In every parents' eyes, the kid is forever small. My theory is, if i don't teach her now, i will regret in future.
I will never allow her to get in her way.
Cos mother is always to blame whenever a kid done wrong or misbehave, right?
-_-"
Last Saturday, i was suppose to go XS's hse. I waited for ZY to knock off... He said, before 1pm. And so, i get myself ready at 12+pm, Raeann woke up at 1pm from her nap. Than hor,
i
me & Raeann waited & waited & waited until 3.30pm, i buay tahan, i fell alseep with my make up on. Raeann that itchy hand go & pull out one side of my eyelash. AIYOYO
I was having 'GOOD LASH DAY' that day lor. I used 10s to put on both sides of lashes & it turned out... very nice leh.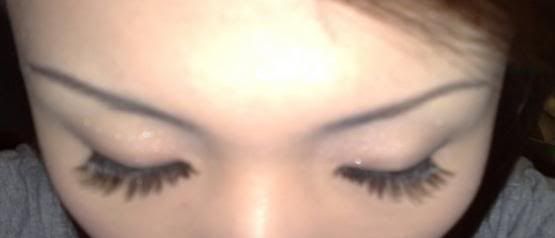 Falsie: TW720B
Falsie glue: Darkness dark glue (Korea)
Eyebrow: VOV Natural Black
Face: MAC Studiofix NC25
Cheek: Jill Staurt Mix Blush Compact
Eyeliner: La Eau Mini Eyeliner Pencil
Eye: Visee Jewel Crush Eyes from Kose
Oh
yes
no! I've putted on some weight!!!!!!!
I need to go on diet liao.
Got to do invoice liao. Byebye.