I just cleared some spider webs from my blog earlier. >.< It's been almost a month since i last blogged, i just realise.
I'm lazy
, i admit. Boooohooo
And i've been fucking sway, continuous swayness for this
1 month
whole year. I hate 2008!
Car tio banged by taxi & yet taxi demand for compensation. Siao. Spent $450 to repair my own car. Sigh.
Drive rex to XS's house for mahjong session, lose nvm, side mirror also tio kiao. Don't know which idiot so fucking free to take a key to kiao the side mirror just to make it ... dangling! Heng my bro knows how to fix back ah bo i'm gonna spend $ again.
I hope my swayness has come to an end. Mummy says the goods will come from now onwards. I hope so. :)
-----------------------------------------------------
Ok, let me congrat 2 couples on the arrival of their little princess on 3rd October 2008.
1) Mr & Mrs Sim; Daphne Sim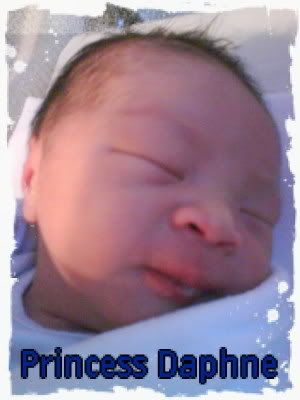 2) Mr & Mrs Koh; I don't know their princess's name.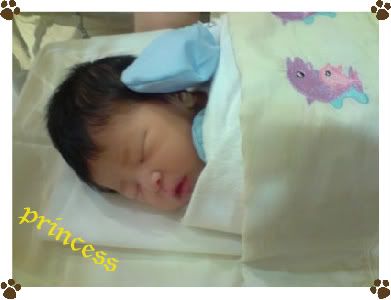 Warm welcome to these 2 little princess! :)
Up next, my little terror; Raeann.
Wow, she's getting more & more & more naughty + mischievious. And she's so lazy that she refuse to walk. She can walk but she will sit down after 2-3 steps. So lazy! -_-"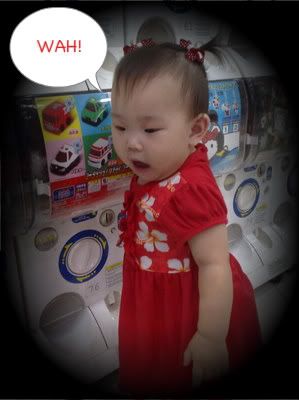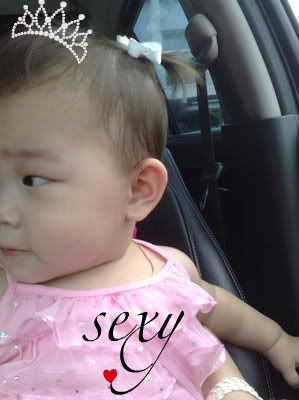 Now, everytime before going out, she will take her clip & ask me to tie her hair for her. LOL She starts to 爱美 liao. Whahahahaha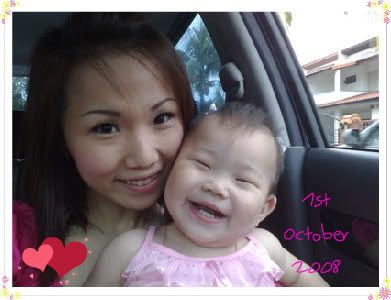 This Ho Ah Bee is so happy. LOL
-----------------------------------------------------------
I've a good buffet to recommend, Fortune crusine at Sunset way. $28 nett per pax, eat till you puke. Service is good & most importantly, food is fresh. Have to call for reservation on the weekends otherwise have to wait very lonnnnnggggg...
They have 鸳鸯 steamboat & charcoal BBQ, both are included in $28. BBQ crayfish best! Yummy nice!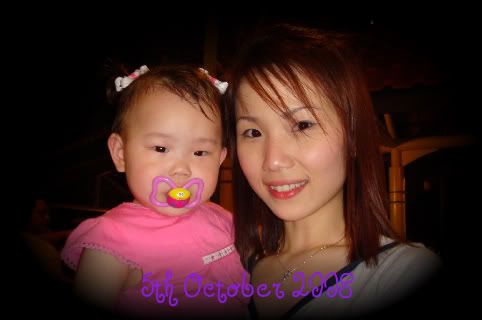 I got no make-up on. I know i'm ugly, don't worry.
The next pic i'm gonna post will shock some (those who don't know yet) down. And gonna make Miss/Mr Sian damn fucking sad & disappointed. :( Sorry man, no chance for you. Haha
Gonna collect Raeann's album in few days time. Yippieeeeeeeee! So excited, can't wait to make a new blog skin with those pictures.
Erm, wonder did you guys listen to 93.3 FM? They're playing a radio episode every weekday for 15 mins. I'm kinda addicted to it and the song playing on my blog 触摸 by 陈迪雅 is the main song of this story. So nice~~~~~~~!