Baby Ashlyn is so naughty. lol She weighs 3.6kg already but still refuse to come out!
Dr
Toot
Tho says she can directly go for ceseran when Ashlyn hits 4kg cos it will be very difficult to come out naturally.
Initially, XS wanted to induce it yesterday night. But after some consideration, she decided to wait for contraction pain. Hopefully the pain will come before her edd on 24th.
Cos Dr
Toot
Tho says the chances of giving birth naturally after inducing is only 50%. Ashlyn is abit too big & scare something will happen halfway through... So, it's better to play safe, just let nature take it's course.
Btw, Dr
Toot
Tho is also my gynae. He's quite good lah. Cos he will scold & nag if your weight gets out of control during pregnancy. And maybe that's why i can shed off my pregnancy fats quite fast. :) Thank you ah, Dr
Toot
Tho. Hee
Treated XS to Cafe Cartel for dinner last night cos she said baby Ashlyn wanted to eat steak. But than hor, XS ordered pork chop in the end.
We're guessing what food is Ashlyn craving for that XS didn't eat & thus she don't want to come out. Durian, Steak, Ham, etc etc etc? Hmm.
On the way to dinner, Raeann told us that Ashlyn will come out on the 21st!!! Haha
Let's see if Raeann is ZUN anot.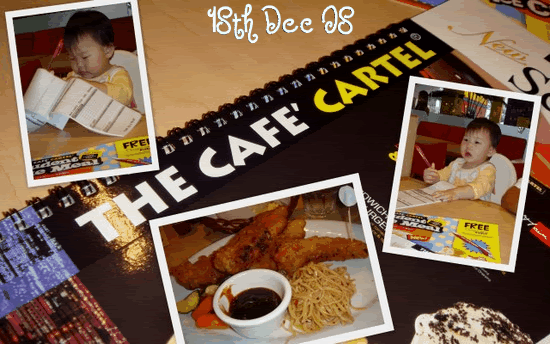 See that Miss 大识字? She acts as if she's helping us to take order. LOL
My food came first & i was too busy eating. Haha. That explains why there's no more pictures after that.
Eh, Citibank credit card can get 15% off total bill wor. Buay pai man.
----------------------------------------------------------------
Raeann's 4 more teeths are halfway out now.
1st teething - 5 months old (4 teeth at the same time)
2nd teething - 6-7 months old (4 teeth at the same time)
3rd teething - 13-14 months old (4 teeth at the same time)
She was stucked at 8
tooths
teeth for 6 months! OMG. But mai siao siao man, these 8
tooths
teeth of her's can eat almost everything. I wonder how she do that. My cousin said that she don't chew food, she swallow!
Hey btw, what's the difference between teeths & tooths ar? I'm confused, don't know to use teeth or tooth. LOL
Now, i can be sure Raeann
DO
understand what we're talking about.
This morning, mummy asked Raeann to on the TV for her. Raeann walked over to the TV, press the on button, took the SCV & TV remotes on the table & pass it to my mum.
WAH LAU. She si bei auto man! My mum didn't mention anything about remotes at all lor.
Than, before we leave the house to ah kim's place & work, we asked her to off the TV, she off it. After that, she struggled down when i carried her up, she walked to the sofa & put all the remotes back to the place she took it from nicely. Si bei auto again, nobody asked her to do so. I was about to scold her from struggling down from my arms liao. Haha
All the beatings & scoldings help! She did absorb in what i taught her. *touched*
I'll be putting her to 'Little Learners' playgroup in March 2009. It's not cheap man.
9am - 11am daily from Monday - Friday. $120 per month regardless of P.H & school holidays hor.
March - 1 week school holiday.
June - 2 weeks school holiday.
December - 1 month school holiday.
Meaning i still have to pay the $120 even though Raeann is on holiday. -_-"
That's not all lor.
$60 every 3 months for their administrative charges.
$3 insurance for one year.
I forgot how much is the one-time registration charge.
$20 for one set of uniform.
Poor me. :(
I think Raeann will need more than 3 sets cos i've a maid who got the world record of washing clothes for a si bei super long time. FYI, she NORMALLY washes my clothes for 1-3 months. 6 months is still OK, sometimes can disappear for 1 year & pop out again after that.
She said she can't finish her work on time.
She claimed she needs 3 hours to pack ONE room. Why the hell she must take 3 hours without sweeping, vaccuming or mopping the floor & just arranging the bed?
30 mins to move ONE pillow issit?! -_______-"
REASON
-> Cos hor, she spent her time watching tv, talking on phone & gossiping about every person/thing in the world.
No wonder she always cannot finish her work lah.
Sian. Employ maid also must depend on luck. Luckily that time i did not employ her sister impulsively. If not ar, the 2 of them will have party everyday.
Aiya, enough of my rantings. I need to work now. Bye.