Brought Raeann for a trim on X'mas eve. Her new hairstyle look 100% boyish lor.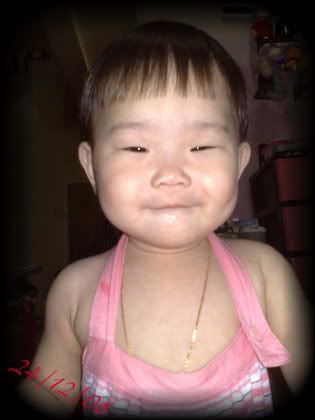 I call her 'ah toot' now. LOL
Me & ZY dyed our hair too. Becos it's ZY's friends' salon, we are entitled to an unbelievable cheap price. $78 for 3 of us! Cheap hor.
Vic popped me one surprise when i reached home. X'mas gifts for Raeann & me! :)
Well, i never expect to receive anything this year cos i did not prepare any X'mas gifts at all. Aiya don't need to waste time & money lah. Everyone is busy with their own stuffs also.
Anyway, thank you girl. I'm searching a gift for you now. :)
Check out Vic's new studio shoot. Damn hot & sexy! Weee weee. I made this header for her. Sometimes i feel it's a waste that i didn't go into web designing. Haiz.
-------------------------------------------------------------------
Bobo hanged 2 of Raeann's socks on my door & don't know 5-6 of her socks on her door.
On 25/12 morning, i found these...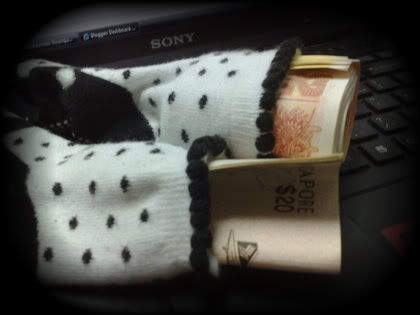 Poor Santa had to come even though she's not feeling well. Sigh.
I returned the money to mummy but she refuse to take back wor. She asked me to keep it well. Oh, did i mention before i've an album for old notes? Raeann will be rich in future. Haha
While doing my everyday hobby (opening the fridge), i found a super cute log cake inside.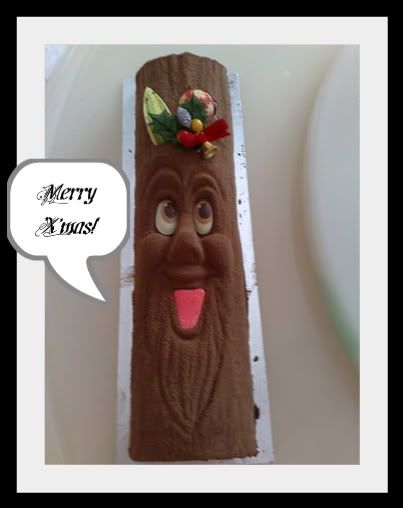 Want to eat but can't bear to spoil it's face, how ar? I tasted abit & it's not sweet at all. Wah kao, it's made of dark chocolate & i totally HATE it. Too bitter!
---------------------------------------------------------------------
Finally, after a long long wait...
Baby Ashlyn is out!!
Super naughty girl lor. Her EDD is on 24/12 but she refused to come out. And on 25/12, her mummy buay tahan liao, jitao ask Dr
Toot
Tho to perform op on her.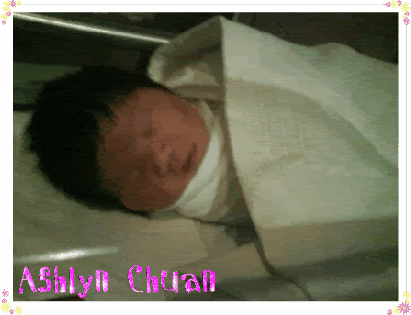 She's a X'mas Baby!! So, in future, our X'mas won't be boring anymore. Haha
Last week, Xs kept complaining her tummy was very itchy. I told her, Ashlyn's hair sure bushy bushy one. LOL
Indeed it is! So cute lor. OMG! I really can't wait to see her.
And to celebrate baby Ashlyn's arrival,
Fashionista Boutique
is having 10% off for everything TODAY!
ONLY TODAY!
Free postage too!!! Come on in now!
*All orders & payments are to be made by 12am today to enjoy this offer.
Congrats Xs & hamster on their new bundle of joy. :)