Yippie i've got an incoming ad again! Thank you EDB (Engineering courses) SS for choosing my blog!
Wow wow wow! I'm sorting out the pictures that i've took during the weekends now.
It's been quite some time since my camera worked so hard liao. The owner is LAZY, yes she is. :)
Didn't sushido for more than 1 month already but sushi craze started again 3 days ago.
Who want to challenge me?
My nick in viwawa is i_love_raeann. Say hello if you see me ok?
I'm so sian lor. Always tio kick nvm, tio banned somemore. Sigh. Wonder why people are so kiasu? They see my level jitao kick me. Level 75 only mah. I don't cheat what, no matter i win or lose, i will keep playing until i've to log out.
Anyway ladies, i've something damn damn damn good to intro!!
INCOCO DRY NAILS APPLIQUE
(Click to watch their live demo)
I did it on my nails over the weekend.
Stick on & file it = DONE.
Chop chop 15 mins. No more messy nails!
I don't even have to apply top coat or wait for it to dry. Jitao bathe for Raeann after i completed my fingers. The polish still shines now & FYI, it's real nail polish.
It's really GOOD for busy woman like me! :)
I think i'm gonna stock up more of it.
-------------------------------------------------------------------
Customised this rhinestones iron-on for Raeann & Ashlyn. I'm going to sew pillows for them & iron onto it.
------------------------------------------------------------------------
Went to Bukit Panjang Plaza with mummy on Friday evening after picking little devil from ah kim's place. The moment we reached there, we heard 'Barney is a dinosaur, la la la la la.'
Luckily Raeann don't like this purple monster. I'm sorry but i really dislike Barney, cos he looked like monster to me. It's not special anymore cos so many people are crazy over it; kids & their parents.
Sometimes i wonder...
It's parents influencing the kids or kids influencing the parents? Hmm.
ZY bought alot of plush toys & claimed that it's Raeann who liked it. How on earth does Raeann knows what's that character? Eg, Winnie The Pooh, Carebear & etc.
I guessed it was ZY who liked it instead. -____-"
It's a waste of money to buy plush toys, isn't it? Take up so much space, can't talk, can't move & can't be eaten. In years to come, it will be thrown away... What's the point?
My house have tons of soft toys! Cos my uncle used to 钓 alot at soft toys machine. Now all kept in boxes & collecting dusts.
-----------------------------------------------------------------
ZY's in good mood on Saturday. He suddenly asked me to go & play mahjong while he bring Raeann back to CCK. But no mahjong that day cos not enough legs. Than he suddenly say want to bring us out for dinner. WOW. Too bad i didn't buy 4d that day if not i'll confirm strike wan. Haha
We asked XS & hamster along too! Cos XS was almost bored to death already.
All ZY said was a restaurant besides Pasir Panjang car mart & upon reaching there than we know is ...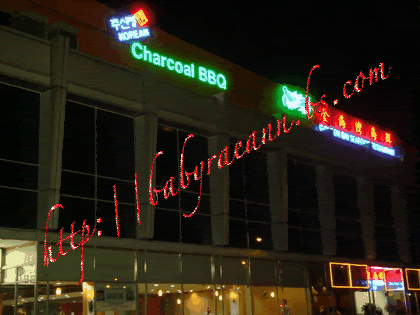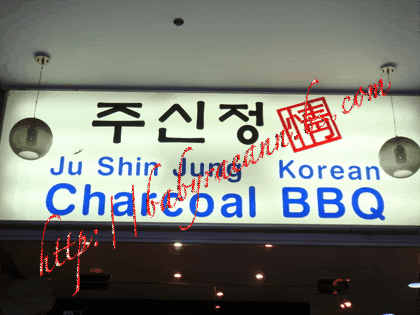 KOREAN BBQ
again.
The meat here are thicker & they have more variety of side dishes.
Looking at their menu, we expect the bill to be very expensive from the food we ordered. The spicy chicken soup is super yummy!
Surprisingly, the bill is not expensive at all. 4 persons + 1 baby eating until feel like puking = $130+ only.
But seriously, i had enough of pork collar. I've no freud with pig at all.
They have a corner for children to play, NICE! Raeann keep wanting to go inside...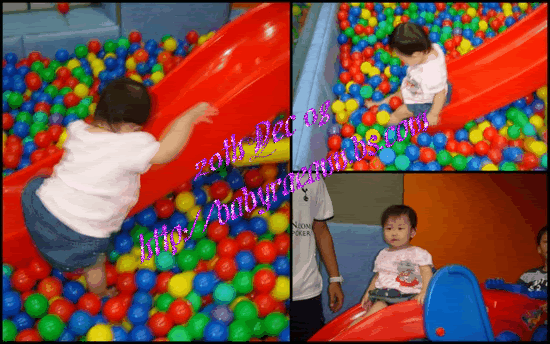 But it's not too nice for us. Cos most of the time, we're inside the 'playground' with Raeann & we have to take shift to eat. Sigh
She's damn naughty that day, make me lose my temper there. I had to 'dua' her mouth to make her keep still & shut up.
I promised XS not to post up any of her ugly pictures. It's ain't nice to post up pictures that people don't like.
But this pic is quite nice... (Consider not bad with ZY's photo-taking skill.)
Look at Raeann's si bei buay song face! She just stopped crying from my beating & she refused to smile for this picture.
Hmm, i actually wanted to camouflage XS's face but i don't see the need to leh cos i think XS still look great in her pregnancy & she don't look fat right? For a woman who is going to give birth anytime, her size is just nice lor.
Men can't take proper photo issit? Sigh
I actually thought ZY's photo-taking skill is damn jialat liao. But hamster's one is even worse. LOL
NVM, we will take it ourselves next time. I realised we've not been taking pictures for quite some time liao! :(