Date: 6th - 9th December 2008
Ok, before i blog about genting, some pictures to show u guys first.
Went to Collin's & Jasmine's baby shower before we set off. What a day! So many occassions lor! ZY's cousin's wedding also on that day but we're unable to turn up.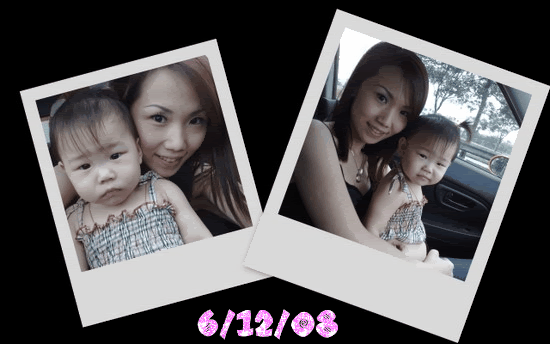 Inside the car on the way to Jasmine's house. :)
After that, we went back home to take a short rest before we cabbed to golden mile for dinner & bus ride. Raeann was so sleepy lor but she refuse to sleep. Guess what she's doing??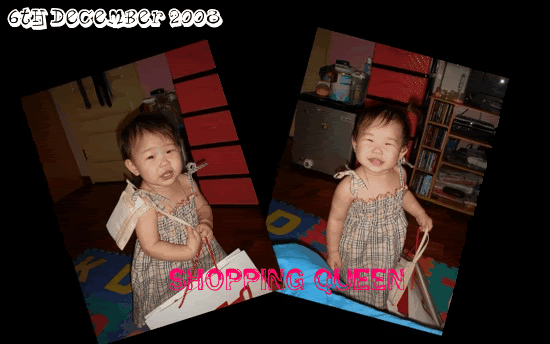 SHOPPING!
Recently, she loves to carry big, small bags & walk around. When you asked her, 'Raeann, you go shopping huh?', she'll reply, 'AH'. So funny!
I bought the chiong burberry dress she's wearing at $12.90 only. What a steal!
---------------------------------------------------
It's not the right time to go genting at this peak season, the human begins are like ants, never ending flow.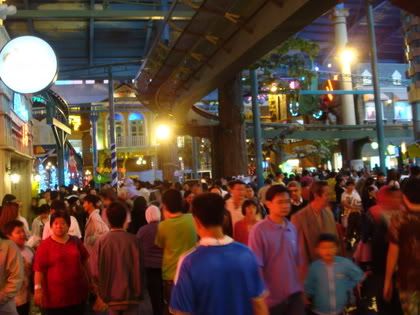 See?!
Queue for hotel, queue for food, queue for games, queue to gamble & even need to queue to go toilet. What fun is there when you spend half a day just queuing & queuing?
And ar, the people there are damn fucking rude, Singaporeans are much more polite. When they push or knock you, they simply walk away. When you accidentally knock onto them, you apologise & they scold you. Crazy.
Because of the stupid crowds, ZY's new bluetooth was begin pulled out by Raeann unknowingly. And ar, he can't bear to scold Raeann so he scolded me becos i went into Lovely Lace to take a look. -_-"
Siao.
Raeann dropped her precious 'chou chou' also. Dropped when & where, we have no idea at all. Luckily i seperated the case out before the trip. I need to use the case to make a new one for her tonight.
Theme Park
We're damn sway. Sunday & Monday were raining chickens & ducks for the whole day & thus the outdoor theme park was closed. :(
We actually bought the tickets for outdoor & indoor at RM51 per pax on Monday cos we didn't know it will rain lor & we didn't expect the rain won't stop too. :(
WASTE MONEY!
How can i never play space shot???!!! Wah kao. Part of my motive to go genting is to do that. Sigh
So, in order not to make the RM51 totally wasted, we stayed indoor to queue for those boring rides. Sian 1/2. -_________________-"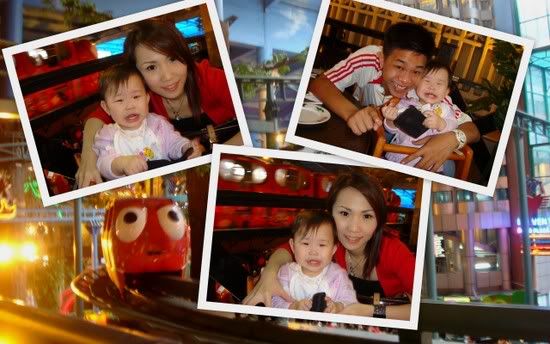 We did not take this train cos when the queue is so damn bloody long. Those pictures were took inside the restaurant (Hot Pot) during lunch on Sunday (7th Dec 08).
Don't ever go there (Hot Pot) pls! Food sux & fucking expensive. We waited half an hour for the food & drinks to be serve. -____-"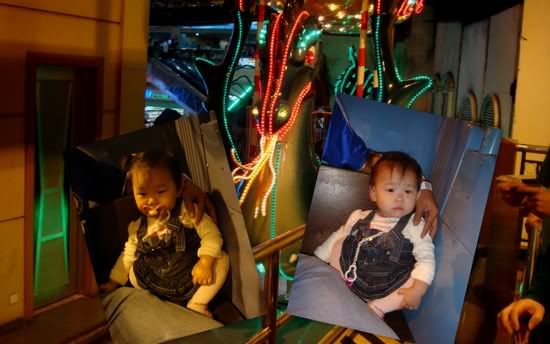 This dragon ride is so slow that Raeann almost fall asleep. Haha
Then, we proceed to take the boat ride...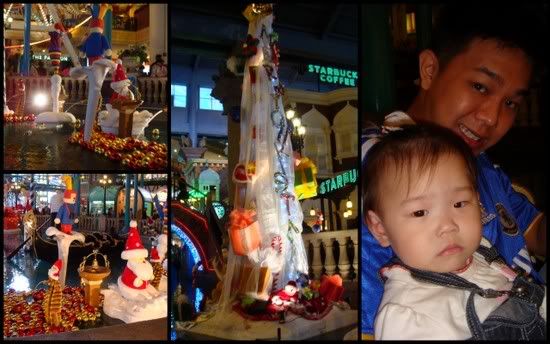 See Raeann's sleepy face & you will know it's even more slower than the dragon ride. And it's playing opera music on the boat, Raeann jitao fall asleep after 3 mins. LOL
So we went back hotel to let Raeann sleep first & ZY went to casino.
She was so tired that she napped for 3-4 hours & she hitted me when i tried to wake her up. LOL
After ZY is back, we brought her to play again with her sleepy mode still on. But after awhile, she seems to replenish her full battery again.
The rain became smaller for awhile so we took her outdoor to take a look.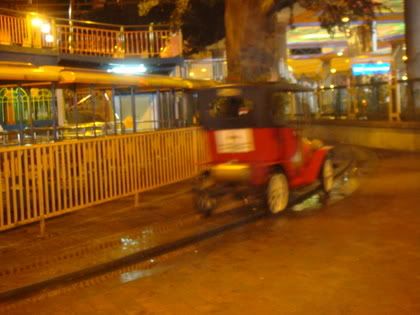 This vintage car ride that goes outdoor. So freaking COLD outside. Think it's so bloody cold that it makes Raeann wide awake.
After this ride, the heavy rain comes again. Damn fucking cold until we decided to hide inside.
Hence, we went to queue for the ferry wheel.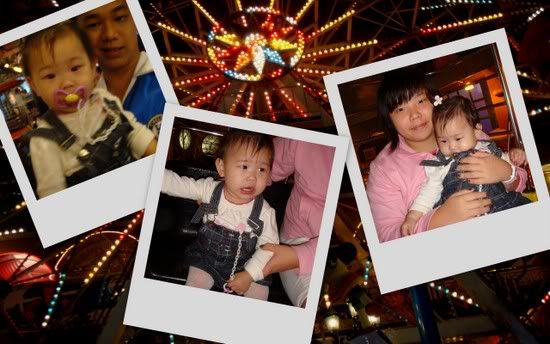 Queued for soooooooooooooooooooo long... No big deal, Singapore Flyers did it better. :)
These are only the rides we took for RM51 (x 2 pax).
The weather became super good for outdoor games on Tuesday (9/12/08). While walking to take our lunch, we see through the window very CLEARLY.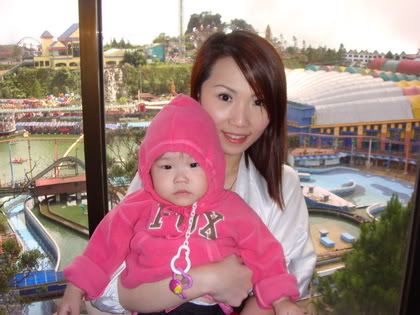 It's ok, my dear. There will be a chance again. :)
Oh yeah, forgot to mention. Raeann is standing at 76cm now. :) Wanted to take a pic of her measuring her height but was carrying too many things.
Dreamz @ The Pavillion
Mummy was given 2 free complimentary tickets to Dreamz (magic & circus show) for her birthday. She redeemed it & we went to watch lor. Becos of this show ar, Missy Bobo misunderstood mummy. Sigh
The cheapest ticket was at RM80 for member.
I was cheated lah. I was told it's an animal show. But who knows those people keep dancing & dancing with some magics performed.
One white tiger, one white lion & 2 dogs did came out during the show lah BUT for less than 5 mins only.
I think i got a little phobia with white tiger after that zoo incident. Eeeek.
Raeann fell asleep when the show just started & woke up after the show ended. LOL
Buffet Lunch
During the last day there, we went for buffet lunch with ZY's points. He got 100+ points cos he confessed that he came to genting to gamble when we quarrelled that time. I was too smart to guess it first.
Ma de! His pack of lies. I told him, 'One day, you will get it in return'.
Anyway, the asian lunch was not bad but not super nice as what ZY described.
Raeann kept playing with the waiters while eating her chicken wing. She was very obedient cos all her 'mountains' were not around.
The waiter gave her one green apple. And she walked around, eating her apple & disturbing other people.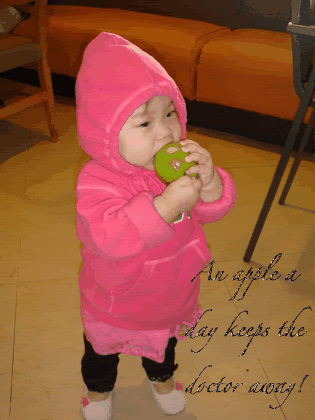 How would anyone bear to scold this little imp? Everybody then started playing with her & she became
popular
.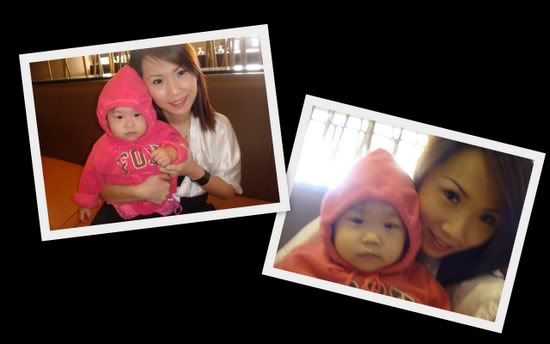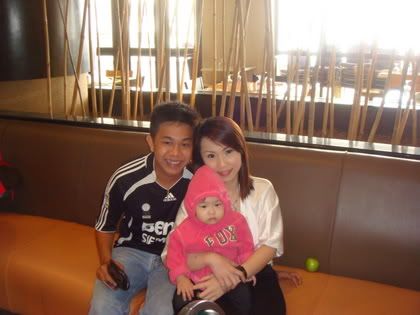 Oh my! Look at my incurable panda eyes.
Arcade
Brought her for some games after lunch while waiting to board the bus home. Saw Missy Bobo & cousins there.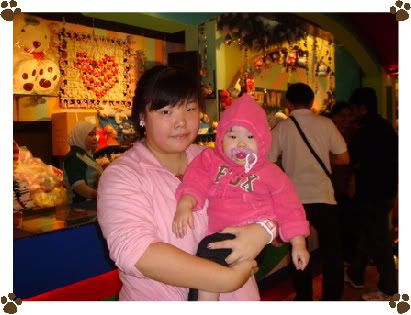 Not bad sia, Raeann used her legs to step on 75 tickets 2 times. You're so 厉害 my dear. 75 tickets is somehow like their 2nd or 3rd prize lor.
Raeann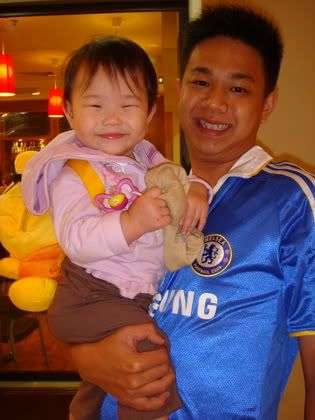 ZY bought her a Garfield bag on Sunday (7/12/08) & she carrys it her own. It was meant to lessen my burden of bringing so many bags around. Raeann carried it for about 1 hour & end up, i'm still the one carrying the Garfield around. -_-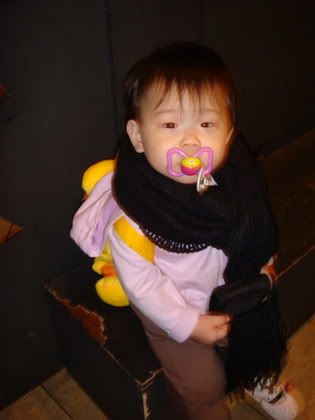 Raeann saw me putting the shawl & she wants it too. I put her down to stand while waiting for ZY's shitting break cos my back can't take it anymore. She found herself a place to sit down. She replied me 'AH' when i asked her issit she's tired. Smart girl. :P
Then on Monday, Aunty Raeann went shopping at genting.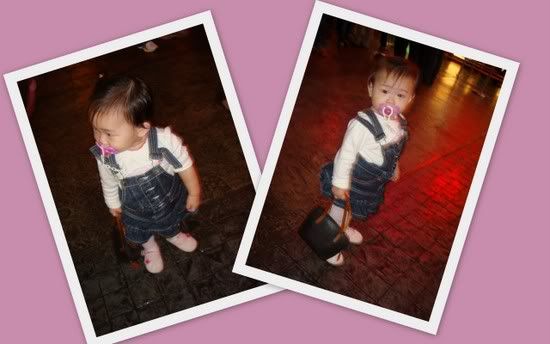 She snatched ah kim's bag & refuse to return to her. So she just took the bag & walk on herself & everyone was looking & laughing at her.
ZY bought her a bag at Lovely Lace cos she seems to love bags like her mum. Next time, i will teach her what's LV. Haha
Casino
You get to see all sorts of people inside the casino.
I never liked gambling cos i can't bear to lose my money on it. But i did went to casino & donate some money to them this time.
I need to apply for Genting world card & slot card first. I was given the blue normal card without picture. I was told i need 3 or 4 points before i can upgrade to the green one with picture.
The points can be used to redeem theme park ticket, meals, hotel rooms & etc. So nice!
And i'm now their
SILVER
card member. 厉害 right? ZY says until it's so so so difficult & good to get a silver card. Chey! What's so great & hard getting a silver card? I merely flash my platinum credit card to them & i jitao upgrade to silver card immediately for free. I also get free casino chips & one day hotel stay as well. :)
(Talking about credit card, i think Citibank is siao. I applied for their Visa platinum cos i can get $150 guess voucher & i received it long time ago. But the day before i went genting, they sent me another 2 more credit cards; Citi Clear Platinum & Tangs Platinum on their own accord. -_-"
Since it's free subscription for 3 years, why not? Anyway the Tangs Visa let me get 10% at CK Tangs whole year round.)
We arrived genting at 4am. Luckily mummy booked a room for a day before cos she was worried that Raeann wanted to sleep. True enough. Bobo, cousins & ah kim all wanted to rest. One small room with 6 adults & one baby, i volunteered to go casino & 'tong' my night through.
Played jackpot initially cos ZY was playing & my eyes was really closing while sitting there like a stone. I always feel jackpot is a game for ah-soh & it's a waste of time & money cos we can never win the machine unless we hit on some big prize.
Went to play Mr. Cashman & lose RM30. Heart pain decided that it's better to remain as stone.
ZY saw me almost sleeping & asked me to use RM50 to play for fun. Ok lor, to make me stay awake.
I won about RM100+ the moment i put money in, the bonus kept coming often. It's quite fun lar, cos ah, you can win 5000 credits even when you played the most minimum amount. ZY jitao come & chap one leg, ignoring his own game. Keep pressing for me until i don't know who's playing.
He's damn sway, always make me lose the bonus lor.
Lost RM130 on jackpot, heart really sibei pain liao. Went to find aunt & mummy at the baccarat table, Aunt asked me to take RM100 play for fun. Luckily i won!! I placed RM25 for every game only & i won RM300! I won almost every game until aunt & mummy followed what i bet. LOL
So my total winnings on that day is RM170.
Gambling always let people win first & make people lose back double, triple, 10 times, 20 times or even 100 times the amount you won.
On Sunday night, i went again after Raeann slept cos ZY wanted to go so badly. Si bei duper hot cos super crowded. ZY just squeeze inside the moment he reached there & ignored me. A tiko peh was standing besides ZY, kept smiling at me. I feel so uncomfy so i went to the stone chair about 2m away to take a seat. I sat there for almost 2-3 hours. ZY jitao forget my existance. Ma de.
I feel so stuffy & bored. Pissed off & went to change some chips to gamble.
Please do not gamble when your mood's not right.
I lost RM300 that night. :(
Monday night lagi worse! I lost RM650. I putted a stop on myself cos i need to leave some money to buy a diamond white gold pendant for XS as her bday present.
My overall loss is RM780. Heart break into 2 pieces liao. :(
I guess i didn't have any gambling luck at all...
I took the whole day to sort out all the pictures & blog this entry. I need to work now.
The aches & pile of work makes me damn moody & headache.