Eeee.... The ending of 'Little Nonya' is so disappointing!!!!!!!
Ma de. Alot of things they 'cut' away lor. Cos they need to squeeze everything into last 2 episodes.
Chen Xi & Yueniang should be together mah! Haiz. So disappointed!
--------------------------------------------------------
Let's rewind back to last few days...
Saturday (3rd Jan 09)
I did something very daring today. I brought my little devil to shopping alone!!! Haha
I drove there... Don't ask me how i do it without baby car seat. Raeann's very cooperative. :)
We went to the new Jurong Point. Wah. Dam big!
Although i'm very tired & busy chasing Raeann around, i still managed to get 2 pairs of shoes! One for myself & one for mummy. So glad mummy likes it & she feels comfortable in it. :)
Raeann's very mischievious nowadays. She wants to ANYHOW walk on her own. She will purposely walk the opposite way & dash into shops herself. Sigh
I scold & beat until very sian already. Cos her skin damn thick, now beat her, she bo la-sa.
And she's good at pinching people. Aiyo they said cos i eat too much crabs when i was pregnant. She pinched me, i pinch her back. Than she complain 'pain pain' & pinch me again. -__-"
She learnt alot from Ethan & she's so good at talking now.
Words she always use:
1) Ah ma
2) Ah gong
3) Papa
4) Ah mee (Mummy)
5) Guuu (Uncle)
6) Popo (婆婆)
7) Yiyi (Aunt)
8) ney ney (Money)
9) neh neh (Milk)
10) youuu (Thank you)
11) Yes
12) Mai (Don't want in hokkien)
13) sweet sweet
14) mum mum (Food)
15) ter ter (Water) (Everyday also hear her saying)
16) Ball ball
17) Aunty (My maid)
18) Ji (Kuay Ji = 瓜子)
19) Pennn (Open)
20) Bear Bear
That's all i can think of now.
I don't know why she loves 瓜子 so much, just like her dad. Whenever she sees that container, she'll definately bring it to someone and ask them to open for her. Very irritating.
Anyway, i bought new falsies from
Girllashes
. As what alot of people say, their service are damn good, really.
My new favourite is #462. I also bought #420 but i haven try it yet.

#462
It's long! I like!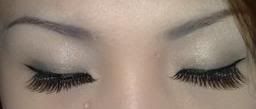 Look at the volume! So full.
I'm so crazy over falsies now. Save me alot of time & less hassle than putting on mascara. :)
------------------------------------------------------------
Sunday (4th Jan 09)
I spent my whole noon sewing & sewing. LOL
I'm done with Ashlyn's pillow & Raeann's new 臭臭.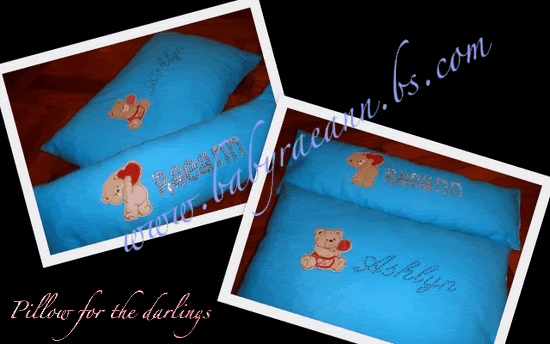 I'm so satisfied with my own work. Haha
-------------------------------------------------------------
My parents are very upset over Saturday 4d cos...
2 weeks ago, i went to LTA to settle the ownership of the new trailer my company bought from Hua Tiong. The plate number is
8757
.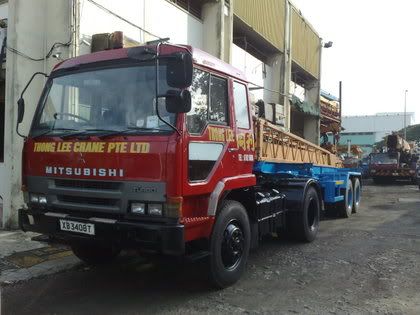 In case some people don't know, trailer is the one at the back. The head is called 'prime mover'.
A trailer can't move without a prime mover.
Last week, the new 110 tons crane arrived. It cost us 1.8 million, burn a big hole in the pocket. The plate number is
2581
.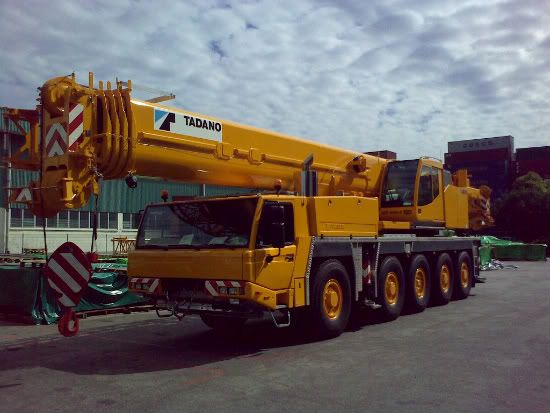 2581?! Find it familiar? It's a hot number on that day & it's SOLD OUT @ Singaporepools. Cos it's 阿扁 new convict's number jumbled.
And let's look at Saturday 4d results.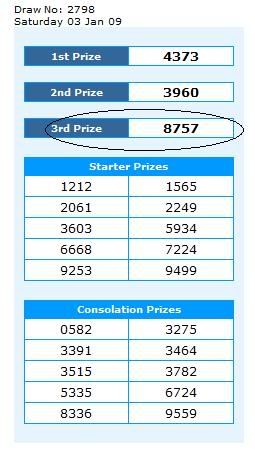 WHAT THE HELL!
Luckily i stopped buying 4d, otherwise i'll be as sad as them.
Everyone's damn buay song over 2581 & totally hate this number now.
As a result, my company is going to bid for a new number for the new crane. Haha
Yesterday, i went to LTA to settle it, waiting for the results now...