Don't know why man, these few times on the road always tio spotted by people. Haha
Bryan just smsed me, "sfw4599 go where'. LOL
SFW4599 going back to office lah.
Looks like my car plate is known to many people. Maybe the color of my car is quite prominent also - lavendar pink.
I'm seriously in trouble now. CNY is coming in about 3 weeks time & i have not done or buy anything yet. I haven prepare angbaos. I haven buy any clothes or shoes. I haven done my spring cleaning. I'm simply moodless to do anything.
Another problem is... I'm running out of fashion sense. :(
I really don't know what type of clothes to buy & what to wear on CNY. I feel like wearing short & rot my holiday away at home.
I don't want to go 拜年 at all. Every year, my relatives will come to my house & thus i don't have the habit to go house visiting.
But last year, i HAVE TO follow ZY & his whole family for visiting. It's so tiring & i hate it!
His dad's friend, his dad's relatives & his mum's relatives, what has it gonna do anything with me? It's non of my business at all what.
I don't ask ZY to follow my dad to his friend's house also what. But my dad will never ask us along too. Cos,
1) IT'S NON OF OUR BUSINESS.
2) We're married & have our own family.
It's our choice to go or not to go & not a must that we should go.
Aiya, very tired now. I sprained my 细细的小腰 on NYE & i've difficulty bending & getting out of the bed yesterday. Luckily today i feel better after sticking 2 pieces of Salonpas on it last night.
This is Raeann's new shoes...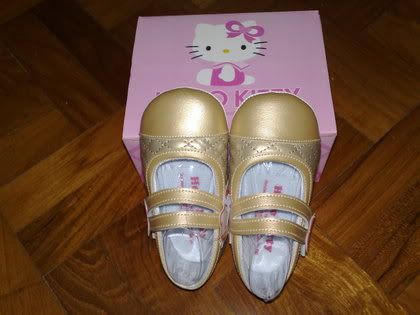 Although i don't really like Hello Kitty but this is the most comfortable pair we found in entire OG. The others are either too hard, too expensive or left the last piece on shelf. I wouldn't mind if the last piece is clean & not nua but too bad it's dam nua & dirty.
I saw one pair @ $79.90. OMG!
I know there will be people who will buy but it's definately
not me
. Even my shoes also not so expensive lor.
Spend so much on something u step & drag it on the floor. Siao ah.