"都结婚了还庆祝什么情人节!花和礼物更不用送"
-
Ho ZY
-
This is what my good husband replied when i jokingly asked if i'm getting any present or flowers.
My parents even volunteered to look after monster for us & asked us to go out for a date!
I told mummy, 'Siao, what's there to celebrate?! Everything is so expensive today! I would rather stay at home than to celebrate with this kind of men.'
And so, i spent my Vday at home lor but we did went for lunch (Aijisen) @ 4pm after i knock off from work.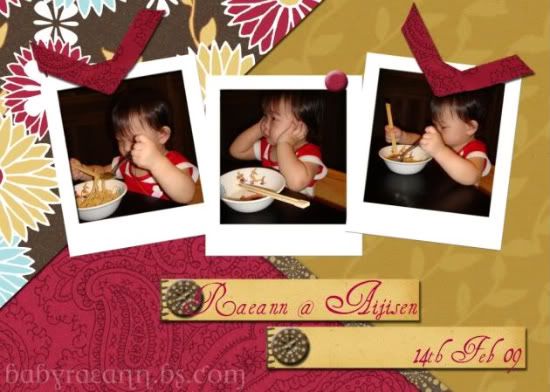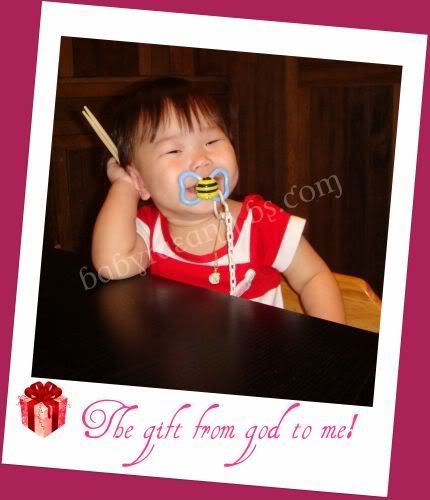 I received a call from Hamster at around 8+pm. He said XS was crying due to looking after Ashlyn & he's still working...
I changed & rushed to XS's MIL's house. This silly girl doesn't know how to deal with Ashlyn cos her MIL went to genting. Ashlyn kept crying, but XS don't know what she wants. Hence, she cried together with Ashlyn lor...
I understand this kind of frustration very well cos i've been there, done that.
In the past, i cried when Raeann kept making noise for nothing too. I'm glad that i've my own family to help me. :)
But afterall, i'm still considered 'experience' liao. I rubbed some oil on Ashlyn's tummy, changed for her & put her to bed. She was soundly asleep after that. She kept crying most probably her tummy was uncomfortable.
She's so so so so adorable! Her hair! Oh my. SO much & black lor. I love her baby's scent!
I accompanied XS until Hamster's back from work, about 11+pm. Went home, Mac supper, Sushido & lights off at 3am!
Woke up 7.45
am
the next day! Brought Raeann to market with my parents. -
SUPER UBER TIRED
-
Genting is confirmed, Thurs - Sat. I'm so excited & looking forward for this trip! Only me, XS, Vic & Boon will be going!
I look like a clown now. My nose, right in the middle has a BIG & RED pimple. It's so terribly pain. My itchy hand can't stop squeezing & touching it. HOW!?!?
I HOPE it will recover by Thursday. :(
Some random pics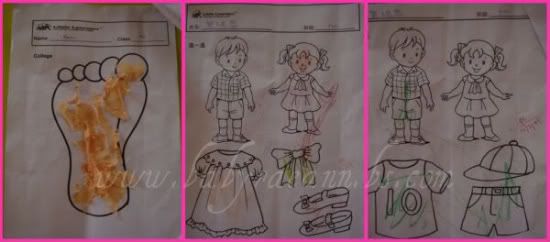 I was surprised when Raeann showed me her 'work' on Friday evening.
Laugh & laugh non-stop
. I wondered if her teacher need to wear spectacle cos she can give star even though it's so
HORRIBLE
.
Nevertheless, i still filed up her work cos it meant alot to me. My daughter is growing up... :)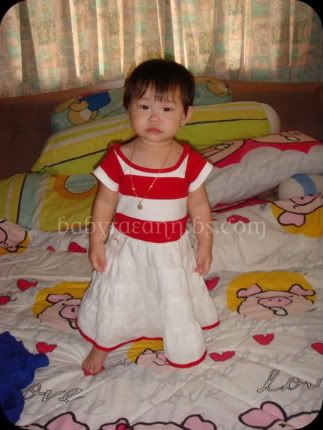 She's one gift i sincerely thank god for giving me! Although she do make me very angry at times...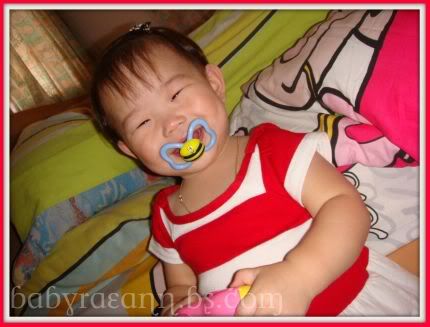 But she makes me very happy as well. She filled up my life with joy & laughter.
I love you, my little angel.