Hohoho...
I reached home at about 2am on Friday night! We were both sleepy, otherwise it would be even later. Ha!
After being 'jail-ed' for so long, i honestly don't feel like going home too early. We reached there at about 6+pm. Went to shop around first before we settle down for dinner & drinks.
Spent very long time @ Taka Children's corner. Bo bian, we're both mummies already!
Woman - Forever thinking of their kids & family. Sigh
I needed to get Andrina's 1st birthday present as well. :)
Aftermath, we walked to Ice Cold Beer @ Emerald Hill.
Isn't it recession now?!?! How come the whole stretch of Emerald Hill are SO crowded? Ice Cold Beer is dam bloody pack. We couldn't get a seat so we proceed to Alley Bar lor.
We then realised that the food served there (Emerald Hill) are all done by the same cook. Yummy chicken wings & pizza!! plus... 6 bottles of Hoegarden. Bestest of the best! :)
Too engrossed in eating, drinking & talking till we forget to take pictures. Aiya! It's ok. There'll be next time, soon! Ha!
------------------------------------------------------
5th April 09 (Sunday)
Princess Andrina's 1st Birthday



Happy Birthday Sweet lil' Andrina

I didn't get a chance to carry her though cos by the time i reached there, she was already sleepy. So didn't get the chance to take any pictures of her also. I 'kope' the above pic from Char's facebook de! Haha
It's been a long long time since i met up with Char... No choice, we're both busy mummies whom's living far apart. LOL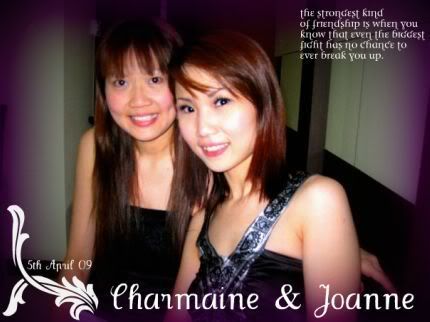 But no matter what, we know, that we'll always remember each other. That's what called 'True Friends'. Aiyo, she's still so slim after 2 kids. Hot mummy!
'The strongest kind of friendship is when you know that even the biggest fight has no chance to ever break you up.'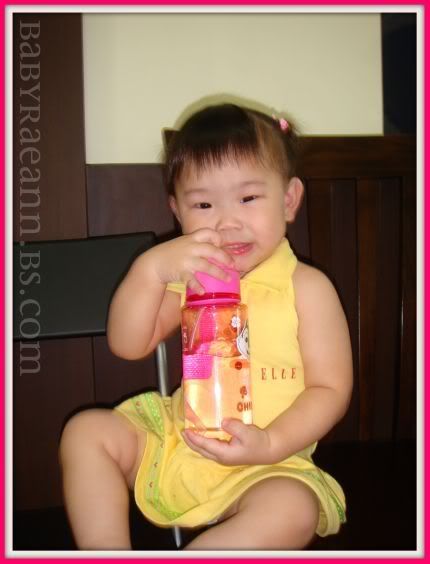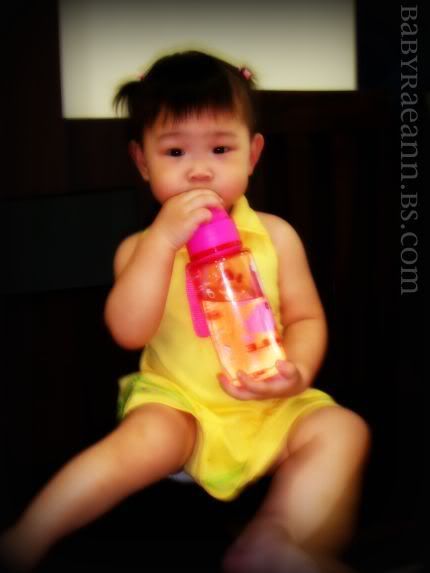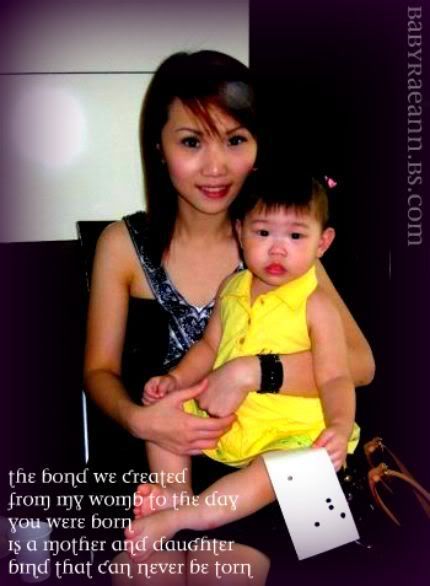 Heart this pic to the max! Courtesy of Charmaine. (Actually most of the pictures were taken by her lah. Haha My camera came out too late! I was busy feeding Raeann lor.)
'The bond we created from my womb to the day you were born, is a mother and daughter bind that can never be torn.'
Mai siao siao hor! I created those sentences myself hor.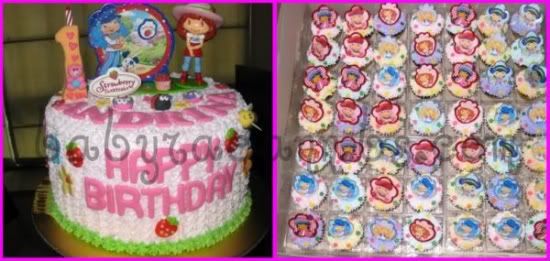 Baby Andrina's cake. So nice! (Pics also 'kope' de! haha)
I want to make something like that for Raeann this year, to let her celebrate her birthday in school.
I'm sucha nice mother. Haha