Raeann
Placing Raeann into the playgroup is something i felt that the money is well-spent.
Apart from making friends & interacting with them, she really learn alot from there.
Sometimes, her knowledge really amazed me.
I'm not boasting about how smart is she, but i'm very grateful to the teachers there.
Thanks them for guiding and teaching my daughter well, taking good care of her even though she's one cheeky & mischievious girl.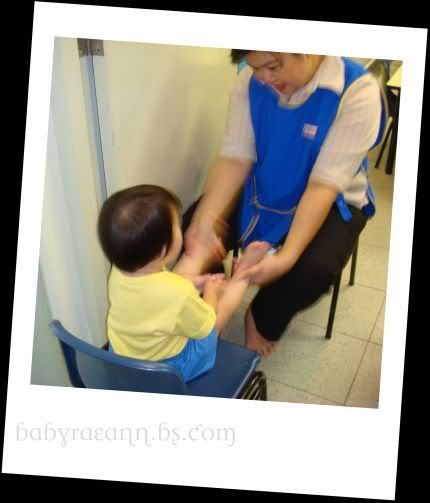 Every morning, they will check their hand, foot & mouth then spray something on their (kids) hand before entering the class. And they will say, 'Good morning XXX (Raeann)'. The kids will then reply, 'Good morning Teacher'. So cute!
Initially (first 2 weeks of school), Raeann refused to let the teacher check. But now, she automatically climb up on the chair herself and ask them to check. LOL
And they (the mother lah! who else?) have to do project during the school holiday. -_-"
I've to cut out pictures from magazines & etc from A-Z and paste it on their file.
Every week the teachers will teach them what 4 different alphabets stand for.
But this Raeann si bei di siao...
Me : Girl, A stands for?

Raeann : Apple

Me : B for?

Raeann : Ball

Me : C?

Raeann :

CHOU CHOU



Me : -________-" (Hahaha)

Me : D leh?

Raeann : Dog Dog

Cos her dad taught her once that C stands for
chou chou
(her smelly pillow) & O stands for
ohh-ohh
(dog) and she can remember them so clearly. Sigh
上梁不正, 下梁歪.
She can point out to me where's her nose, eyes, mouth, ear, head, hand, leg, buttock, stomach in both chinese & english language. And...
She knows where's her 'NEH NEH POK'. Haha
I wonder who teach her this lor. Definately not me!
She can also count 1-10 (there's still some missing numbers though) in chinese and english.
For all these, i'm contented enough. :)
She's growing up... but i kinda miss her baby time now!
--------------------------------------------------------
VWW Cashcard
Yesterday, i received 2 mails from VWW which i didn't expect it would be so fast!
I customised 3 Cashcards; for mummy, XS & myself! I sent in my orders on Sunday night & Monday morning respectively. And i received them on Tuesday (yesterday)! So efficient man!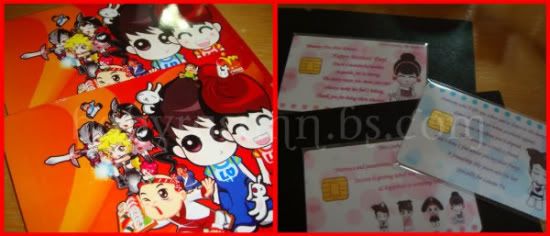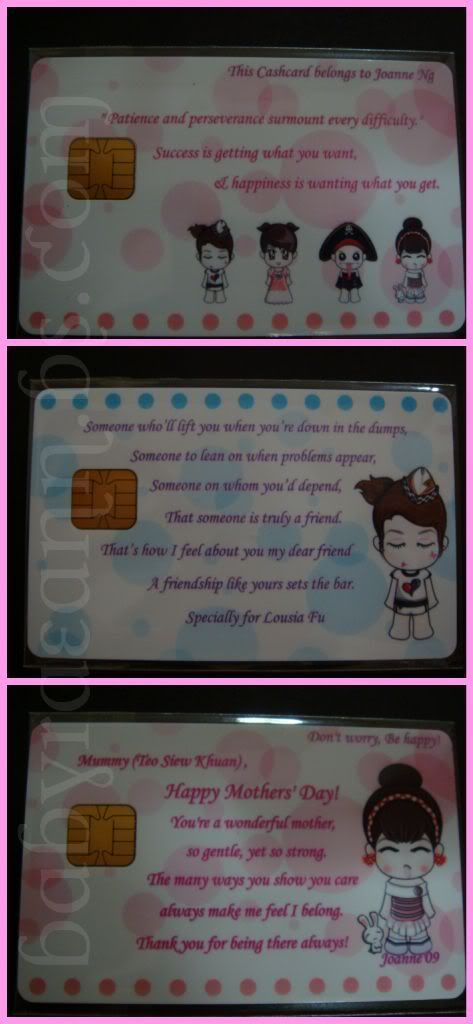 ZY & Bobo asked me how much issit... I don't dare to say! Haha
$29.90
per pc with no stored value.
They are guessing like $10++; below $20 and they already think i'm insane! LOL
It's ok. As long as i'm happy...
YES, that's all my VWW wawas! The one with a long tongue is named 'Raeann' cos it looks as cheeky as Raeann. LOL
----------------------------------------------------
Hello Kitty Mahjong Set
I'm sure that many have seen the glitter Hello Kitty mahjong set in pink or gold!
Ultra nice right?! :)
My dear friend, bought a set for me as my birthday pressie (advance)! Thank you so muchie! *hugs*
She bought a set for herself too!!
It's pre-order @ $128.00 per set. It's consider quite cheap cos i saw other blogshops selling $250, $288, etc!
I'm waiting for it to arrive! So so so excited!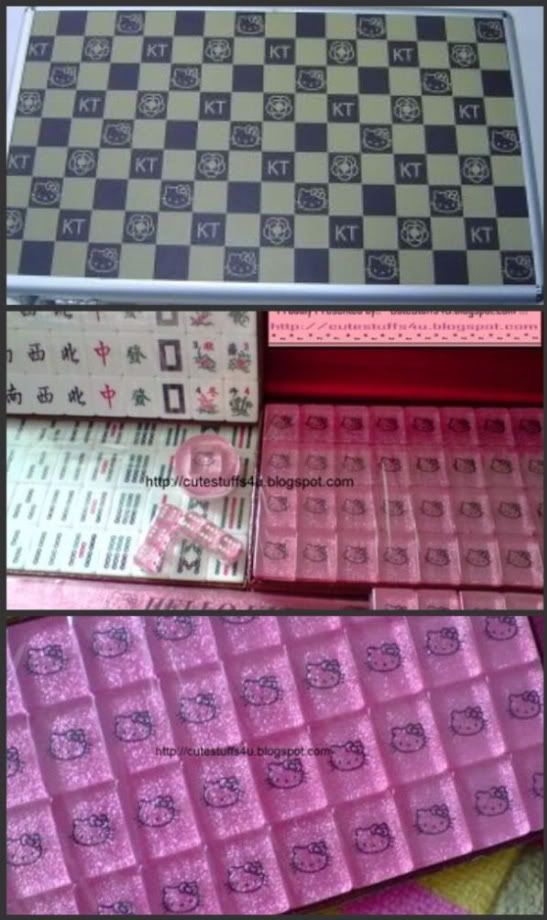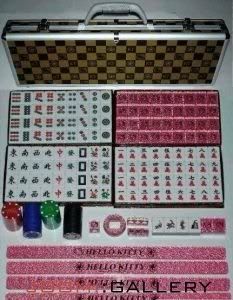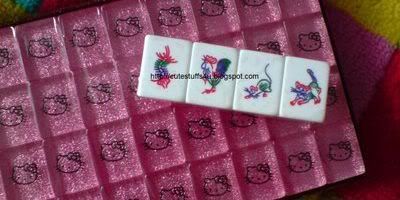 All these pics are 'kope' from other blogshops de. I hope it will look 100% the same in real!
Some forums were saying that it doesn't comes with 'animals'. But this one do. :) I choose pink becos the gold one will make eyes very pain when playing, which i don't know why also.
I can't wait to touch the tiles man.
Girl, let's plan for a mj session when it arrived! Hoooray!
P/S: Oh yeah! I can finally cash out my earnings from Nuffnang liao!