Postponed the Friday KTV session to Saturday.
Thus on Saturday, i brought 2 babies out. I was super tired cos i slept only at 6am & i was waken up by Raeann at about 10am. Mahjong session with XS, scopion & chicken er er after Raeann sleep lor.
Initial plans was to go Safra Kbox for the afternoon session from 2pm-7pm. But when we reached there at around 2+pm, all the rooms are occupied & we've to wait till 5pm then got room for us. It was so BO HUA lor.. cos it's actually from 2pm-7pm but becos they have no rooms, they cut the timing from 2pm-5pm instead. And if we want, we only can sing from 5pm-7pm. -____-" OF COS we didn't want to wait/reserve.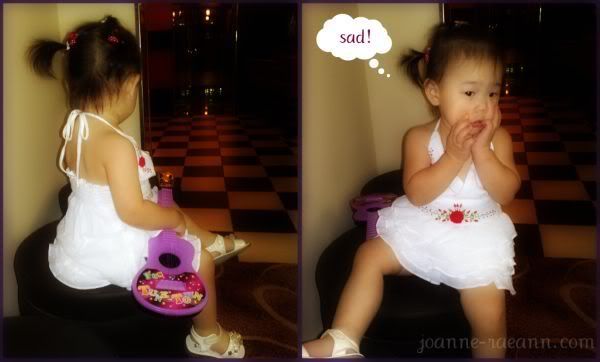 Both Raeann & Bobo were sad + disappointed. See? Raeann even brought her prop (guitar) along!


We took a pic outside Safra Kbox! to prove that we've been there before... LOL
I was thinking, since we've already parked in Safra, the parking is per hourly charge, might as well settle our late lunch there. Again, at Jack's place lor. The supervisor can recognise Raeann already! lol
After lunch, Raeann kept saying 'play ball ball, play ball ball' and dragged us to the indoor playground (Kidz Amaze) where we brought her to last time. She still can remember lor! She's super excited, stand outside the door dancing cos it was playing 'Womanizer' by Britney Spears. What a song?! She dare not go in until i asked her to... And she keep asking me to let her play...

Dancing inside Kidz Amaze happily.


But Bobo was wearing skirt & we did not bring socks so we forgo this idea. I told her i'll bring her there again, for sure.

Bobo keep 'niam kenging' (grumbling in hokkien) about me taking too long to prepare, if only i was like 5 mins earlier, we might be able to get a room, blah blah blah. And suddenly Taman Jurong Party World came to my mind! *blink*

And luckily we went there! Cos it's much cheaper than Kbox, we're able to get 20% discount with student pass (My sis is sec 4 student mah!), the room are much spacious, the drinks have more viarities & most importantly, the staffs are nice & friendly! :)

Raeann fell asleep inside the car after lunch for about 5 mins cos she refused to take her daily afternoon nap at 12pm. She was sleepy liao lor...



Trying to be happy despite being very sleepy... I looked very tired also. No choice, 4 hours of sleep only. :(



My sis. If you find her familiar, YES she appeared on TV (Don't Forget The Lyrics's trailer). OMG. She'll kill me for this! Haha


Raeann recovered from her sleepy-ness after a short while & got si bei active all the way. (I did clean all the mic first before letting her play with it.)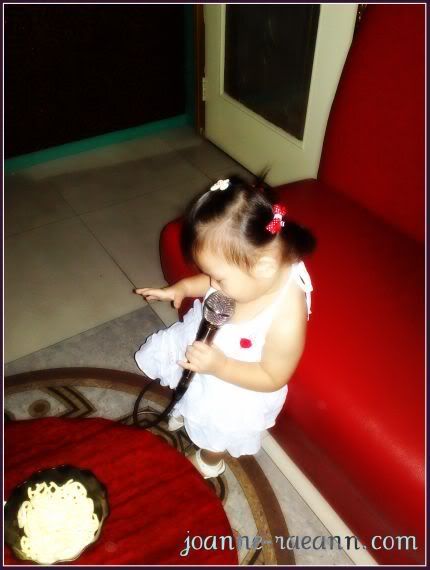 Look at the pose she strike!

I was super tired & sleepy & i've to hear Bobo sing all the way for 4 hours. Sigh. She not thirsty wan meh? And she claimed that becos i don't want to sing... Alamak! The moment she got in, she dedicate a total of 160 songs, how to sing? Plus, i've to look after Raeann as well, so i decided to let her sing lah. But but... Raeann did 'join' in during some of the songs! Haha


Watch this video of Raeann's dancing! :) [Off the music player first!]


A very retard & act cute pose! Don't blame me! I was super bored! And my purpose was to show the beautiful wallpaper behind! It's soooo pretttyyyy! If i got a house next time, i also want to do wallpaper!