Finally man. Blogger is okay now & so i can blog.
Yesterday i was so upset cos i scratched my bag against the wall and then the leather part is being scratched off. :( Although it's only a tiny mini little dot where nobody could actually notice but i felt so frustrated. Issit sign of depression again!? Or is god giving me an excuse to get a new bag? LOL
This morning, while driving to work, i saw people crossing the road, walking to their workplace with an umbrella, i think i've a rather good life. Thus, i should learn how to be contented. In fact, i'm very contented with what i have now even though i'm always complaining everytime. At least, i've a little Swifty to transport me around & i don't have to get myself wet on rainy weather. I can bring Raeann around conveniently without squeezing on public transport. :)
Although at times, i really hate to drive (Cos i'm like my sister's ahmad). Driving is quite a tedious task to me sometimes, especially when i'm very tired. I've to stay alert in order not to get into accident. And i extremely hate it when my car give me troubles! ARGH. Speaking about this, i need to send Swifty for service soon!
Aiya, driving to me is a love-hate relationship. And of cos if i can choose, i would rather be a passenger than to be a driver.
Ok, back to bag.
I want a new bag!
But i got no $$$!! Sigh
I've been spending ridiculously on FOOD these 2 months & always broke during the last 10 days of the month. I need to save up (for my lawyer fee) & diet! I'm getting fatter & fatter liao. Can't be help, the result of stuffing.
Today, i started my diet. YES! Support me!
Oh btw, yesterday Raeann wear cheongsum to school!! LOL Cos it's Racial Harmony Day mah.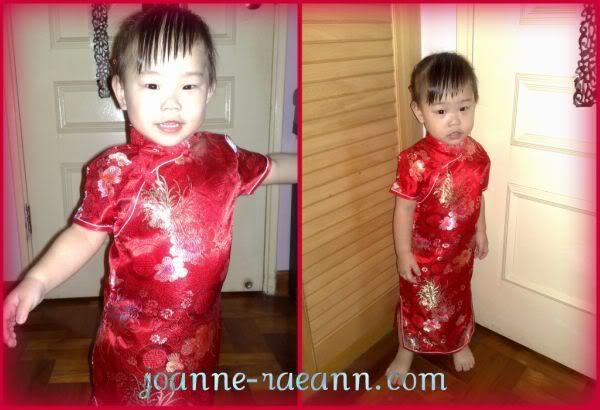 It's very fitting for her now! Except that she must be gentle in her movements else she will fall!! LOL Training!!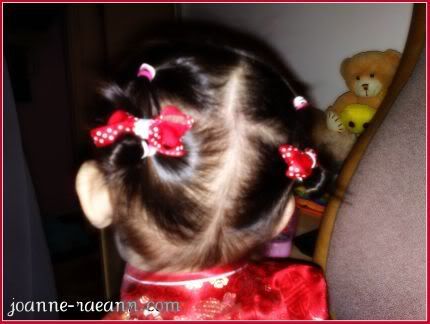 Her hair! I'm so happy with the results. But end up, she dropped one ribbon! LOST! -__-"

Did i mention before that Raeann loves to wear heels? She hor, everyday also wear my heels to walk around. BTH her lor. Anyone knows where to get such a small size heels? I want to buy for her!