Before i start this entry, i've a few random pics to post first!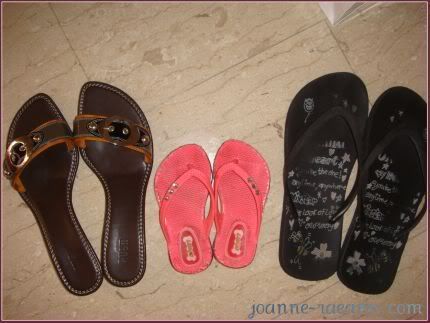 Look at Raeann's flip flop! Hahaha So cute!


These are her shoes. 10 pairs & still counting... And i think there are 2 pairs that's missing. Don't know where i misplaced it to... No choice, her mummy is a shoes freak!
My Russian Navy nail color! Chio chio.
I went shopping at OG with mummy yesterday noon. Cos she wanted to get her OG card lah. Sigh. AUNTY!
And i saw 2 watches that i liked...

In rose gold color... (This color lor!)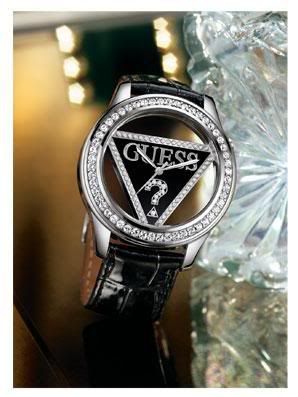 In white color...
I don't know which to buy & end up i didn't buy any. LOL! I love the piece in rose gold color! But it's too expensive! $254+ after discount. And the white one cost $160+ after discount. I preferred metal than leather strap! If one week later i'm still thinking about this watch, i will buy it! LOL!
****************************************************************************
Held another round of BBQ on Raeann's actual birthday. BBQ twice in a week, very scary! And i'm si bei fat now. I feasted for entire one week liao!
But this BBQ is mainly for family only cos i never invite anyone. It's a last min decision lah! Cos i cannot decide where to go for dinner. So mum suggested BBQ! It's a good choice cos everyone is happy! =)
And of cos, the happiest person is Raeann lor. My dad's friend's kids played with her. Bobo's friend carry her around. And she gets to blow candles again!
On behalf of Raeann, i would like to thank:
1) My mum for the big fat angbao,
2) Ah khim for the angbao,
3) KK & JJ for the angbao,
4) XS & Hamster for the angbao,
5) Dad's friend & wife for the angbao &
6) Bobo for that $25.00 contribution for the car seat!
Never celebrate also receive 5 angbaos! Not bad! LOL! Raeann's a rich girl!


Her trademark one-line eyes. Haha!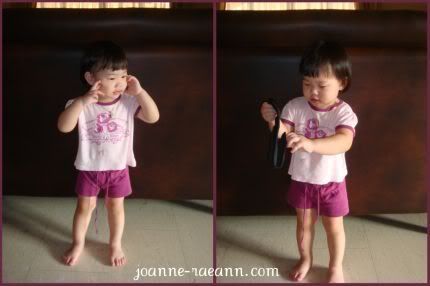 In the morning that day, she was already very busy! Not busy preparing the food of cos! But what's she busy with??? Guess!
She's helping Mary to sweep the floor. Mai siao siao. Look at her hand! What's she taking?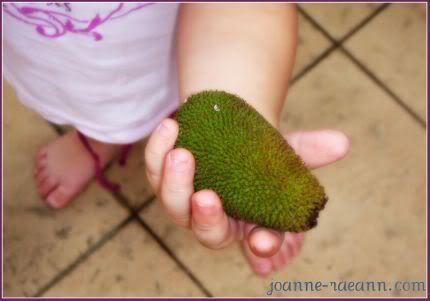 A super small jackfruit. My house has a jackfruit tree lah.
FOOD!! I bought chicken wings, chicken fillet, taiwan sausage, crabmeat, hotdog, cheese sausage, pork chipola, sotong balls & etc from Giant. My parents bought all the seafood like crabs, prawns & stingray. ALOT of food!
I, again, eat till want to puke.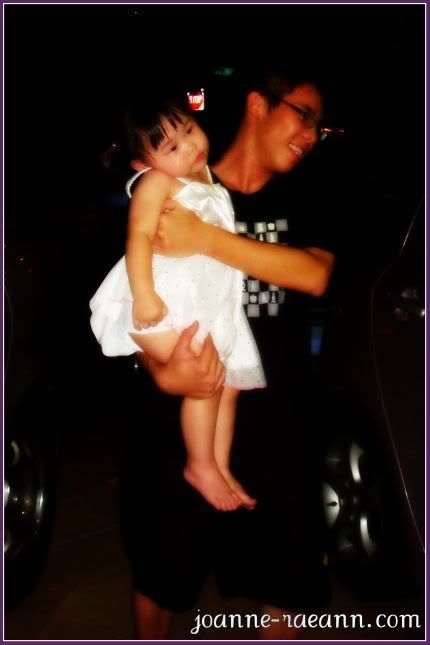 This is Bobo's friend. He tilted his head cos he don't want to take pic! Raeann tilted his head cos she wants to follow him. End up? This pic is so funny!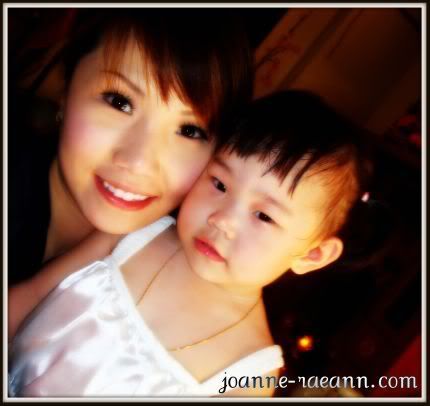 My face is getting rounder... HAIZ!!! 救命啊! 我不想变肥婆! =(
Cake-cutting time! See how sweaty Raeann is? Oh, i bought this cake, Mango Delight from Secret Receipe. Not bad leh, not too sweet, the taste is just nice! Bobo says it's not nice hor, but she eat alot leh! Now only left one slice inside the fridge nia...
Oh, you know hor that day, there's a 大伯公 around. Erm... No, should be 大伯母!
Want to see her pic?
NAH...
She hor, keep grumbling & eating all the way when i'm so busy BBQ-ing lor. She complained the fire is so hot, blah & blah. How she miss her slave friends who BBQ for her to eat. Walk here and there, eating & blocking my way. I stand for many hours to BBQ & my legs are so tired that night!
And when her friend reached, HAIZ. I feel that her friend is so ke lian. She 再三的 remind us that he's not her bf! AIYA, we see also know lor. She's so 'chia', who want to get torture by her? I so pity her friends, especially the guys. =(
One last corny pic! Hahaha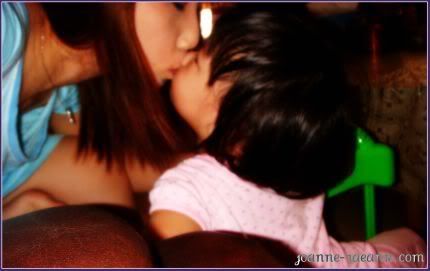 She always kiss me like that now. Must mouth-to-mouth one hor. Otherwise, not counted!
I told her i don't want her anymore, ask her go find her papa. She says, 'NO'! I ignored her & she will say 'PLEASE MUMMY' then come and kiss me! After kissing, she'll say, 'I LOVE MUMMY'. How sweet is that? How would i ever bear to abandon her & 安心 to leave her under her dad's care? I doubt i'll ever do that lor. They will have to wait long long if they insisted to fight for her custody. Yes, she might be happier when she goes over to CCK but it's cos there are kids to play with her. But all in a round, i guess she needs me the most!
Minghui says i discipline her very well. HAHAHAHA Paiseh man. He said cos his friend's daughter always sleep very late & is extremely noisy one. Raeann sleeps at/before 10pm every night, regardless is school holiday or PH. She has a 早睡早起 habit & i think it's very important!

Feel really happy when people agrees with my ways of teaching Raeann. It's like a strength of encouragement & support. =)