Oh yeah! This week is a rather fulfilling week for me! =)
First of all
, my little princess is
2
tomorrow. I'm so happy! I survived through these 24 months! YEAH!
Happy Birthday 小宝贝!
I'm thinking where to go for dinner tomorrow. Any suggestions?
Secondly
, i found my crush! Woooohoooo!
When i was in Sec one, i had a crush on my St. John senior (Yes, my CCA was St. John then.) whom was 2 years older than me. Hahaha
As far as i can remember, it was an one-sided love. LOL! Cos he doesn't know, nobody knows too! I'm a shy girl ok! He was attached then.
Back then, YHSS was still a 2 sessions school. So he was in the morning session & me in the afternoon one.
Guess what? I went to school as early as 9am everyday just to see him during their recess time (I forget what time already)! I just feel contented to see him
from far
. Hahahahahaha
Sounds stupid, crazy & ridiculous? But damn funny when i think of it.
This person suddenly came to my mind yesterday & i asked another senior about him. And TA-DAH!
I found his FB! And my kind senior called & asked him to call me! WHAHAHAHHAHAHAH Surprisingly, he can still remember me wor. =)
Maybe i'm too popular in school lah (which is not a good thing). Hahahaha
He smsed me. And we chatted through sms for a short while yesterday.
This feeling is great! Not becos i still likes him. But cos i found a long-lost friend.
I begin to love FB! LOL! I found alot of friends through there, even more than friendster!
I guess, by now, all should have a FB account right? =)
Thirdly
, it's TGIF today!
What should i do? Party again? KTV again? Movie?
No-No! This weekend is mainly for my 小宝贝 only.
Yesterday i bring her to shopping alone! And i bought 2 lanterns, one for her & one for Ethan. And she knows! She said, pink is Raeann's one & blue is korkor's one.
Her sense of direction is damn good i think... There's JP 1 and 2 after extention cos it's quite big! Raeann loves to sit the car ride at JP 2, just beside Citi Bella.
Yesterday, we were at JP 1, John Little to buy wet tissue & stuffs. She told me she wants to sit car car. So i gave her $1 coin at John Little. I told her that she cannot drop the coin & asked her to bring me to the car car there cos i don't know where issit! (Bluff her of cos!) She grabbed the coin & held the John Little's loots in one hand (KPO lor, want to help me take!) & held my hand on her another hand. And she lead me ALL THE WAY to JP 2 until the car car there. When we were about to reach, she let go of my hand & she ran to the car there. She was giggling while running man! She's happy cos she found it!
Really thumbs up for her! I think she'll be a pro driver in future! Haha
She putted in the $1 coin & after the ride, she said 'bye bye' to the car & we went home! I told her i'll bring her there again next time. She did not struggle or make any noise. I'm so glad! =)
Forthly
, i've found 2 colors from O.P.I that i liked!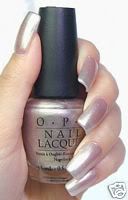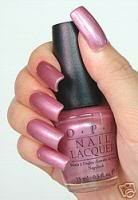 Glamour Game / Blushingham Palace
I'm still thinking whether to buy or not. XS wants to purchase a few too. Is this 2 colors nice? Should i buy?
Oh, a reader emailed me regarding this cos she said she was banned from my shoutbox (which i don't know why). I never ban her leh. Shoutbox sot sot liao.
Anyway, i bought the O.P.I from ebay & it's going at $10.90 per bottle if you purchase 2 bottles. Otherwise, it's at $12.00! I think it's the cheapest i've found in ebay liao. And the seller is fast and reliable too!!
I'm going to pray my ah ma liao!
Have a nice weekend, people! (",)