Omfg, i just got a shock when i saw my credit card bill. Hahaha
Next month one will be even worse. I must be mentally prepared. Sigh
I bought my first 2 bottles of O.P.I nail polish online last week. I received it yesterday! And, i think it's no regret!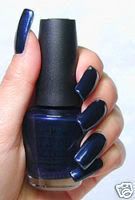 Russian Navy / Kreme De La Kremlin
I heart Russian Navy to the core. *loves*


O.P.I have wide variety of colors. And their quality is really good. I think i'm gonna get more of it. Ok, i've finally found a cheaper hobby. LOL!
Wah lau. It's raining chicken & duck this morning again. Shit lor. I got myself
very wet
while sending Raeann to my aunt's place. I used the whole umbrella to cover the whole Raeann cos i don't want her to get wet at all. And thus, i got wet myself lor. This is called motherly love. Hahaha
Ok, i'm going to search for nice restaurant, nice nail color, nice clothings & nice stuffs online now. Blog again when i've found good deal! :)