Heh heh heh. I changed my blog color again!
I did not change the blog skin cos i'm very satisfied with the current one. Just that the color must change once in awhile otherwise dam sian! This blog skin is the one and only one i created myself. Of cos must use lah! I'm so in ♥ with my new blog color!
I'm SO thankful to Nuffnang cos they gave me 5 stars rating for my blog. And so, i get ads often from advertisers. Keep it up! I'll be very hardworking to blog, blog & blog. I'm desperately earning $ lah. LOL!
Anyway, did a FANS check on my FB earlier. These are my stalkers. Hahaha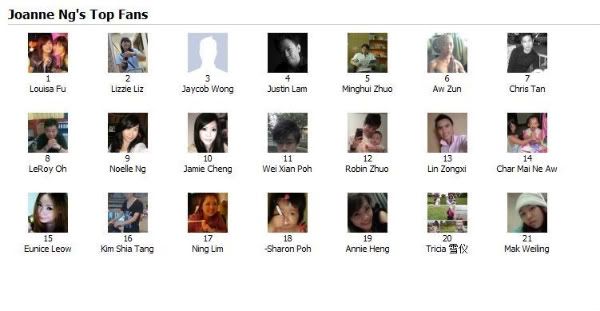 I'm so surprised someone is not in the list! =P
XS is my no. 1 supporter! Hahaha Of cos lah. Our status is married to each other on FB!
Wonder why that crazy Jaycob keep viewing my profile for what? 神经病.
I think i should STOP visiting other's page else they will term me as "stalker" too! LOL!
I'm already one of Jamie & Eunice's stalker. Haha
Anyway, today's 090909. A good day to remember. Also marks the 111 days we have seperated. Ha! I just counted the days and realise the number is so nice!
111 days = About 1/3 of the year.
I'm very happy & still counting...
It's a great achievement for me! Cos i was never single for such a long time! Hahaha
I SURVIVED!