This morning, Raeann woke me up at around 7.30am. She asked for milk. So i woke up & make her 6 Oz milk & went back to sleep
unknowingly
. The TV was on & Raeann kept singing but i was too tired cos i slept at around 5am.
Then at around 8.15am, Raeann woke me up again. She told me she 大便 and want me to wash for her. I woke up & bring her to bathe. Then we watched TV & K.O together at around 11am. SO TIRED NA!
I woke up at around 1+pm & Raeann woke up about 5 mins later. Then we had our lunch, hokkien mee together. I bought the ultra large packet at $4.00. We cannot finish, what a waste!
Then i suddenly feel like going to Vivo cos i need to get my Mac cosmetics. I asked mummy if she wants to go with me otherwise i'll bring Raeann there alone.
And becos my mummy loves me, she feels that it will be difficult for me to buy things with Raeann around when i'm alone, so she accompany me there. And we're just back from Vivo! Si bei song!
Upon reaching there, we went to Mac first. My studio fix was OOS so i bought the concealer first. I also bought a compact for mummy using my Citi TANGS card. The compact's price increased. Now @ $47.00! OMG! Few years back was only $39.00! LOL
After that, we went to Series & Red to see if there are any nice clothes. Mummy purchased a top & a skirt for herself & one black shorts for me. =)
We took turn to carry Raeann cos she was too lazy to walk.
Thereafter, we went to Bosses for our dinner. I miss the food there lah!
I ordered fried rice & mummy ordered the spicy & sour ramen. My fried rice was ok but it was too big a portion for me & Raeann, we can't finish. But Raeann finished one bowl of it by herself. What a darling... =) Mummy told me her ramen sucks.
After our dinner, we went to Chomel! I love the accessories there!
Mummy bought me a watch & a pair of earrings. Chio. *loves*
I love big frame watches!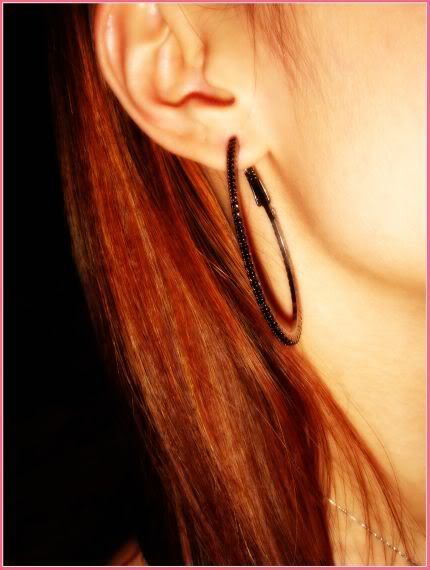 Mummy was the one paying cos i was busy chasing Raeann around. And she also bought a few items for herself. I love my mum, she's the best! Yes, i don't take $ from my parents now but i don't reject gifts from them either. It's rude you know?
While she's still shopping, i brought Raeann to Toy'r'us for a walk
only
. I will never buy her any toys for nothing. And of cos, my girl will not make a big fuss if i refuse to buy her any toys. Most of the time, we're only there for a walk. Unless someone is around... Which i don't wish to mention who is he anymore.
On our way home, Raeann fell asleep inside the car, as usual. =)
Mary helped me to bathe Raeann while i'm busy unpacking. Made 6 Oz of milk for her & she's in her sweet dreams now.
Ok, that's all for what i've done today. Is this entry lame anot? LOL! I think that someone is just so interested in daily routines & always accuse me of not looking after Raeann.
I'm going to stay at home today. Today my wild chick's mode is off lah. I got no mood to party. I'm going to pack my room. It's been messy for quite some time liao.
Tomorrow morning i'm bringing Raeann to market with my parents. I need to buy her shampoo & shower foam.
Ok lah. I go bathe liao. Good night peepz!