I know i'm too slow. Everyone has been crazy over Mc'Donald's monopoly game for quite some time already. I just started yesterday. =x


And this is what i get!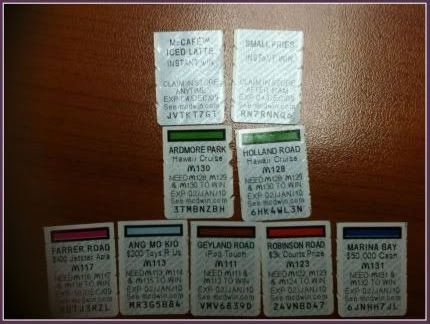 I seriously don't know how to take nice pic with iPhone man! No matter how i change my angle, the pic still sucks!
Heh, by right is only 8 stickers for one EVM upsized. The extra "Ardmore Park" is my bro's one. I've no idea how it get into my room. I think is Raeann take and play!


Nevertheless, i won 2 "instant win" prizes; small fries & iced latte!


I shall have Mc'Donald for lunch or dinner later! =P