My tummy is super duper bloated. I eat too much + PMS!
And becos it's so bloated, i can't sleep last night. Thus, i went to read all the previous entries from my blog...
Read from July 08 - November 08 only, lots of memories came back to my mind!
This is the purpose of why i blog, i love blogging!
************************************************************
I mentioned that i'm very fussy over shoes lately. And this is my conclusion...
1) Charles And Keith
A member & used to be their loyal supporter. But nowadays, i can't seem to find one single pair that i like anymore. I don't know why? I think their designs are too complicated!
2) prettyFIT
Also a member but not really a supporter of them cos their shoes are very expensive! I change my shoes so often so i doubt i need to buy so expensive ones.
3) Mondo
Bought a few pairs from there cos i loved their designs! But, but, but... their quality really sucks. The tip of the heels
never
last!
4) U.R.S
Good quality but designs damn aunty. Haha!
5) DMK
When i wanna buy shoes, this brand doesn't ring a bell to me at all. I will pop in and take a look but never for once i will exit with something...
So, my favourite brand now is...
HEATWAVE!
I bought 2 pairs in a week! WOooohoooo.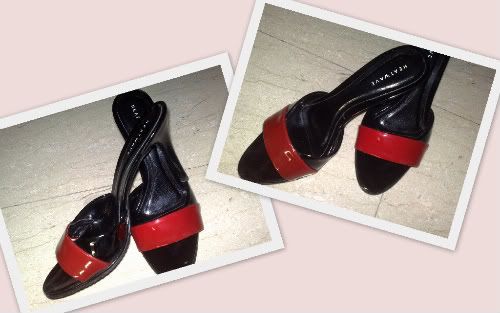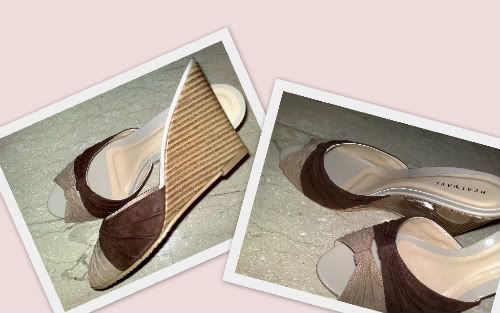 I love high high shoes! Cos i love tall tall man! Haha. Able to kiss without any troubles... Haha
I'm so sad now. Someone's leaving me... for a month! :( :( :(
I saw something that made me so fucking angry that i feel like crying out of frustration now.
To Mr Ho Zuyao : Stop acting you're so kind to my aunt & family. What you do behind my back, I JOLLY WELL KNOW. I kept quiet doesn't mean you can climb up higher on my head. You want to blow the matter, NO PROBLEM. I'm right here waiting! What an actor always trying to gain sympathy. NBCB!