My Monday Blue is not over yet & it's now passing to Tuesday Green.
When i woke up at 7am today, it was raining, freaking cold. I forced myself to bathe. Brrr... Brrr...
But even though i bathed, i'm still feeling so sleepy right now. :(
I'm not going to M'sia with the group anymore... Something cropped up and it's better for me to stay in SG.
Anyway, i hope they will enjoy bah!
Haha, i just received an email from a very cute reader...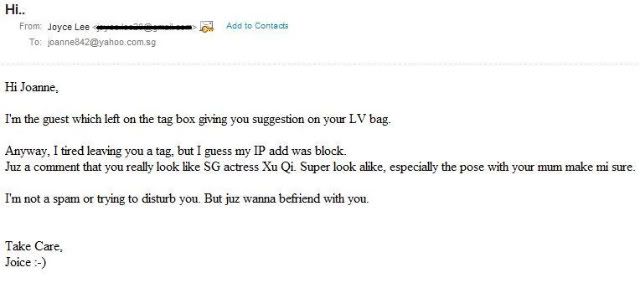 Haha!
Thank you Joice! I'll try to change my tagboard asap! (Darren, what's your secret to it? How did you managed to tag everytime & always?!)
徐绮 - Joey Swee? LOL! (Searching for her pic now...)
Actually, Jeremy told me this before! But then i don't like 徐绮 leh. I wanna look like Fann Wong, can? Haha It's possible after some major surgery lah...
Ok, i found Joey Swee's pic liao.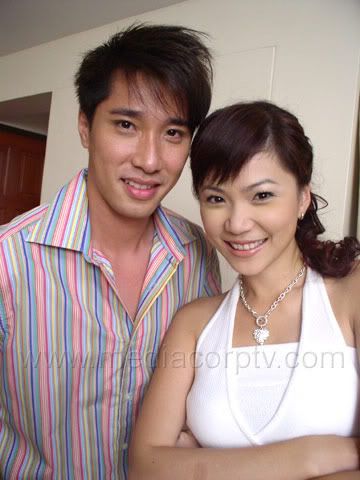 Do i look like her meh? LOL!
It's a compliment! Oh Joice, thank you for brightening up my day & waking me up from my sleepy mode.
I'll be glad to have a friend like you too! :)
I can cash out my Nuffnang again after this current ad from Singtel! It's the 2nd time for this ad, thanks Singtel! I love Singtel ads! Cos the earning is alot! Definately much more than others!