伤都会好的。。。

Yesterday night was damn NUA!
Initial plan was to board the gambling cruise & back only today morning... But, end up decided to drop the idea. I don't really like to gamble na! It's been months since i last played mahjong. Haha
I wore a 'Batman' tee & jeans out lor, so was Molly. Haha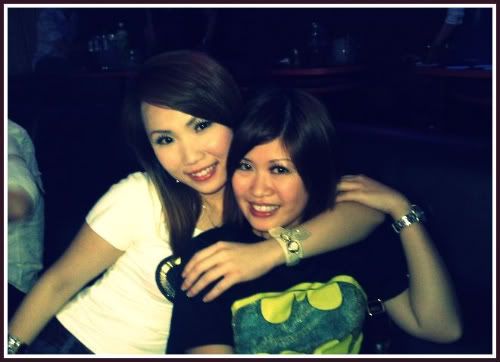 Then we went party, with Patsy!!! LOL!
A man, who said he's a CID came & know me. I just say 'Hello' lor. Out of sudden, the waiter came with one tower of beer & told me it's the man who treated us de. Hmm...
In this case hor, we drank a total of 3 towers! SCARY!
But i left early, cos i was drunk already. Haha But surprisingly, i'm still able to make my way home alone. LOL!
Frankly speaking, i'm damn sick of drinking now leh! Even though i prefer my current life, but i'm really really sick of clubbings liao. Now, i've to drag myself to club lor. Cos i really got nothing to do when Raeann's not around!
We have decided to quit after Molly's birthday. No more clubbings after 17th Dec. =)
I want to go genting again leh! But Patsy jio me to go BKK in May 2010. Chey! Still long lor... I also cannot confirm now. Cos i've many tasks to accomplish next year!! And i need lotsa $$$!! Argh! I need to save money for my divorce now! SIAN SIAN SIAN...
After my divorce, i assume that there will be many changes in my life? I don't know. But i guess i will be able to adapt to it. =)
Mummy said, after my divorce...
not to have bf until i'm 30 years old
!!! Hahahahaha
That's another 4 years plus! But then, this type of thing is very hard to say 1 mah. LOL!
I told her i'm not getting married again. It's so much hassle lor. Marriage is cheap but divorce is so expensive. TMD! I would rather co-habit leh!
Anyway, i'm going for dinner now.
See ya!