Happy Birthday to my lovely Mummy!
KK planned his wedding's food tasting yesterday evening & to celebrate mum's birthday as well. But mum didn't allow us to mention it was her birthday & thus, there was no cake. Oh well, of cos we knew the reason lah!
KK chosen the place where i held my wedding... (Bad memories! Haha)
And the person-in-charge actually remembered me!!!! After... almost 3 years! LOL! I introduced alot of people there lor. They should give me an award for that!
The food portion was HUGH man. We eat until want to puke!! I still feel full until now. Indigestion liao~ :(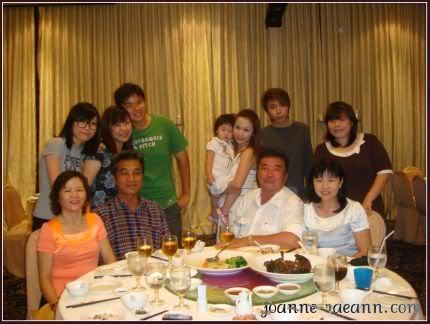 With JJ's parents & sis! :) Haha, this pic looks so funny lor...
My face so rounddddddddd! Wooohooo!
Irritating man asked Molly how come my face getting rounder... I asked her to tell him, BECOS I LIKE IT! Hahahaha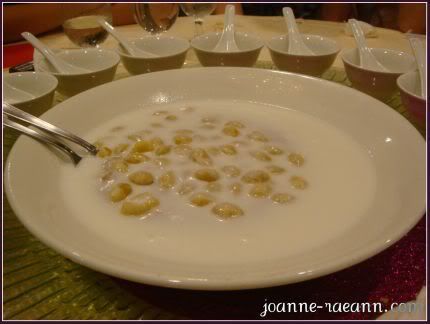 My All-Time Favourite - ORH NEE! :)
Raeann was soooooooooo naughty lor. Running around, playing with the kids there. And she lie on the carpet!?!?! OMFG. It's so dirty lor. I smacked her pig leg on the spot although i feel really 失礼 to discipline her outside. She's driving me nuts.
When we reached home, i scolded her again. I explained to her that it's so dirty & if she's gonna do that again, i'll bring a cane out in future.
I really wonder... IS SHE A GIRL OR A BOY??!!
And guess what? This morning she woke up, she asked me...
Raeann : Mummy, why you scold me?
Me : When did i scold u?
Raeann : Yesterday u scold me lor...
Me : Cos u so naughty that's why i scold u!
Raeann : I good girl leh, why u scold me?
-_______-" I WANT TO VOMIT BLOOD LIAO!
Okay, i'm officially BROKE now. I busted more than 1K during X'mas; within one night. *clap clap* I think i'm really PRO in spending now. Teach me how to save like that?!