Becos i'm so crazy over 达浪 aka 薛海, i decided to get one mini 粉红顽皮豹 for myself. But somehow, don't know why, it became Raeann's property. Aiyo.
She said, "这个你买给我的!"
And this morning, she happily go to school & tell her teacher...
Raeann : 老师, 我有 pink panther leh. Mummy 买给我的!
Teacher : 在那里?
Raeann : 在车上!
Cos i told her that she can't bring to school, the teacher will confiscate. So, it's hanging inside my car right now!! Hee
I like to buy small & cute items. Cos it so light & tiny, able to fit into any bag, then Raeann will be able to bring it everywhere. Most importantly, it's not 'din deh' to take up so much space inside the house. :)
3 ladies (Molly, Bobo & me) + 1 kid went to purchase this mini 粉红顽皮豹 lor. LOL! Then i treated them for dinner @ Secret Receipe!!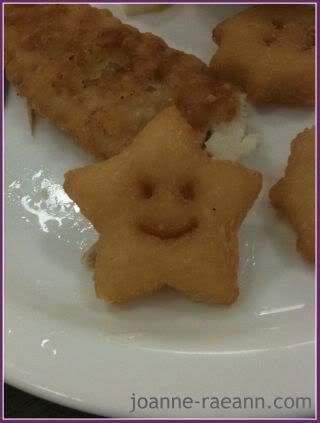 Kids Meal : Fish & Chips with starry wedges. Cheap & DELICIOUS!
I make it a point to bring Raeann out for good food & shopping
at least
once a week. It's not easy for me to bring her out alone anymore especially when i feel like shopping. Cos she will walk by herself, anywhere & everywhere. I'm so worried she'll get lost so i must focus 100% on her. Hence, i can't get to shop at all! But nowadays, she don't want to walk... Always ask me to carry her until my spine's pain acting up again! :(
Anyway, on a happier note, i'll be meeting Molly again for Suki steamboat tomorrow! Yeah! I told her i will fast for the whole day & go full force for that buffet dinner. But i doubt i can do it cos i gets hungry easily nowadays. Like now, my stomach is grumbling liao! Sigh
Ok, before i go & find food, i shall show u guys my future boyfriend first! LOL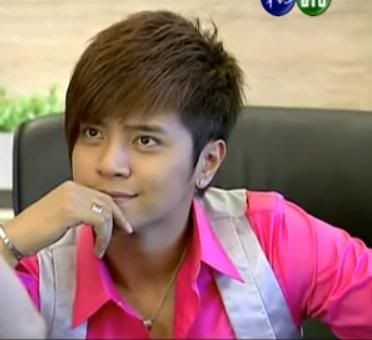 Haha... Very yandao right?! It's good to have dreams! :)