There's something which i really really cannot understand. Why is she always so cranky when she's back from there?
Now, not only me are saying so, my whole family also think so. BUT WHY?
Maybe i should take down video one day to prove it. Cos i guess whatever i say, people will think that i'm trying to find trouble only.
I'm so frustrated till i tell my mum, "If next time u all still ask me to let her go back, come back so ki siao, i don't want to look after anymore."
They knew i'm super pekchek liao. Cos she abit abit cry & scream & shout, and now got new pattern again; BITE PEOPLE.
She bited me on my elbow & bleed lor. Then she tried to bite my dad when he go & pacify her. She wanted to climb up the urn & mini tree. Of cos we have to stop. Then she cry & scream & shout. And when people tried to pacify her, she beat & bite. WTF?!
Yes, i admit, at times, she do cry when she cannot get things she wants. But she will only cry & not scream or shout. I extremely hate it when kids scream & shout! Sorry to say but it's so fucking irritating. And this time round she did it & she do so until she lost her voice. SUT anot?
I can't do much when she refuse to stop screaming. I also didn't beat or cane her. And when people go & pacify her, she screams even louder. This is definately NOT HER!
I don't want to say much anymore cos people will misunderstand about what i'm trying to imply. It's the kid that suffer. When i stop her from going back, i always get blames & scoldings only. Sigh
Anyway, the day when she went back, i went out with Patsy, and we clubs-hopped. Molly went into coma after clubbing on NYE. I spent my NYE at home cos i want to spend it with my precious...
It's a brand new year. Will it be a brand new start for me? :) HOPEFULLY.
Everywhere were so quiet on 1st Jan. All the clubs i went that night were so 'cold'. Most probably, everyone was hibernating at home to get ready for the weekends. Even Dragonfly also not crowded cos Ah fok & gang were there. They kept bombarding my phone & asked me to go down. I don't want cos i don't like there.
Our first stop is @ Club Mango! Woooohoooo... I saw someone's friends there. Luckily i was with Patsy only lor. Else i don't know what kind of reputation i will get again.
Then, this Patsy die die wanted to go market. Sigh. And i finally accompanied her to market after Mango. I rejected her many times before & she got really pissed off. Hahaha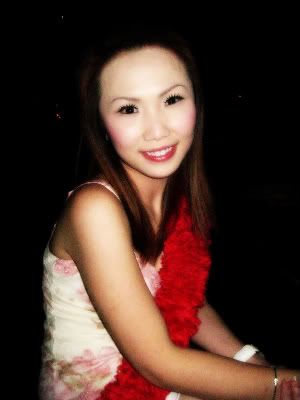 She was so happy till she hang flower for me!! (Just kidding!) She said i'm part-time singer at market. LOL!
It's not worth going there lor. She got her ankle sprained & was dead drunk that day. I don't know what the hell she drink? How & why she got so drunk? I seriously don't know cos i was fine. Luckily, i managed to send her home by myself lor.
Nowadays when i club, i really cannot find the right mood leh. I just feel so sian lor. But if i stay at home when Raeann's not around, i'm even more sian. What should i do huh? Should i take up some Friday course? What course should i take? Hmm...