Hello. I'm at home rotting now... that's why i'm here blogging!

Today i used the longest time of my life to make-up... more than 3 hours! Becos i got so emo & those tears keep spoiling it... Then i've to re-do & re-do again & again.

I feel so sleepy now. Can i just sleep now till tomorrow afternoon??

I think Patsy will kill me lah. LOL!

Meeting her for movie @ town in the evening later, going to her place first. Should i drive & park my car at her house then cab to town? Yes, taking cab cos we're going to drink, drank, drunk. I think i've not touch alcohol for more than 2 weeks? I can't remember.

I really hope i don't see them tonight. Not enemy but i just don't feel like it.

I'm concern becos i treat her like my sister but yet she feels that i'm a nuisance for interfering too much.

Just becos i don't agree with what she's doing now & i'm termed as 'nuisance'.

A good friend doesn't mean i've to support you in whatever u do, even for the wrong thing. Becos i care, that's why i've to stop u before things get serious. But well, maybe u think it's not any big deal & i shouldn't be sucha KPO.

Aiya, don't worry, i won't care anymore.

I can lose the whole world, but as long as i don't lose myself, i'll survive.

My little one has gone back to CCK this morning & will be back tomorrow. I'm so upset lah, cos i feel so lonely. My hatred for CNY has increased to 200% now. Before married, i'll go visiting with boyfriend & the days were usually occupied & fun. After married, for the past 2 years, i went visiting with ZY & Raeann, days were already quite boring. But now, i'm alone at home, bored to death. SICKENING FEELING! I'm counting down for the hours she'll be back!
After 3 hours... make-up finally completed!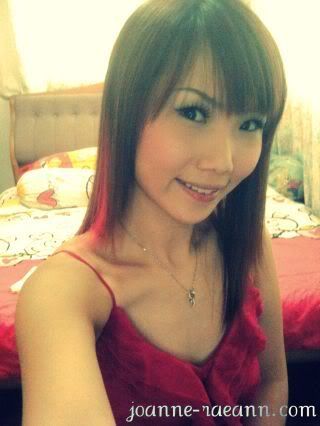 Did u notice a pink strand of hair? Yeah, i love it so much! =)
A clearer view...
Patsy says i look very 'ah lian'. Hahaha
I feel like taking a nap now leh... *yawnz*