I did try to blog on Sunday ok! But Raeann kept disturbing me & i only managed to type 2 sentences.
The weather is really killing me!! Not only me, even Raeann! She kept asking for ice cream!!
I brought her to buy ice cream on the hot Saturday afternoon.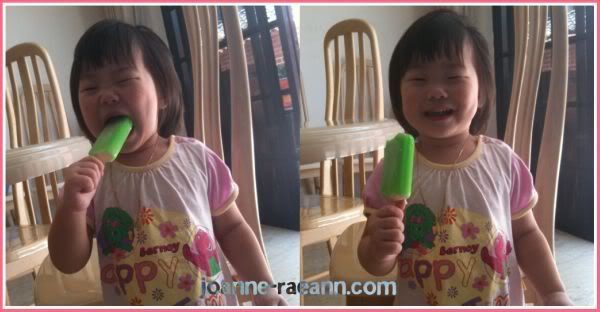 Look at how she enjoyed it! And she finished the whole stick by herself lor! She refused to let me eat!!
I woke up at 8+am on Sunday morning to do housework. I really don't understand what's Mary doing everyday??!?! I washed mine & Raeann's clothes (wore from Friday - Sunday) & hang it out to sun. Ironed about 50 pieces of everybodys' clothes, i just iron whatever i can see & take. I clean the kitchen & dining area. I also washed plates. All this is done within 3 hours...
But Mary's at home every single fucking day & she cannot even complete all the basic and simple task. Moreover, she did not help me to look after Raeann de lor.
After my mum came back from the market, she took 2 super big baskets of laundry (left by Mary) to wash. And those are the clothes which we wore like... 3 weeks - 1 month ago!!!!!!!!! WTF!
No wonder my clothes always disappear & i've to keep buying & buying.
I really cannot tolerate this! Urgh!!!! Everytime speaking about the disappearance of my clothes, i feel so fed up!
I kept asking my mum to change maid lor. She's so lazy & gao keng (cos old bird liao) now! Very dangerous! She also has selective hearing one lor! She only listens to thing she feel like doing, otherwise, she'll pretend not to hear.
*I need to go now!! Busy busy busy!!!