Oh yay! Raeann's on school holiday this entire week! So i can slow down my pace alittle for this week! Don't have to rush & rush like a mad woman!
I told Patsy i tio 猪八戒's spell yesterday & today. I don't know why the hell am i so tired when i did not go out for the whole of Saturday & Sunday lor! -_-"
And this Raeann woke me up at
6am
this morning to tell me she wanna eat 包!!!!!!!!!!!!!! Why she wanna eat 包 when she's sleeping halfway har?? And where the hell am i going to find 包 for her?
She woke me up from my sleep, she told me, "mummy, 我要吃包!"
I was like... "HUH? 包????"
Then she still can reply... "BREAD lor"
I asked her to go back & sleep first, later on the way to my aunt's house, i'll bring her to go & buy!
When she woke up at 7+am, i still ask her, "girl, 你要吃包啊?" (To prove that i'm not dreaming lah!)
Then she nodded her head. LOL!
Anyway, some pics from everywhere, anytime.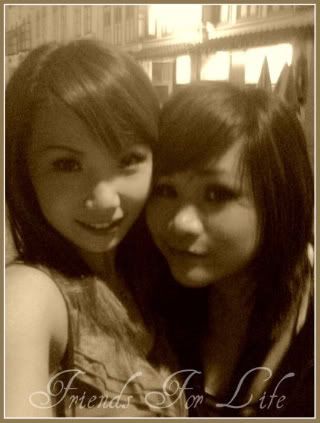 She's suck shit! I gave her this nick many years ago & she said she's so used to it already. HAHAHA
Me, Molly & her used to be very close back then! She's also from YHSS la, which means we've known each other for a bloody 13 years! Woooo, great! Just gotta admit we're old now. =(
I met up with her 2 weeks ago for pubbing and damn! It's was fun man! Wahahha First time i go out hor, never spend $ lor. Cos the money i spent, i won back from blackjack (SS)!!! LOL! So, in another words, SS was my host for that night! Whahahahaahah
Can't wait to meet up with her again soon! =)

**************************************
Then, last Friday, we were at NANA (I dragged my ass outta the house at 11.20pm! LOL!)...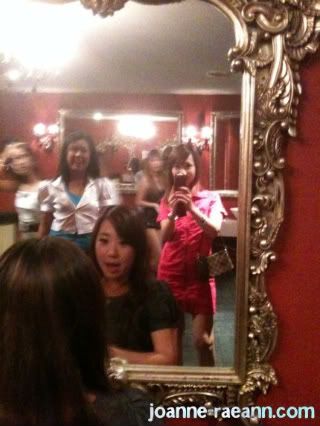 This pic was taken inside the bloody huge & spacious toilet.
Initially, Patsy keep urging me to take pic with her, i die die don't want cos of the lousy iPhone quality.
Then she sat down to touch up her make-up, i took this pic secretly! Whahhahahaha
Her expression is cute, isn't it? =P
Rah-rah-ah-ah-ah-ah!
Roma-roma-mamaa!
Ga-ga-ooh-la-la!
Want your bad romance!
I realised we cannot take proper pics nowadays! All our pics are becoming more & more artistic! LOL!
After drinking till bloody 6am, we went for breakfast, thai food at Bencoolen. Only one word to describe, SCARY!!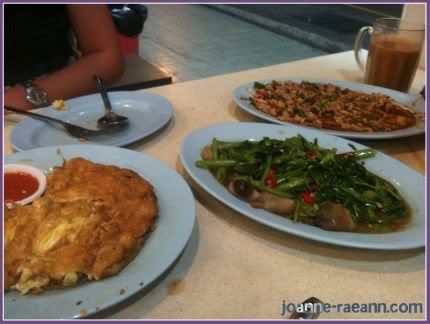 It's my first time eating after drinking & i'm sure it's gonna be the last time as well. Nope, not that the food sucks, on the contrary, the food are cheap & delicious! $21.00 for 4 dishes; kang kong, fried rice, pork salad & omelette!
Except for the sour fried rice which taste weird to me, the others are sooooo delicious lor. I ate so much till my gastric cannot take it! It's so damn bloody fucking pain till i can't stand & walk properly lor. So torturing leh... I'm not gonna do it again!~