We no longer fuck our own life, we changed it to 'Love My Life' now.
The more we fuck it, the more sway we get. Recently so much sway things have happened, until i cannot believe it either.
I've not been going out with the girls for a few weeks already & i'm like lost in my own world now. LML.
What they say, i don't understand. I can no longer blend into their topic anymore, so sian.
And hor, Patsy don't want to hear my complaints anymore. :(
Last Saturday, she kept asking me to go out but i kept ranting about how much things i've to do & how sick my life is.
Hahahaha
Then she refused to reply my msg. WHAHAHAHAHA
I brought Raeann to my friend's house for a small gathering/party last night! But we left early at 9+pm cos Raeann told me she wants to sleep already. True enough, she fell asleep shortly after i wiped & changed her, without drinking her milk. OMG! She must be very tired!
But i think my friends were even more tired. They brought her to the playground one by one. Hahaha One came up for 10 mins, another one brought her down again. LOL! My energetic little girl!
I'm also very tired & sweaty lor. I K.O immediately after i bathe, within 5 mins. LOL!
I need to go back to court again on 15th April for that Wax In The CCB's consultation. I don't think that fucker will turn up. If he does, i think he'll need to rent a room near there cos he needs to turn up EVERYDAY. Can you imagine how many people have file for a claim against his company?

I've received a letter from the police, informing me that this case has been referred to Senior Investigation Officer of Central Crime Squad at Central Police Division Hq. I've also called up the office to ask about the status just now. He told me, 'still investigating'. So, it's consider a CRIME! I hope justice will be done.

Honestly speaking, for me, it's not about the money anymore. I can just treat it as i've spent on alcohol & drank those money away. But i'm just very 不甘愿... I've not gone for a single time after i signed up with them on 29/12/09. I wanted to report to CASE when i failed to book any appointment during the CNY seasons. But i tell myself to give them a 2nd chance, maybe they're real busy.

Then, who knows now? Close down? They ran away with our money? 3000+ women = $3 millions+? Cos their packages are average about 1K or more.

Don't worry. Even if we're unable to get justices done, the GOD will punish you... one fine day. It's just a matter of time. You'll get your retribution!

I don't want to waste my energy to get angry over you anymore. I shall just sit back, relax & watch what kind punishments you gonna get. HAHAHA

I shall end this post with 2 pics of Raeann taken this morning!!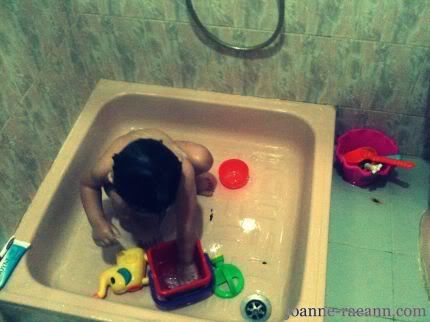 This is what she do every morning...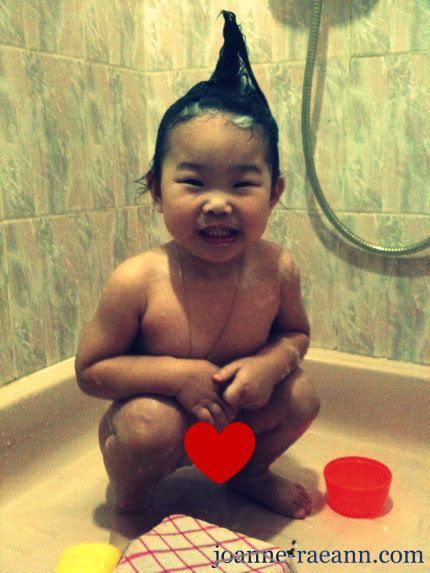 I purposely 'style' her hair like that & she asked me to take pics for her! LOL!