Alright, i need to go out at 11.30 am and i've only about an hour to blog & edit/resize pics...
Chop, chop, fast, fast.
My long weekends was well-spent with my family. I'm a si bei family woman now. Haha
Expo on Friday, we went to Licence 2 Play fair, Food fair & John Little fair.
The jam just to go inside Expo was terrible! Long queues of vehicles & carpark were full everywhere. =.=
We managed to get inside within 1/2 an hour cos they cut here & squeeze there. Luckily i'm not the driver, otherwise i sure make an u-turn and go home. Hahaha I don't have the patience!
And becos i'm not the driver, i'm able to cam-whore inside the car while waiting! :)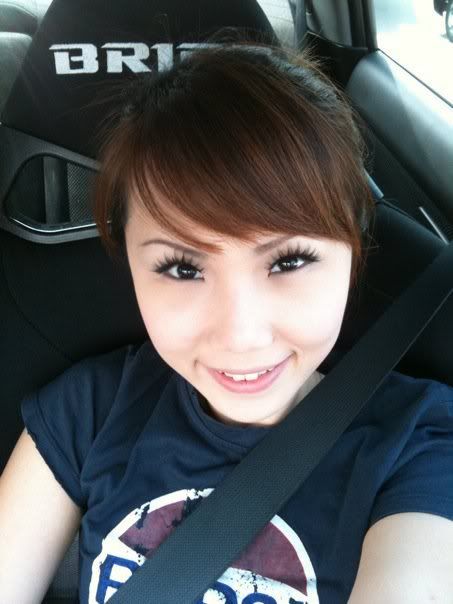 He was being forced to take this pic with me!
The cousins!
We queued for cashier for almost an hour at John Little fair. After that queue, i went totally exhausted. FML! Old liao.
Becos it's Vesak day, we went to pray before going to Expo. Due to my neligence, Raeann almost got into an accident with a van! FML! I'm sorry, baby!
But sometimes, she really make me damn pekchek lor. I don't want to lose my temper in public that's why i choose to walk away. I don't like to bring her out with her daddy leh! She will be super noisy, kp, abit abit also cannot, legs spoil etc etc! Make people super irritated.
I bring her out alone or with Bobo, she won't be like that de lor. This proves that her daddy spoilt her to the maximum liao. =.=
I don't want to bother or chup cos we sure quarrel becos of her. I just make sure that she behaves when she's alone with me can liao. When i'm out with him or his family, i'll make my eyes blind for the time being. If i kpkb outside, people will think i'm a MAD WOMAN & this Raeann may
not
listen to me as well cos she has alot of 'mountains' around. So, what's the point of me wasting my breathe, shouting & screaming in public? Better save the image of myself!!
Oh no!! I need to go soon!!
YAY! His wallet is here!!
His previous one, also from me, was the same design but in Damier Canvas series. Bought it in SG for $700+ lor. This one i asked JJ's cousin to help me get in Europe for only $500+!! So cheap!!


Thanks JJ's cousie. Sorry i don't know your name but i really appreciate your help! =P