Well, as promised, i really brought Raeann to JP to buy a new set of BJ GO last night. =.=
Cos her niam keng skill is 一流 one. I'm so scare of it.
Brought her & Bobo to New York New York for dinner first. Cos Bobo's a member and she has a $10 voucher. Therefore, i paid only $28.70 for 2 dinner sets & 1 side order. So worth!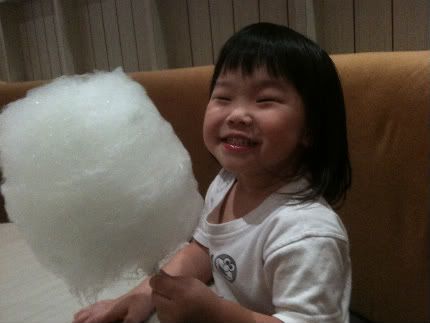 So happy eating their free candy floss!! Haa!
After dinner, we passed by Swensen, i asked her to take a pic...
And here comes our Buzz in the future Toy Story 4!


HAHAHA!

*********************
Recently, i'm so crazy about Korea cosmetics.
Last Saturday, i went to The Face Shop bought $50+ worth of cosmetics, for fun. Cos i've 20% (GSS) + 10% (cos of member's bday week) discounts & my savings was $21.14, how worth!
Yesterday @ JP, i realised there's a new shop at Point 1, level 1,
Nature Republic
.
Bobo told me it's a brand 代言 by Rain. Oh well, i don't really like this person lah. But i went in to take a look cos of it's price, cheap! Cheaper than TFS! And there's 15% discount storewide now for GSS! :)
Example : Nail Polish
TFS : $2.90
NR: $2.10
Bobo bought 4!! But i'm the one who paid, it's always the case lah. Haha
I bought their highlighter at $11.10 - 15% = $9.43. Cheap right? In fact i also bought one at TFS last week at $12.90 - 30% = $9.03 (also mad cheap!) but i don't like leh, it's too creamy. I like more powdery type.
I think these 2 brands are somehow similar lah cos they are all from Korea what! Correct me if i'm wrong.
My cosmetics all very cheap wan, and i don't use skin cares too. But why am i still so poor? Since i save so much on my face? Sigh.
The most expensive cosmetic i have was Jill Staurt Compact Blusher (about $80) and i've stopped using it after 2 compacts. Cos nobody can help me buy!! :( Good also lah, save $!!
Now i'm using this TFS blusher at $16.90 - 30% = $11.83. SO CHEAP lor! And it's good! :)

I would like to try the powder pact from NR next.
But i don't dare to anyhow change cosmetic leh. Everytime i change, there will be pimples popping out. :( I've been using MAC Studio Fix for many years already. How ah? Should i buy? Hmm...

Anyone got good and cheap cosmetics to intro me?? Hehe