Okay, i had my birthday schedule planned, by myself. I hope nothing goes wrong!!
Tuesday - 22nd June : Go jogging after work and have an early night! Provided nobody date me out lah!
Wednesday - 23rd June : Treating myself to a good manicure + pedicure in the noon... Then Ritz Carlton for dinner with ZY & Raeann. Bring Raeann back to CCK and put her to bed, then off to RWS!
Hmm, pray that everything goes on smoothly. :)
Now, i don't know what to wear despite buying SO many clothes again. Yes, i just paid for 2 pieces. FML lah! Now i upgraded, one week buy 4-5 pieces. Don't know for what fuck sia! Hahaha I think i should stop buying clothes for the next 2-3 months. =.=
This morning, i gave more than 10 pieces of dresses to my maid. Some are new, some i only wore once, and the rest are becos i wear till sian liao. Thus, i gave them away...
Ok, i will stop buying. No more online shopping for me!!! :(
How's luck so far? Got win in WC? Hehe
I won $83 over the weekend. Haha!
I bought
under
for
Netherlands Vs Japan (Sat) and i take New Zealand
eat ball
last night! Both won but i only betted $50 each. So the winnings are small too!! NVM lah, just for fun only. 4 years once, must blend into the WC atmosphere.
I knew ZY during the last WC lor, which is 4 years ago. And we were always bickering over the teams we bought. I always take opposite of him that time but 不是故意的. LOL!! Then he asked me to pray for him to win and he would recroup my loss to me cos i betted very small & he betted all his assets down. Haha! So funny. End up who won, i cannot remember liao.
I think i won about $1K+ during the last WC. I betted bigger last time. Now very poor so bet small small. I was richer when i was single lor! FML!
Good luck to all, especially Darren! Haha He's my WC kaki. We always sms each other for tips and advises. LOL!!
*******************
Went for Toy Story 3 with Raeann, ZY & his whole family on Saturday. Quite a nice show!! I never liked to watch movie, let alone watching cartoons movie. But okay leh, not bad leh! Worth watching!!
Yesterday was Father's Day! It's not an important day cos nobody remembers it. LOL! I asked Raeann to tell ZY 'Happy Father's Day', and his reaction was, "Huh? Today Father's Day meh? How come nobody talks about it?". I told him, "Cos father is not important mah"! Hahaha
I wanted to treat ZY a meal but his mum bought lunch for us and i've to go for dinner with my family. Some other day bah! Before heading home, ZY brought us for shopping! Haha But i think he was the one doing the shopping more. Like very excited, long time no shopping like that. LOL!
I do online shopping almost everyday tii i've got nothing to buy liao leh... I only bought a pair of sport shoes for myself lor. Cos i need a decent pair for my jogging!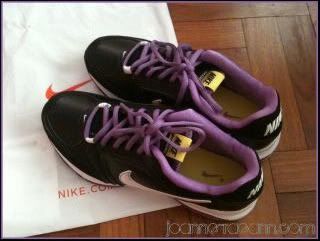 Chio anot? $69.00 only leh!!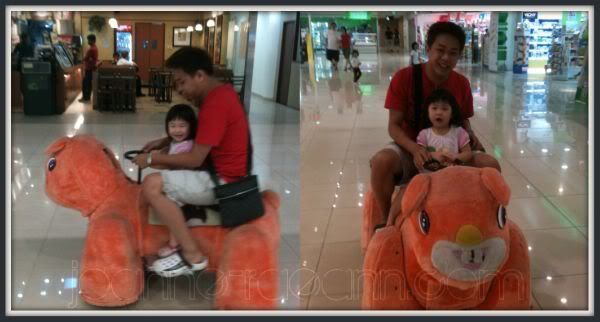 The TWO kids.
Going jogging with my new shoes tonight! YAY!
XOXO