Note : This entry is to express my gratitude to many people. You will see many 'thanks' & 'thank you'. LOL!
Last week, ZY suddenly asked me whether i would like to attend F.I.R concert anot. Being a moron in concert (For the past 26 yrs, i only attended ONE concert before & it's 风飞飞 one, haha), of cos i say i want lah!
Last night, he told me that his sis has helped him to buy the tickets already!! LOL! Thanks, thanks, thanks sis & hb! ♥ ♥ ♥
See ya on 9th July!! :)
Already arranged with mummy too, she agreed to help us pick & look after Raeann!! Thanks mummy!! *Sorry baby girl, we'll bring you next time when you can enter.*

Wow, i feel like i'm dreaming in Lala Land. If so, i don't wanna wake up!! HAHAHA


♪ ♫ ♥ ♥ ♪ ♫ ♥ ♥ ♪ ♫ ♥ ♥
My bro passed me a letter yesterday evening, asked me why i never open!! I don't know about it at all, nobody tell me & it was left on the table. It was a mail from Meiling, sending me her wedding pics & birthday gifts. Thank you sweetie!!!
My mum says she's very very pretty. Hee!
And yes! She's not only pretty, she's very smart too!! =)
Thank you for your mask & eyeliner.
Ok, done with all my appreciations!! =)

♥ ♥ ♥ ♥ ♥ ♥ ♥ ♥ ♥ ♥ ♥ ♥
I thought i can go jogging tonight...
But aiya, i accidentally tripped over Raeann's BJ GO (Billiard table) last night and it's crack!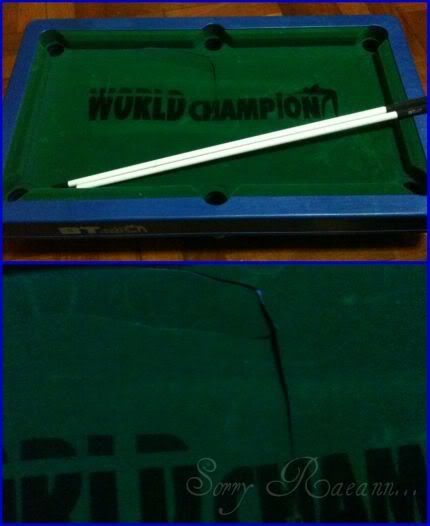 I need to bring her to JP tonight to buy a new one. COMPENSATION. =.=
She keep niam kenging last night "我的 BJ GO 坏了"!!!
I asked her to go & sleep & stop repeating else i'll not buy her a new one. Okay, she sleep!
This morning, after drinking her milk, first thing she spoke was... "Mummy, 你弄坏我的 BJ GO 了!"
-_______________-"
Haha, i thought she will forget. Hahaha
No choice lor. Die also must bring her to JP tonight.
Like father, like daughter. Raeann also love billiard! Siao liao.
P/S : Don't ask me why issit term as BJ GO. She named it herself.