The Germans did it better than what i expected, 3 cheers to them! YAY!
Cheryl whatsapp me just now... Asking me what i'm buying for tonight; Netherlands (Holland) VS Denmark!
I think it'll be a draw game bah... Cos as far as i know, both teams are not bad de.
Maybe
, Holland will win. But most likely, draw?
Don't know lah. See how!
Haha I told ZY i want to buy USA jersey with the goal-keeper's name printed on it. He's good lor! But ZY said if i wear that out, people will spit on me! Wahahahhahahahaa!
I bought a lil' denim skirt for Raeann! It's so cute can! Luckily she wants to wear it cos it has many pockets. =.=
She's very very fussy on clothings. Don't want this, don't want that. She likes to wear jeans/shorts with many pockets. And she loves to wear like a boy. -_____-" Very pekchek! Want to doll her up also cannot! Everytime says want to be the same as her papa. TMD!!!
Don't know whether issit during birth time, her kuku bird accidentally stuck inside or what. How come she so tomboy ah? Whereas her mum is so ai swee... Sigh!
I'm so tired, so sick of working. I want to go holiday! Ethan's in HK with her parents right now. When will it be Raeann's turn? In fact, i feel scare to bring her overseas. But then, i will still bring lor. I feel like bringing her to Japan!! Must ask her to go phyco her ah gong to bring her there!! Cos her mummy cannot afford the expenses there! Hahaha
KK & JJ just came back from Japan last Friday... And JJ got me this cute kitty pouch! Thanks alot girl! Raeann got a lil' bear pouch from them too! :)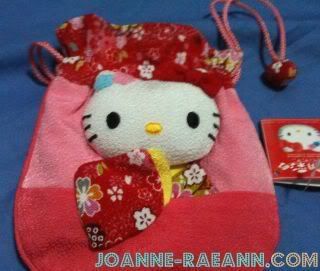 But hor, it became Raeann's property this morning again. LOL! She asked me, "Mummy, 你可以给我吗? Please!". OMG, she asked so sweetly, of cos i'll give lah. The moment she got it, she go & take all her money from her ugly pouch and transfer to this pouch & keep it properly. Haha. She's one rich girl ok, richer than me lor. FML!
We brought her & Wallace to Lot One yesterday, for my late breakfast & lunch @ Ajisen, 3pm! Improper meal hours! FML!
Then brought them to arcade for awhile...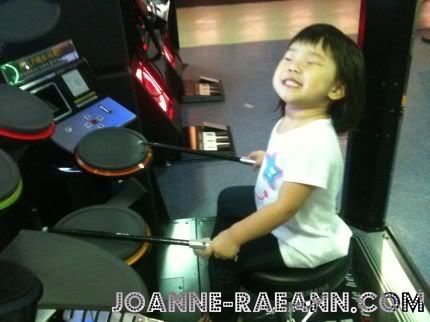 She just can't smile & pose properly lor!
Time flies... She's sucha big girl now!
She'll be in nursery next year, then K1, K2, Primary 1...2...3...4....
OMG. I'll be an old hag by that time! So scary!
Anyone interested to work in Expo for the next 3 days; Tuesday, Wednesday & Thursday?

It's for a magazine booth. Only female.

Must be serious at work, cannot be on the phone for whole day.

9.30am - 6pm. $80 per day.

Interested females, drop me an email @ joanne842@yahoo.com.sg ASAP! Thanks!

I'm helping a friend to ask around.