I'm insane, i'm so crazily mad about jogging now! =.=
I used to hate it like most of the people do. But now, i begin to love it. I love the 'sweating sensation', it's damn shiok especially after being restless for the whole day. Jogging made me awake & energetic!
Went for round one at stadium with Molly last evening... Then went back, ate alot of snacks from Japan, then decided to go for a 2nd round with Jing Jing around the whole Yunnan Garden. MAD!!!
I'm so numb with all the muscles aches now. I jio-ed Molly to go again today, hehehe.
Everyone doubted me when i say i wanna go jogging. Haha EVEN i doubt myself too. How will such a lazy girl go jogging?? LOL!
My new hobby - jogging!
I can slim down from it & most importantly, it's FREE! So, why not?
Talking about the snacks from Japan, WOW, my bro bought ALOT back. Everytime he go overseas, he will buy nothing else but food. LOL!
I ♥ Japan alot... Simply adore everything about Japan especially their yummy snacks & it's cute packaging that makes people so tempted to buy. :)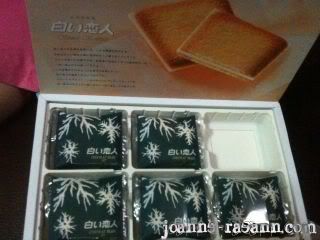 This is damn damn damn nice!!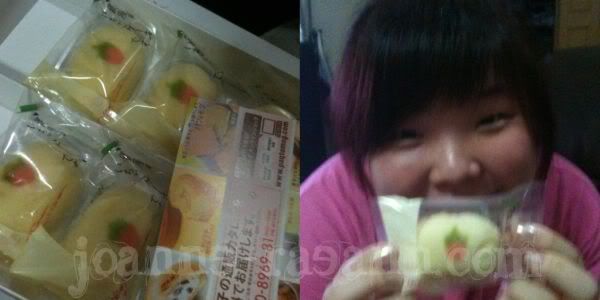 And this, Tokyo Strawberry? (Don't know issit named that cos the banana flavour is called 'Tokyo Banana', so i assume this is called 'Tokyo Strawberry' since it's strawberry flavour.)
Quite nice!! But Tokyo Banana is more popular! Everybody knows about it! :) We had 2 boxes but finished within 2 days. Hahaha I forgot to take pics of it!
Bobo is so happy!!!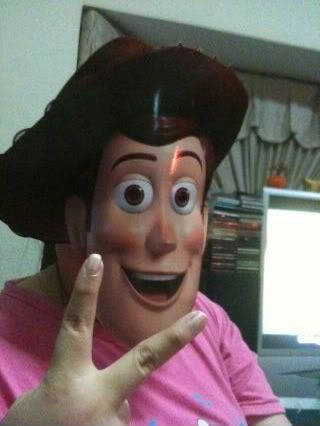 The person inside this pic asked me to ask people to GUESS WHO? =.=
Com'on, isn't it obvious meh? Kaoz.
Those who guess wrongly need to go and check their eyes.
******************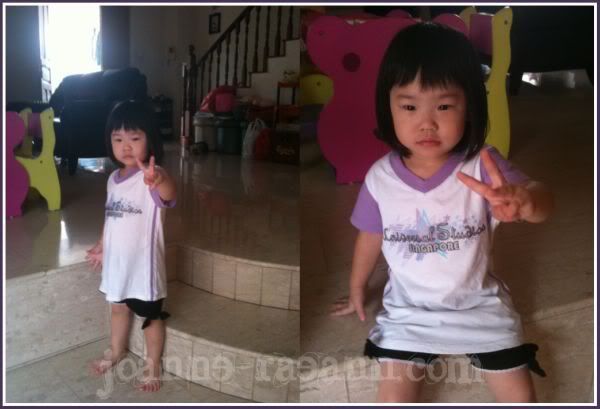 My lil' imp in USS tee! Bought it that time, 2 months ago? Today, she's wearing it for the first time only cos she has tooooooooooooooooo many clothes. I'm very lazy to pack!!
Oh god, give me more time. 24 hours a day is not enough for me!!