Overdued pics found on my iPhone, taken on Sean's & Tricia's wedding - 30th May 2010 @ Raffles Town Club.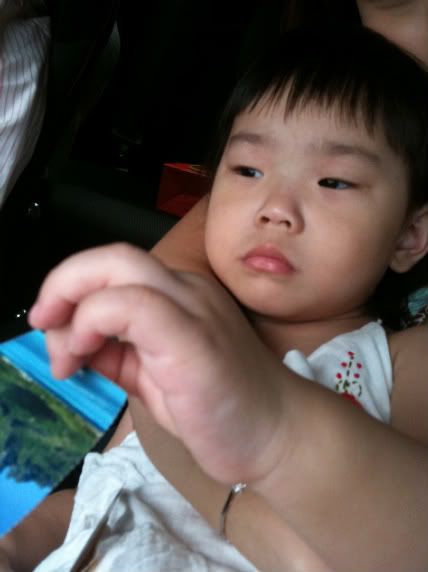 These were taken on the way home from there...
Raeann was damn grumpy cos she was angry with ZY for pressing the lift. =.=
And we ignored her! Let her niam for all she wants. She's very loh-soh, can niam for hours. Let her niam lor, we just pretend that we never see her.
Both father & daughter can really drive me crazy!
Look at my horrible eyebag! Not one layer, but TWO. Omfg! Is there any way to remove it? So ugly. :(
I felt so under-dressed to the wedding lunch. :(
Cos initially, Tricia told me to wear casually.
I bought 4 dresses for it!
1) Flora dress. After buying then realise it's too transparent & casual.
2) Black dress. 2 days after i bought then she told me, 'pls don't wear black'. Haha She's the bride, i gotta respect her. :)
3) Pink tube dress. Ordered and paid on Tuesday, told seller i need to receive it by Saturday. BUT i only receive it 2 days ago. =.= No choice, go shop for another one.
4) Flora dress again. And i wore this piece to the wedding...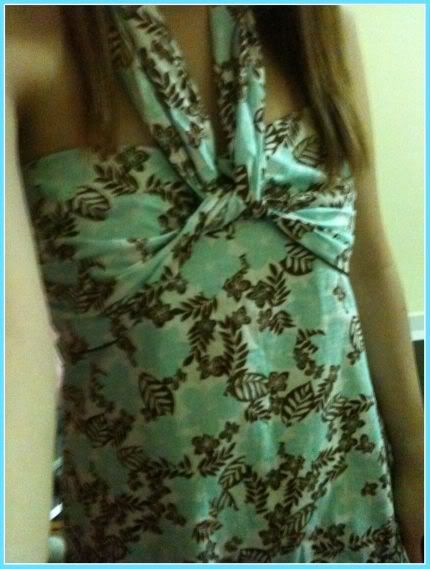 I made it TUBE style.
Can u imagine that? I actually wore a sundress to a wedding. What's wrong with me har?
Maybe i thought i was going to a beach party. =.=
Everyone were wearing so formal and pretty, except me. :(
Anyway, it's over liao. But i've got another wedding tonight!!!
One month ago, i've already prepared what i wanna wear for tonight. WHAHAHAHA
Kan chiong spider!
It's my primary school best friend okay!!
Abrupt ending again!!
I've a new 'friend' cum 'colleague' in the office; a piece of mirror. FML!
Nowadays si bei lazy, si bei nua to work!
Si bei ah soh!
Bank staff whom did not see me for quite sometime, "你好像变丰满了 hor?"
FML! FML! FML! :(
Edited 4:23pm : Melissa just sent me this pic. It's so utterly cute!
This Raeann ah, if she's not cranky or crazy, she's really damn cute & funny!
Nevertheless, i still love her so much...