My husband kept his promise, he had given me $825 (deposit of the solitaire) on Monday.
He's buying me the Lee Hwa Destinee at $1,828. Well, it's not very expensive as compared to others' proposal ring, but i'm contented, by his sincerity of keeping his promise.
The one i saw at Soo Kee was $3K+ so i decided to drop the idea.
But the thing is, i don't really fancy that Destinee Trilogy.
So, yesterday i went to view Cartier webby. And OMFG, Cartier has 71 pages of ring designs, 5 designs in a page, which means there are 355 designs. I see until my eyes very pain lor!
Picked out a few which i liked but can't decide whether i should get the traditional solitaire design (As below)? or what?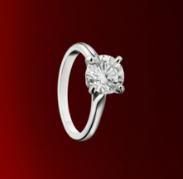 Anyone has any idea how much does a Cartier normal ring (w/o diamond) cost? As below:-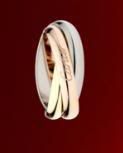 I liked this inter-locking ring. And there's another one with diamonds. As below:-

It looked very bulky, more for men.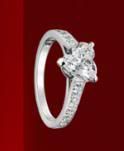 Simple & plain?

Of all the above, i think i'll settle for this piece if i'm really getting a Cartier.
P/S : Pardon for the different sizes pics. Cos i saved, cut & pasted it in a hurry yesterday.
But many told me Cartier is not worth the price. It's expensive becos of it's brand; branded.
How? How? How?
How great if i've 10 millions now! I don't have to even bother to search, just buy whatever i like for myself, Raeann, mum, ZY, siblings & bestie!
Okay, maybe in my dreams.
But seriously, God, when are u letting me strike a sibei chor 4d har? Let me know the date pls! So i'll buy or buy bigger on that day! Come to my dream & tell me... Instead of letting me have those weird & funny nightmare, ie: friend kena hacked to death lah, friend commiting suicide lah, i can fly lah, blah blah blah. I had enough!!
Everytime i dreamt of my friends died, i'll sms them the next day to make sure they're fine. Wah kao, it's not fun okay! Darren told me it's not good to dream of people died, what will happen to me har??
I'm worried.
About Raeann:
As of the month of May (around 12th), she's (@ 32 months old) totally pamper-free! No pamper even at night! Hooray! She will wake up to pee by herself. Take out her pants, open the toilet door, walk in and pee then come out and wear back her pants & go back to sleep again! Haha I don't have to wake up but usually i'll still wake up & watch on her, in case she fall down or what.
Now, i'm teaching her how to use toilet paper to clean after pee-ing. She always play with the toilet paper lah. That's why i've to clean for her after she pee else she'll finished up the whole roll of it! =.=
I still have 2 brand new packs of Mamy Poko XL size, think is 34 + 4 pieces at home!! Keep it? Or give away? LOL