Date : 9th July 2010, Friday
I was anticipating for this day so much... And ZY was so kan chiong, we reached there at 4pm, but the concert started at 8pm!!!!!!!!!!!!! We were 4 hours earlier... But we got a si bei good carpark lot!! LOL! And we heard F.I.R rehearsing when we reached!
Since we're so early, we went for shopping first before dinner.
At Recoil while ZY's trying clothes.
We tried to eat as long as we can cos we've too much time on hand. But after eating for 1 & half hour non-stop @ Mushroom Pot, my stomach's going to
explode
liao, really cannot take it anymore. And after dinner, it's only 7pm. =.=
Still early so i went to buy the tickets for "When Elmo Grows Up" at the Sistic counter lor. It cost me $200.25 after discount. Hope that Raeann will like it!! :)
Then ZY went to buy Elva's concert tickets as well! Elva's is his idol! LOL!
So, in Sept, we're going to attend 2 concerts, Elva's on the 4th and Elmo's on the 11th. We're insane. =.=
They were merchandising F.I.R items next to the entrance!

And i bought a lip balm in melon flavor handmade by Faye herself @ $15! LOL!
We were sitting at PB arena, roll 10, seat 1 & 2. It's in the middle & about 1-2 m away from the stage only. I can see them clearly, by right. BUT by left, there was one fatty who stood up, swaying a board left & right all the way. =.= He totally blocked my view! Damn 欠打!!!!!
And my camera, OMG, it was so 丢脸! I wanted to throw it away. People sit down & zoom, can see Faye's face very clearly liao. I walked in front, zoomed to the maximum, quality still like shit. FML! If you happened to be there & you see one mad woman in grey walking up and down, yeap, that's me lor! Haha
I took more than 100 pics + videos! Both camera & HP take until no battery! Hahaha But i decided to post only a few nice ones out! :) And sorry, this is the best that my camera can do! Sigh


First outfit.



2nd outfit.

I braced up my courage to be the first one to walk to the front to take this pic for Darren. Haha And after that, many people started to copy me & the front was so cramp! LOL!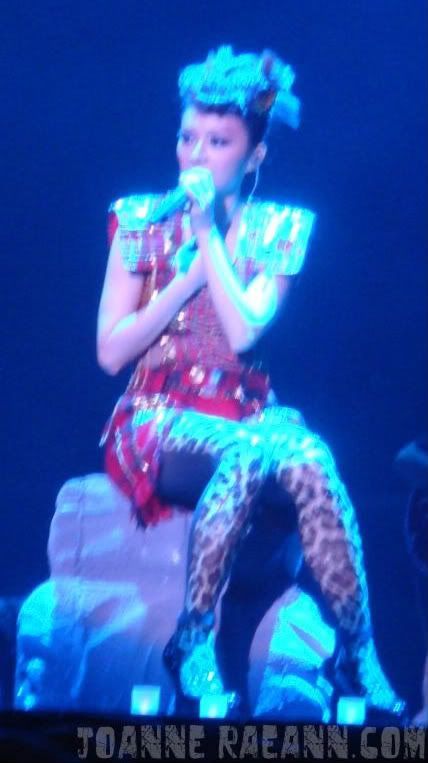 3rd outfit. Her leopard prints legging is so chio!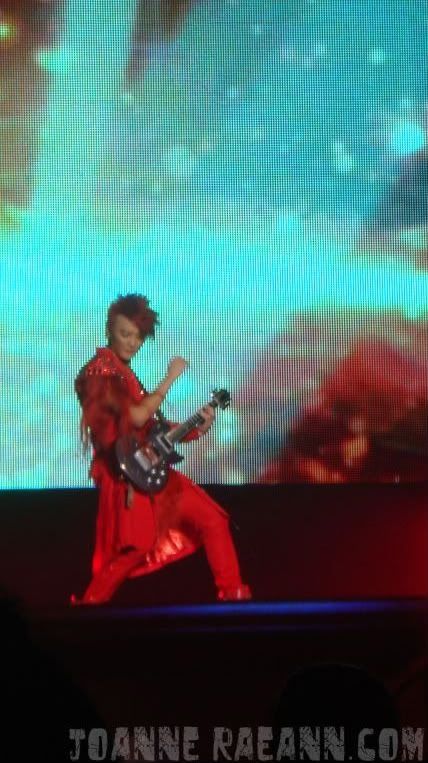 4th outfit.




Fifth and the final outfit.




Stefanie was the guest!




And it was her birthday, she was caught by surprise! Faye made a soap cake for her, all the way from Taiwan.
Faye's very petite and rock man! Her face's so small, and she's so cute! Very different from my impression of her. But this concert is so-so only. Cos they never sing my favourite songs!! And they sang those songs that i'm unfamiliar with. :(
Nevertheless, i still enjoy it very much. Thank you ah, Mr Ho. :) I'm anticipating the Elva's one now! Hee
It's bloody 3pm now. I took so long to complete this entry cos Raeann keep disturbing me!!