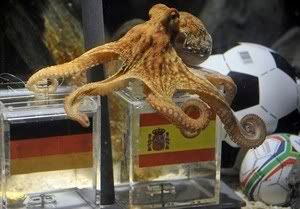 "Octopus Paul fixes the spanish box during his oracel for the semifinal match at the World Cup in South Africa between Germany and Spain in the SeaLife Aquarium in Oberhausen, Germany, Tuesday, July 6, 2010. Paul predicted all German matches during the World Cup 100 procent right. Octopus oracle Paul is predicting Germany will be defeated by Spain at the World Cup semifinal. Sea Life Aquarium's spokesman Daniel Fey said Tuesday that the famous mollusk from Oberhausen chose a mussel from a glass tank marked with a Spanish flag, while ignoring the tank marked with the German colors - indicating a Spanish victory in Wednesday's semifinal."
This is sooooo ironic!!!!!!!!
Although his prediction for this WC is 100% right but i hope he's wrong this time (again).
He predicted a WRONG one during Euro 2008, also a Germany vs Spain match.
He picked Germany, but Spain won.
So, maybe this time, he's afraid of the same result, and therefore, he picked Spain? Hahahah
No matter what, i'll still support Germany!
Let's see whether this tako is really so genius anot...
See this pic below for the cycle of the WC champions.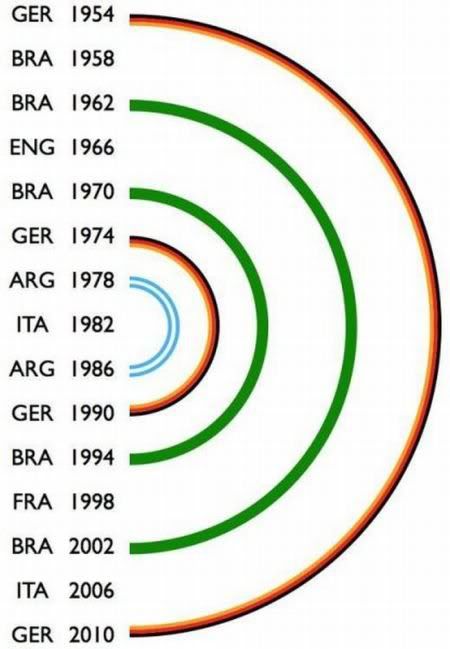 Germany will win lah!
HOPEFULLY!