Time really flies. My lil' girl's turning 3 next month!!! And being a kiasu mum, i've already ordered birthday cupcakes & cookies for her to celebrate in her school on 3rd Sept. LOL!
This year, i'm ordering the cakes & cookies from
Yummy Cuppies
. The owner is actually a friend of mine. :) The cupcakes & cookies are customized according to
my
Raeann's preferrence. (This is to prevent people from copying my idea again! =.=)
She's in love with Doraemon recently. Haha (Shit man, shouldn't waste my $ on the Elmo's concert! Haha)
And here's a sneak preview of how the cupcakes will look like...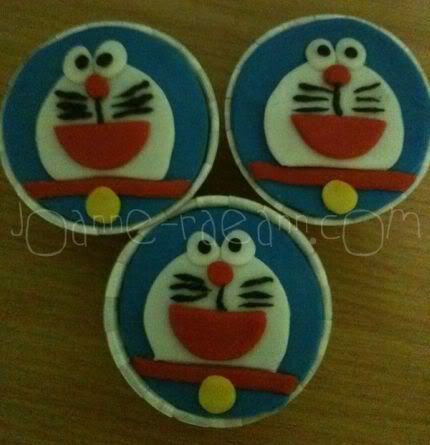 So cute hor? :)
The cookies will be customized with wordings 'Raeann is 3', with Hello Kitty and Thomas & Friends as shapes. And it will look roughly like that...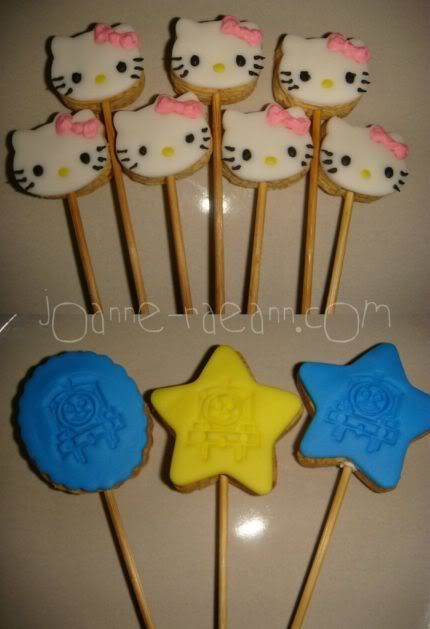 You know, i really give her 5 stars for her works and efforts. This is only the 2nd time i'm ordering from her but i trusted her so much till i let her decide for me what to do. LOL! I just roughly tell her what i want & she will do the followings. The end results is (always) totally what i wanted! Thanks alot SP! =)
Apart from these 2 items, i'm searching for something else like water bottle, lunch box or etc to give to the kids, as party favour.
I don't want to give them party packs which contains sweets, tidbits, chocolate & party toys etc cos i've already done so last year. It's kinda boring to do the same every year lor!
So, anyone who have contacts or webbies that sells the above, kindly let me know okay? Much appreciated! ♥
Kids nowadays are really fortunate!!!
My dad bought Raeann a new bicycle despite the fact that she doesn't know how to ride yet. =.=
These few days after bathing her in the morning, she will go downstairs to play with it!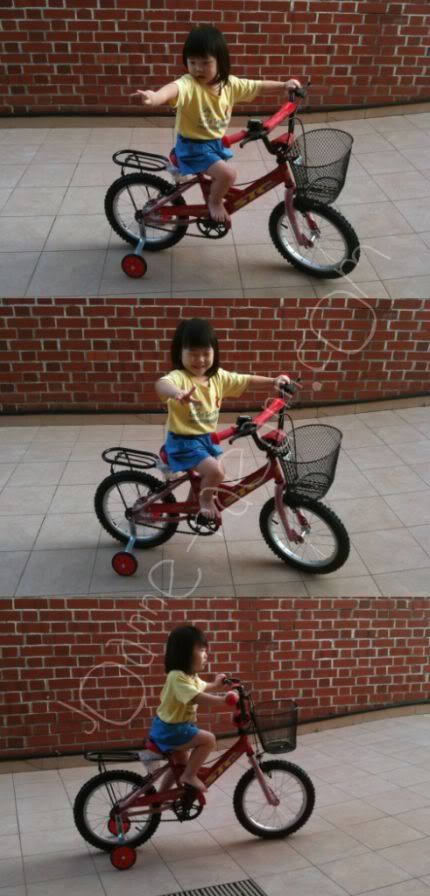 On the 3rd pic, she's trying to go up a mini slope (my house) & she keep telling me '不可以 leh' cos the bicyle will roll back when she stop. She doesn't know how to control it yet lah!
Frankly speaking, i really can't think of anything that she don't have leh! She has everything that a 3, 4 or 5 years old kid have. She even has a pinky scooter at my aunt's place but she doesn't know how to play at all! =.= My aunt says she keep falling down lor! And that scooter was bought by ZY long time ago, on her 2nd birthday? And it was left unopened & untouched at a corner of my house. I just brought it to my aunt's house 3 weeks ago. Would a 2 yrs old kid knows how to play scooter? I wonder...
The house is really packed with Raeann's toys lah! =.=
Alot of very expensive ones somemore & she doesn't know how to cherish! She's a real 'spoiler'. She spoils everything that go through her hands. Don't see her hands small small, it's actually very powerful!
P/S : Oh, there's one thing Raeann doesn't have & i doubt she'll likes it too - Barbie Doll! LOL! She doesn't like any girls' stuffs. Told you she's not a girl liao...
Please, i hope people will STOP buying any toys for her again. 她真的有很多了!
♥♥♥♥♥♥

Raeann's pic is up on The Sample Store's FB already!! Hehe
Appreciate if you all can vote for her
here
!!! ♥♥♥