In the office praying for lunar 7th month now.
FML! I'm so sleepy! Reasons being was cos...
1) Both me and Raeann squeezed on one tiny mattress on the floor these 2 days, didn't sleep well.
2) Raeann woke up several times last night!
1st time (2+ am) : I was hiding my whole self inside the blanket cos it was damn cold. She woke up & searched for me cos she didn't see me. LOL!
2nd time (3+ am) : Woke up to pee.
3rd time (5+ am) : Woke me up & said she wanted to eat
sweets
. -___-"
4th time (6+ am) : Woke up & asked for milk.
Sigh. For these whole week, she woke up at 6 + am everyday lor! Cos she slept around 9pm every night!
So tired. And my temper's so bad today!! Raeann just keep making me angry!
P/S : I'm just done with vaccuming my office floor cos it's very x 100 dirty!! I wonder why people love to mess it? I had a hard time vaccuming leh!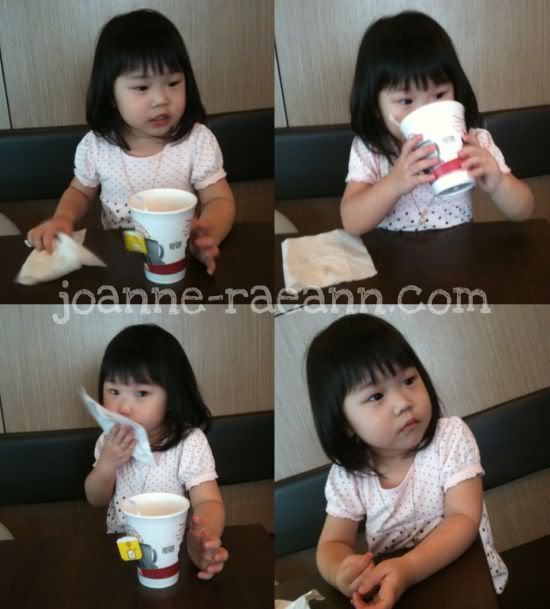 Brought her for Mc' breakfast before coming here!! =D
YAY!! Finished praying le!!
I can go home soon!!
How i wish my bed's here with me right now...