Let me intro you one oh-so-interesting invention!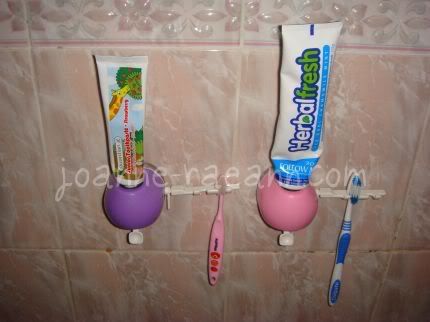 Our new

Toothpaste Dispenser

! For the lazy people, like me! Haha
It works like this...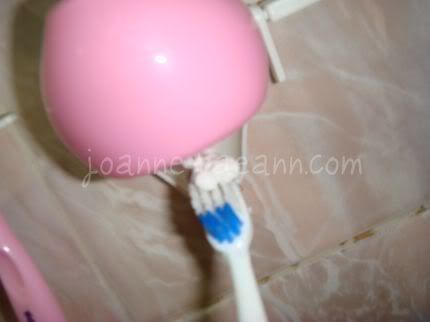 P/S : Sorry for this blur pic cos my hand was shaking lah!!
You just have to push your toothbrush against the pump & the toothpaste will come out. And it will come out an appropriate amount just enough for your usage (per pump). Furthermore, it'll squeeze till the last last bit without any hassle or energy wasted. No more wastage! YAY!
According to the person, it's much more hygenic too!! Cos when you left your toothpaste in a cup or just lying on your basin, there will be black algae after sometime cos it gets contact with water. For this, the toothpaste is locked tightly within the hole.
I feel this is great for a big household that's sharing toothpaste among many people! (If you get what i mean... It's more hygenic lah!)
Did i mention before that Raeann's favourite color is GREEN?? It's my most hated color anyway. I don't like green, especially army green. I feel that wearing green clothes will look either like a tree or leaf. HAHA! (But i'm totally fine with turquoise lah!) This is my own opinion lah, no offence to anyone out there!
Anyway, initially Raeann choose a green color de but it was faulty & there's no more green (heng ah!) so we changed it to the purple one instead. :)
She's so excited that she keep saying she wanna brush teeth! =.= And she eng eng go brush her teeth cos i placed it within her reach! (Aiya, she'll get sian after sometime lah!) Haha
Although these 2 days, i spent almost $300 (food & whatever) at JP but the things i bought made me happy & satisfied! =)

♥♥♥♥♥♥
Oh, BTW hor, why do most people think that working for parents (me) is highly paid? WHY HAR???
You know, when i first started working here (6-7 yrs ago), my salary was only $1k or $1.2k before CPF (can't remember). And that time i already have a lao pok car (Nissan March) to support leh! But the instalment was only $250 per month lah!! WTF man, it's less than half the amount of my current ride!
So imagine $1k - CPF, i was left with only $800. Then after paying for my car, i was left with only $550. But that time i was single, so that pathetic amount was enough for me and i still managed to save abit every month lor!
FYI, i worked like a cow last time, doing everything including all the men's job too. Delivery, purchasing, admin work & etc. I was seldom in the office (shaking legs) cos was always asked to go out lor. But time passed very fast so it's okay. Now, my brother's here. I'm always in the office cos he's doing all the delivery & purchasing jobs. I only do my admin work lor. It's so freaking
bored
, i don't like it! :(
After 2-3 yrs, my salary was increased to $1.5k before CPF! Omg, i was so happy then. LOL! But it's becos i got a new car (current ride), and the instalment is $595 per month. =.=
$1.5k - CPF = $1.2k - $595 = $605 left.
Not alot but enough for me cos i was still single. :)
Whatever after that shall not be mention here. But looking at the increment rate, how 'high' do you think my salary is har? It's not as much as what others expect lor!
For all these years, i've never ask for pay increment or complain that my salary's too low before. Cos i think that family shouldn't be so 'gei gao' (calculative). What i have today, i owe it to my parents. They brought me up for 26 years, give me a
never-have-to-think-of-tomorrow
life, i'm really grateful to them. Yes, $ is important, but not as important as family ties, i feel.
My current salary is enough for me (as long as i control & don't over-spend every month lah, haha) cos i need not pay for Raeann's stuffs anymore except for clothings & doc's fee (most of the time, i pay for all these). Ever since the last fight, i
requested
ZY to pay for Raeann's everything (milk powder, nanny's & school fees). Seriously, i don't think i'm wrong in doing that cos it's his DUTY to do so. He must be glad that he don't have to support me too. Am i right?
他出钱, 我出力!
Since he doesn't really like to help out in looking after Raeann, he should pay mah, while i take proper care of Raeann lor! It's FAIR! I can't complain that he doesn't help & he can't complain that i never contribute any money.
So, the morale of this story is, I DON'T EARN ALOT LAH!! I'm earning the amount just enough for me to use (without clubbing). My family's not rich, we're just
well-to-do
. That's alot of differences!!