The
oh-so-funny
Raeann's at it again!!
Raeann : 你可以带我去游泳吗?
Me : 可是你怕 leh!
Raeann : 我不怕了! 我会游泳了!
Me : OK LOR!
Raeann : 不要叫 papa 去!
Me : 为什么?
Raeann :
因为他不会游泳, 他去做什么?
HAHAHAHAHAHAHAHAHAHAHAH
Hanor, ZY doesn't know how to swim! LOL! But in fact, my swimming skill also 半桶水 only lah! I can swim BUT only short distance lor. I don't know how to control my breathing for long distance leh. I learnt swimming when i was young but cos of some sudden disease break-out (that time), i've to stop all my swimming lessons. :(
Aiya, anyway, no big deal also!
♥♥♥♥♥♥
Somehow, i being to fall in love with Watsons now! I think i can spend an hour or more there (without Raeann) just looking at all their products. Now they have all sorts of cosmetics from Japan. It's so alluring, tempting me to buy everything!

Bought these 2 at Watsons last night!! Maybelline gel liner & Canmake highlighter. It's my first time buying a gel liner cos i don't know how to use at all! I bought it cos it was on promotion at only
$14.90
!!! It's consider very cheap for a gel liner. And i'm so happy i bought it cos at first i can't decide to get this or my usual eyeliner.
After asking friends on FB, i roughly get the idea on how to use it. So i tried it this morning! Oh my goodness, i didn't know it's that easy to use. It's so much easier than liquid eyeliner!! I really love it! I swear i'm gonna ditch all liquid & pencil eyeliner for a gel one in future!
As written on the box, it's
long-lasting, water-proof & smurge-proof formula that resist sweat, tears & water
!
Wah kao, these are all i'm looking for lor!! But i'm wondering, will it be hard to remove as well??
Anyway, i think it's very good!! And it's so cheap now! Hey girls, faster go get it before the promotion ends! :)
The Canmake highlighter's also having promotion now @ $12.90! I've also tried it & it's very very natural leh! Worth buying!!!
Tonight i'm going to take a walk at Watsons again, haha. Cos i bought the toothpaste dispenser at the booth outside Guardian but it's faulty. So i'm going to JP
again
to change it lor! So troublesome & i'm sure i'll spend $ again! Sigh
I really cannot step outta house leh. Once i step out, i'll spend & spend & spend, even if it's only a trip to the market!!! -__-" FML!
Oh, to correct the above sentence, i cannot be awake wan leh! Cos even if i don't go out, i'll do online shopping at home. Whahahahahahah! The only time when i don't spend $ is when i'm sleeping. LOL!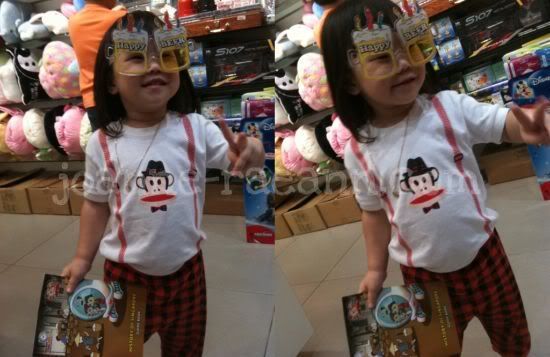 This girl yesterday took my phone & called Patsy (Taxi) yiyi to chat!! Haha
P/S : Uh-oh! Looks like someone's getting on the nerves of everybody! Please lah! Have your own sense of style, way of talking & ideas can anot???