Sponsored Review
(TSS)
Thanks to The Sample Store, i got new products to try out again!! :)
And this time round...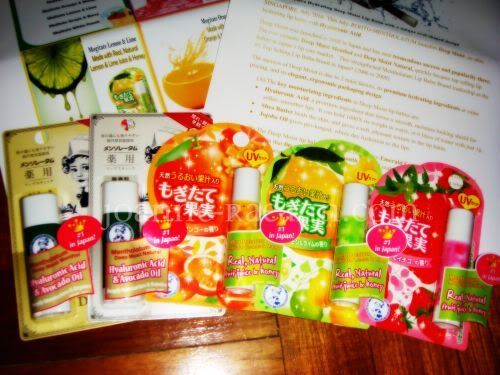 Mentholatum Lipbalms!!!
P/S : Mentholatum is #1 Bestselling Lipbalm Brand in Japan
Actually hor, i was quite taken aback when they sent me 5 lipbalms at once. Cos initially, i thought there's only 1 or 2. I mean, it's easier to do review for 1 or 2 flavours mah. I've been brain-storming over the weekend on how to do this advertorial lor!
Apart from the review i've to write, i need to take retarded pictures of myself too. =.= (Will go into this later!)
Alright, let's start with the Mentholatum Mogitate Kajitsu first.
Mind you, it's made of Real, Natural Fruit Juice & Honey.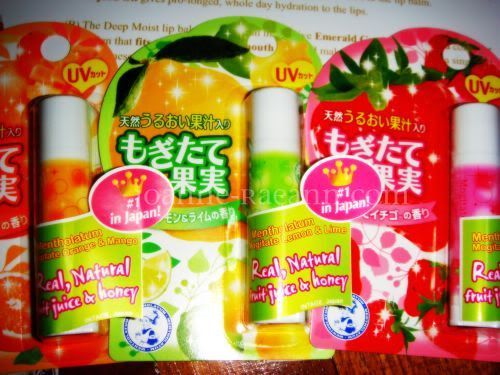 It smell really nice & juicy!!!!

And my dry lip became like that, right after applying it.
Raeann saw me trying & she wanted to try too. I applied on her and she said, "有 sweet sweet 的味道 hor, 很香 hor!".
Even a barely 3 years old kid said this, so i'm really not kidding you.
My favourite of all is Mogitate Lemon & Lime. :)
"Mogitate" means "Fresh" and "Kajisu" means "Fruits" in Japanese. The "Juicy" lipbalm is bursting with Natural Fruity Goodness and Honey. It comes in five different fruit mixes for you to take your pick :



Strawberry, Grape & Berry, Orange & Mango, White Peach and Lemon & Lime.

Mogitate Kajitsu is made with Fresh Fruit Juice which contains essential minerals and vitamins that are beneficial to the lips and body. It also contains Honey, which heals and renews the lips. With Mentholatum Mogitate Kajitsu lip balms, now you can get Real, Natural Fruity Goodness to nourish your lips and make it soft, supple and oh-so-kissable!

It also contains other moisturizing boosters such as Squalane, Grape Seed Oil, Vitamins A and E. Squalane is easily absorbed, and is similar to the natural oil on our skin. It is extracted from plants and is a highly prized Japanese supplement. Squalane helps to reduce the wrinkles caused by aging and sun damage. Grape Seed Oil helps to repair skin. Vitamins A & E are antioxidants that retard lip aging, and give lips a healthy shine.
The Mentholatum Mogitate Kajitsu lipbalms retail at $5.90 each exclusively at all Watsons Stores.
♥♥♥♥♥♥

Next up, is Mentholatum Deep Moist.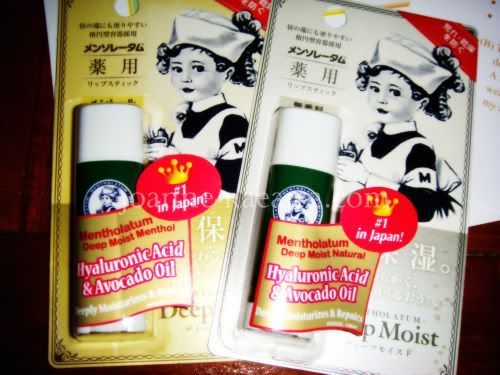 I'm falling in love with it...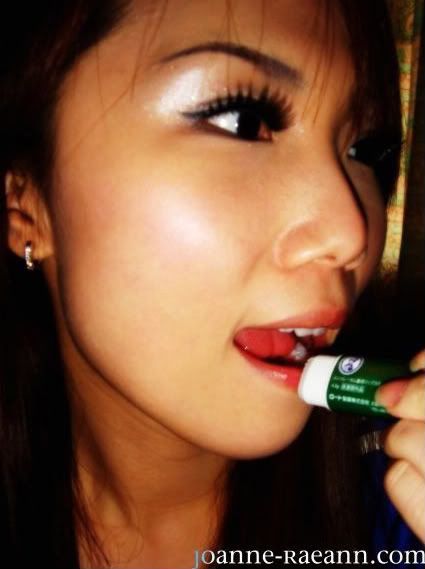 That i apply it everyday!!
I'm using the one with Menthol, it's 冰冰凉凉 when you first apply on your lip, very refreshing! But the most important is, it really cure my dry & crack lip instantly!!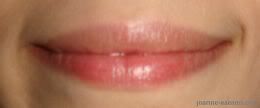 This was taken right after i applied it on my bare lip.
And for the whole day, my lip's not dry & doesn't crack! I only applied once a day lor! I'm sucha lazy lass! =X
If you doesn't like Deep Moist Menthol, they have the Deep Moist Natural for those who prefer it fragrance free. :)
Deep Moist was launched in 2008 in Japan and has seen tremendous success and popularity there. The two variants, Deep Moist Menthol and Deep Moist Natural, quickly became top selling lip balms in Japan's lip care market.

The success of Deep Moist is due to 2 main factors, its premium hydrating ingredients at value pricing, and its elegant, ergonomic packaging design.


(A) The key moisturizing ingredients in Deep Moist lip balms are :

1) Hyaluronic Acid, a premium ingredient that forms a smooth, moisture locking shield for softer, smoother lips. It can hold 1000X its weight in water, or 6 litres of water with just 1g.

2) Shea Butter heals the skin, and gives a soft, pleasant texture to the lip balm.

3) Jojoba Oil gives pro-longed, whole day hydration to the lips.

(B) The Deep Moist lip balm comes in an innovation Emerald Green, oval-shaped container design that fits the corner of the mouth well and makes it easy to apply with a single swipe. A Japanese consumer commented, "This oval-shaped design fits the corner of my mouth so well that the Deep Moist lip balm can be applied easily without affecting the foundation near my mouth."
The Mentholatum Deep Moist lipbalms retail at $7.90 each exclusively at all Watsons Stores.
*According to INTAGE Inc. Japan, Rohto-Mentholatum Lipcare has the number 1 sales in the Lip Care segment in Japan from 2006-2009.
Get yours today!!
Try the Mogitate Kiajitsu & Deep Moist lipbalms too & share your experience story to stand to win attractive prizes! Available at any Watsons outlets near you!

What you need to do is to purchase the lipbalm, try it and post your experience onto The Sample Store's facebook wall. 3 winners will be selected.

Contest period: 16 August 2010 - 17 October 2010
♥♥♥♥♥♥
Oh, that's not all! I've to take a creative picture of myself with the lipbalm (need to submit to them de!) to end this ad.
After taking numerous pictures, then i realise, I DON'T HAVE SUCH TALENT LOR! =.=
No matter how many poses/expressions i changed, i think i still look retarded in all the pictures. Sigh
Since all are so retarded, i don't know how to choose. Can help me choose the best (not-so-retard) one please???
#1 (below) : Retard level = 50%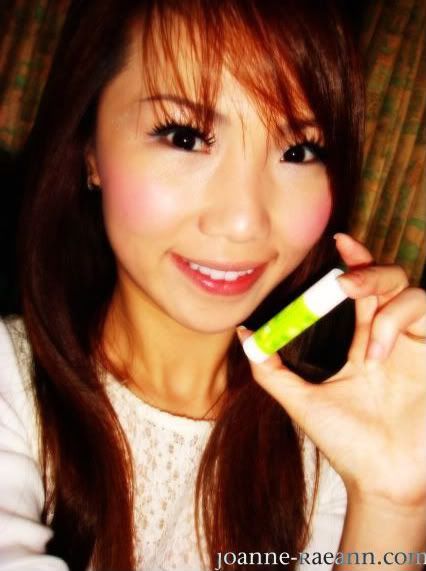 #2 (below) : Retard level = 100%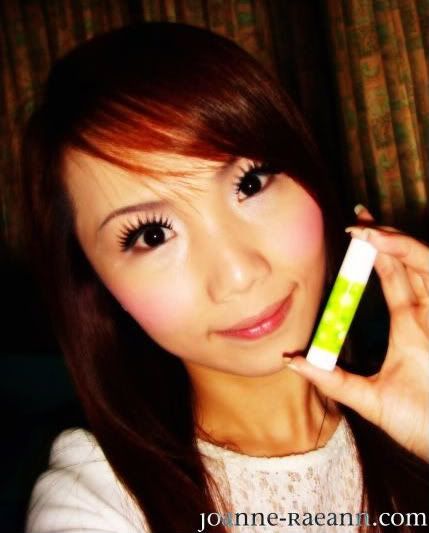 #3 (below) : Retard level = 75%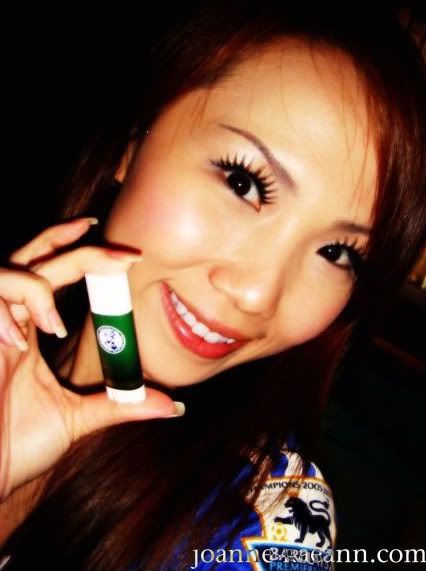 Seriously, i think it's very difficult to choose cos all really cannot make it!
So hor, i wonder hor, can i submit Raeann's pics instead???
She did it better than me leh!!!!!!!!! See for yourself!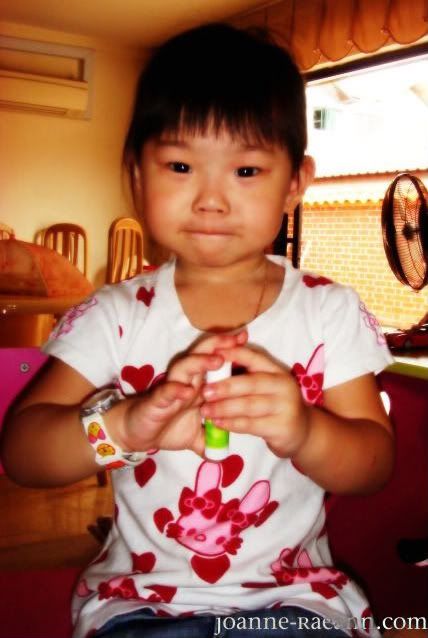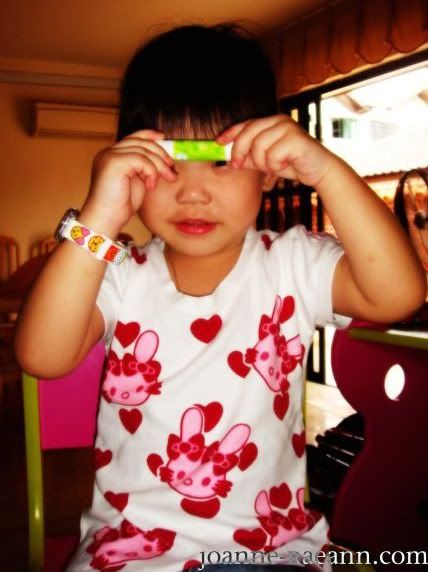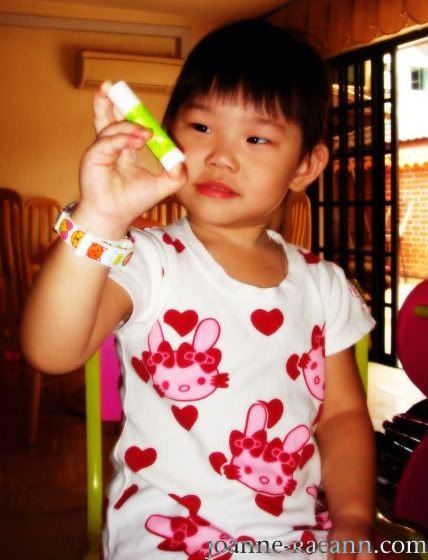 She's imitating me to use 2 fingers to hold the lipbalm. LOL!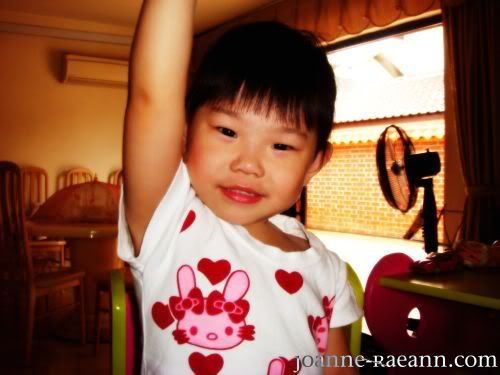 YAY!!!