Last year, i mentioned in my blog that my dog; Bubble was being raped, right? (Read
here
!)
2 days ago, on 10th August 2010, the first day of lunar 7th month,
Bubble gave birth to a little puppy
!!
Unfortunately, the puppy was dead when Mary found it. :(
FOL okay? Cos we don't even know Bubble was pregnant! TMD!
Honestly speaking, Bubble was being neglected ever since Raeann was born. I stopped touching her cos i need to attend to Raeann 24/7. She used to be a princess in our family. But now, Raeann took over her place liao. And prolly this is the reason why she became so wild?
Anyway, according to SS, dog's pregnancy period is about 63 days. And if so, means
Bubble was raped for a 2nd time without our knowledge
! =,= Stupid Bubble, so gian song for what?!
And the 'husband' of Bubble seems to disappear liao! I think i didn't saw him for quite long already. I went to search for him yesterday but to no avail. But Mary said he did come and visit Bubble this morning.
Poor Bubble! She has been searching for her baby & i think she cried yesterday cos her baby wasn't around. :(
And you know, the puppy looks exactly like it's lao pei lor! Yes, i saw it! I even took pics of it! =,=
I was driving that day when my mum called me. She said Bubble gave birth & asked me to faster go home and see. I was already at my gate when she hung up lah!
When i stepped into the house, Mary said my mum asked me to go and take photos before she can proceed to bury it. I was like... OMG! Why me?!
You know, since young, i really dread seeing such things. Cos i'll get very emo... During primary school days, when my hamster died, i cried like nobody business. LOL! And in fact, i used to be very very very afraid of dogs until Bubble came. Cos i've seen a stray dog bitten off an elderly's finger before (when i was still very young) & since then, i've phobia of getting near to dogs. Till now, i'm still very scare of huge or stray dogs.
But well, i guess i'm getting stronger as i grow older. I didn't cry, only feel very uneasy. Bobo thought i was lying to her until i showed her the pics i took & she went eeeeeeeeeeeeee at first! But after that asked me why i took at such ugly angle!
Wah lau eh! I was so scare lor. Then expect me to turn the dead puppy here and there just to take nice photos? I don't even dare to go near it, let alone touching it. =,= I zoomed my camera from far far!!
Interested to see???
.
.
.
.
.
.

Be prepared...
.
.
.
.
.
.
.
.
Ready?
.
.
.
.
.
.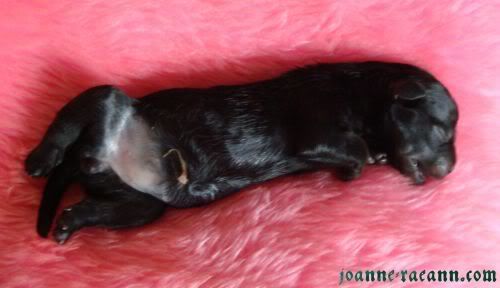 Poor puppy! We also don't know why it died! :(
And yes, Blackie looks somehow like that lor! So fucking black, like a piece of charcoal. Love is blind! =X
Showed Raeann this pic last night. She said, "为什么 Bubble 的 baby 跟 Blackie 一样黑黑的?". She didn't know Blackie was the father mah!