Yesterday night, i was at Singapore Poly to support my sis! She went into Final of SB Spotlight (School of Business). Although she did not get first, i'm still very proud of her lah! Cos she has the courage to sing in front of so many people! OMG! If it's me, i think i'll be shivering on the stage, forgetting all the lyrics liao. Yes, i've very very serious stage fright! She may have sang out of tune but she remembered all the lyrics! Thumbs up for that!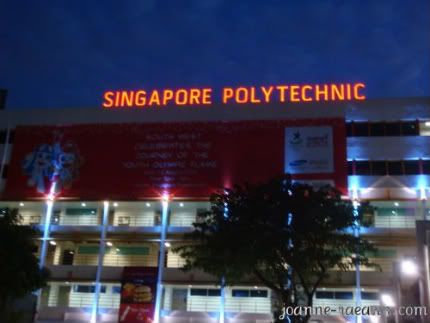 And this Raeann, OMG, she ah, keep disturbing those poly students and they are also playing with her, entertaining her there! Those guys kept commenting that she's so cute!! Cos she keep imitating them. They kiao kah, she also kiao kah. They cross leg, she also cross leg. They cheer, she also cheer. Aiyo!
And she's damn funny. The guy whom keep playing with her has long hair. And she actually thought is a girl! This morning, i asked her if she's happy playing with kor kor yesterday? She replied, "那个是姐姐来的"! Hahaha
P/S (6/8/10) : I told her is kor kor and she asked me, "为什么他的头发跟我一样? 长长的." LOL!
Of cos, there's nothing free in this world. We need to get a ticket to go in, like a concert u know? And the ticket costs
$1
per pax! Wahahahahaha SO CHEAP MAN! Got goodie bag & lucky draw somemore lor! So cute!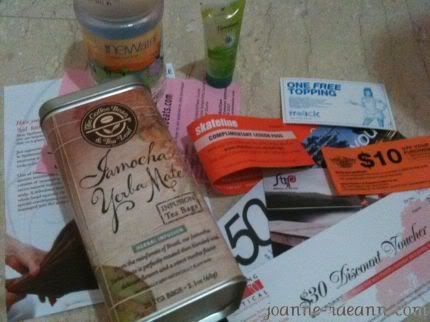 Stuffs inside the goodie bag! Not bad hor? $1 can get soooo many things. Haha
Those poly students are really damn spontaneous!! Seems very fun to me. I didn't go into Poly cos i always think it's a waste of time. 3 years to get a diploma whereas private school only takes 1-2 years. I can do alot of things within 3 years period leh! And i did! :) So, i don't regret giving up poly life actually. (My O levels results was not bad de lor i can definately get into poly that time but i really hate studying!) But now, i feel like studying again. =,= 人就是这样奇怪的!



Watch this video! Haha (Pause the music first!)

Raeann wants to imitate her Bobo yiyi, sing and say 谢谢. Whahahahaha
She's really very funny lah. My supplier from Japan came last week for holiday. My parents brought her along for dinner with them on Sunday. She can get along well with those japanese kids, speak japanese with them somemore! Only a few words lah! And she cried when they left, haha. She said she wants to go Japan & find them. Soon, soon. My mummy said, should be this coming Nov!! I hope nothing crop up! *pray* ZY also wants to go! Honestly, i can't wait!!!