Warning : Very long entry & mak mak (alot in Thai) pictures!
Aiya, i'm so so so ugly & fat but i don't know why i just love to take pictures!! FML man.
This is the flora dress i wore yesterday. And today, i'm also wearing flora dress but black & white de! Heehee (Yes, that's how much i love flora now!)
The dress i'm wearing now, XS has exactly the same piece too!!! And i'm the one who intro-ed her the webby & also the one who purchased it for her! Come to think of it, we have quite a number of same clothings & shoes lor! Wondering why i didn't say she imitate me right? Hmm... Cos she did not mah? We discussed & agreed to buy it together mah. Cos we're as close as sisters, so our taste are somehow similar! :) So, she's not imitating me lor!
You know, just like branded goods lor! There are so many imitations out there! Obviously those imitation companies won't inform the original company that they will be imitating their goods before they imitate right? And that's why they are termed as 'imitation'.
♥♥♥♥♥♥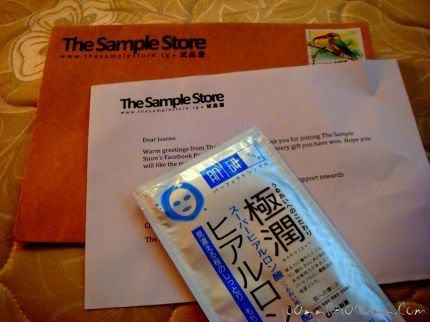 Once again, thanks to The Sample Store for the mystery gift sent to me! =) Going to try it tonight!!
People, do 'like' their facebook page if you wish to enjoy freebies like me!! =D

♥♥♥♥♥♥




Water tumblers for the kids on Raeann's birthday!! =D

♥♥♥♥♥♥
The dinner!!!!!!!!!!!
We settled our dinner at New York New York cos everywhere else need to queue! And yes, I HATE TO QUEUE!! Unless i've to do something important (eg. bank; work), otherwise you will never ever see me standing in a queue for any other redundant stuffs!
But no regrets cos NYNY's food are really delicious & filling (portion really big). And it's very reasonable priced!! I became their member yesterday cos they asked me to sign up lor, so i sign lor! (As usual, i'm easily physco-ed!) Hahaha
Lil' Ashlyn's really so damn adorable!! She's getting friendlier too!! She allowed me to hold her hand and walk!! So cute!
Cos Ashlyn used to be very scare of strangers, even me!! In the past, she will clinged onto her maid, parents or grandma only. So, can you imagine how excited i was? Haha
I'm missing that stage of Raeann!!!
Okay, i don't want to loh-soh liao!! Pictures time!!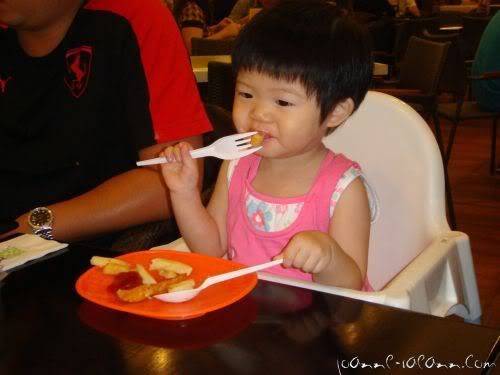 Our hubbys♥ do play a part in looking after them. Thus, the dinner was really enjoyable!! And look at Ashlyn's mouth!! Haha, she was eating ketchup! So cute hor?




Free candy floss after meal.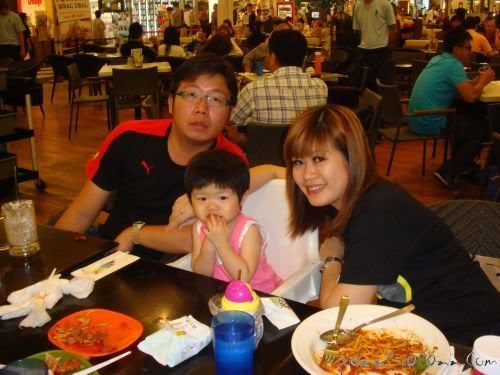 I'm really very happy & proud of my bff!! Now, she's learning very hard to be a good mummy. She's coping & handling it well!! So happy for them!!




It's been quite some time since we took a pic together!! I asked the waiter to take it for us cos i really don't trust our hubbys♥'s skill!

After he took, i asked him if it's ok anot. He said, "很漂亮"!. Wahahahahaha




Ashlyn wanted to take the sweet!! Last time Raeann also like that lor!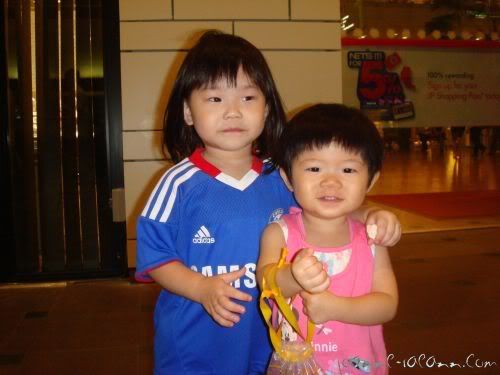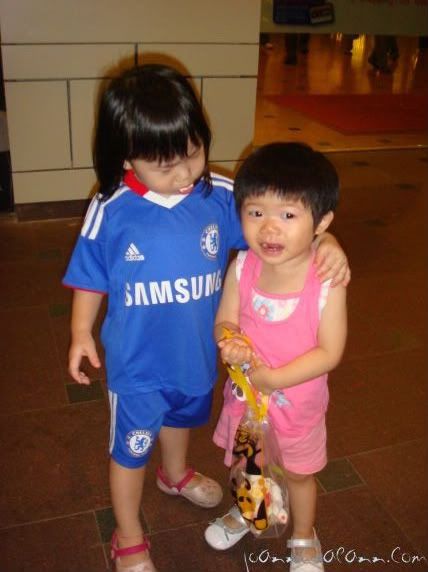 The above 2 pics were taken when they were smoking while i take care of the 2 kiddos.

Yes, i'm still smoking but I DON'T SMOKE AT RAEANN'S PRESENCE! (Quick! Praise me for being a good mummy afterall! Hahaha)

I'm not perfect, i know. But i've done my best to be a good mum! Setting good example & spending all my time with her. And that's why i extremely HATE it when people only use their bird brain to think & said that i never look after my daughter. As if they really know that much...

♥♥♥♥♥♥
My Marriage
Okay, i'll disclose abit about my marriage now.
Both me & ZY are trying very hard, doing our part to make this marriage work out. It's all for the sake of our precious child, Raeann. Cos we both loved her too much!
Just when we were about to sign our divorce deed, something cropped up & he went overseas for about a month. (Maybe it's god will?)
And becos he was overseas & he misses Raeann so much but couldn't go and visit her or bring her home on the weekend, he called me very often to look for Raeann.
That's when we started to talk nicely to each other. Then one day, he smsed me, said that he doesn't want to divorce & he promised that he will work hard & buy a house for me and Raeann.
During that time, i was quite confused also, i don't know what to do. So i just leave it to fate & let nature takes it's course lor.
After he's back, we just naturally got back together. Of cos at first will feel very weird & uneasy lah! But then, slowly adapt lor!
Till now, we're still doing very well in maintaining it! Partly maybe becos we're not staying together yet. I don't know what will happen in future when we've our own house but i don't wish to think so much now. Just take it when it comes!
As i said lor, everybody's growing up everyday. After all the hiccups in my marriage & life, i've learnt to take things easy now. I've also learnt to be more independent!!
And so... yah... that's about all!!
Marriage really needs alot of effort & patience to work it out! And of cos, a lil' luck!
Sometimes, it's not that you're not good. Just that your husband's not understanding & tolerance enough. It's your fate & you just gotta accept it!
Don't 'laugh' at other's misfortune when you happened to meet a good & understanding husband who can tolerate you. Cos you won't know what will happen in future. Are you that sure it won't fall on you one day? You know, got karma de!
I hope all my genuine friends & readers will have a happy & blissful marriage!!! =D
♥♥♥♥♥♥




HAHAHA! So random! My eye!! Bloodshot & tired eye!!

Seriously, i don't like my eyes!! I find them too small!! I want to go surgery!!! But i got no guts!!! =(