Last Saturday, we attended Baby Jayann's baby shower. Brought Raeann there straight after her music class & breakfast!
P/S : Baby Jayann is Mummy Lydia's 2nd bundle of joy! And in case you all are wondering how Jayann's name is being pronounce, it's Jay-ann. :) I like names that are linked between siblings!!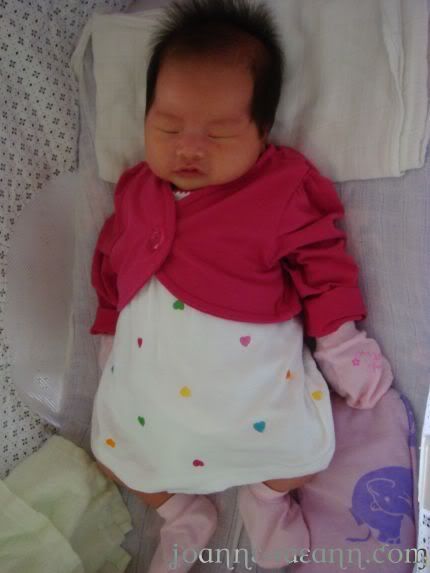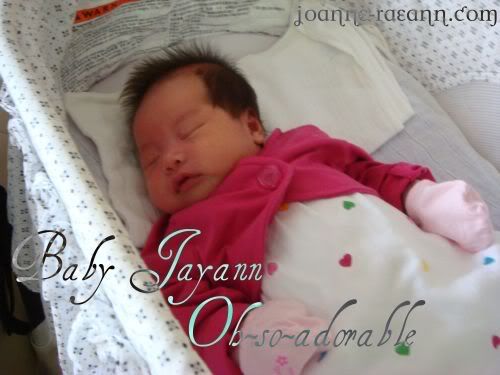 Isn't she oh-so-adorable?? Look at her hair!!
Frankly speaking, whenever i see new born babies, i've the urge to give Raeann a lil' sister. But whenever i think of the procedures & commitments, i u-turn back!!
I seriously don't mind to have no. 2 (or even 3 or 4, haha) IF after giving birth, someone will look after for me day & night while i can have good sleep every night & i still can go out to meet my friends for dinner & etc.
Just imagine one Raeann has taken up most of my time already, if i've no. 2, i doubt i'll have any time for myself even with 48 hours a day.
To me, 1 or 2 or 3 or 4 kids doesn't make any differences as long as one is fillial. What's the point of having 4 kids but 1 or 2 of them always give you nothing but headache & heartache??
I rather have 1 fillial one than 4 who will fight over my assets in future. LOL! I must have watch too many TV series already. I don't have much assets to fight for wor. HAHAHA
Anyway, it's still a NO-NO right now for no. 2 no matter how many people tried to wash my brain.
Alright, back to Lydia's.


Raeann really like babies alot!! She wants to take pic with Jayann. :)

And err.. No! This is not Lydia. I think she's Lydia's colleague. She's carrying Jayann at that point of time so i got her into this pic lor. Don't know if she mind that i posted it here or not! =X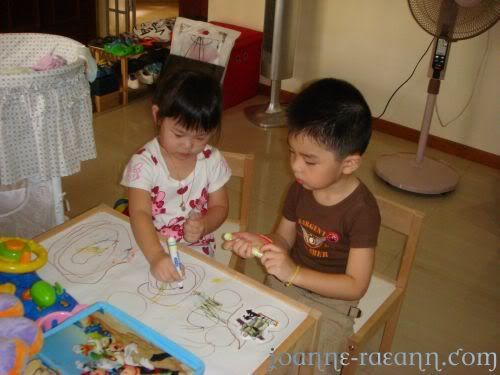 Apparently, Jayden's one month younger than Raeann. But he's so much taller & thus Raeann mistaken him as 'kor kor'. Don't say her, i also keep saying wrongly. Haha! Jayden got the big kor kor pattern. And he's really quiet & shy! Raeann's sucha noisy & talkative girl. Opps!
Ok, there's one (and only) pic of me & Lydia but i'm not posting it here. I haven ask her for permission yet! Must let her QC first! Haha
Once again, congratulation to Lydia & her hb!! May joy and laughter be with their family always. *hugs*
♥♥♥♥♥♥
Raeann's really
oh-so-funny
sometimes & i really BTH her. She really bring alot of laughter to my
oh-so-boring
life!!
These 2 days, she keep wanting to bathe together with me in the morning. And yesterday morning while bathing halfway, she suddenly hugged me & said, "Mummy, 我很 love 你 leh".
Then this morning, she hugged me suddenly again & said, "Mummy, 我很爱你 leh. 你知道 love 是爱吗?"
LOL! She wants to teach me chinese sia.
Last night her daddy called. I told him that Raeann said she 很 love 我. He's jealous! Haha Then he asked Raeann if she loves him too?
Raeann : NO
ZY : You don't love me then next time i don't buy jersey for you liao.
Raeann : Mummy 跟 papa 拿钱买给我咯! (What a good & unexpected answer from her!)
WAHAHAHAHAHA
There was once ZY let her play with his wallet. Then she took out all his notes (put inside my bag) & left only one $2 note for him! She said $2 is enough for her papa liao. LOL!
Everytime when i say i got no $, she will say, "我去跟 papa 拿给你 ok?"
Really 没有白疼她! Haha
Oh yah! She's so BHB recently. She has been constantly telling everybody that Ethan (the boy whom my aunt's also looking after) is her DEAR! And she always call him DEAR so naturally! =.=
Then she went to teach Ethan... "你是老公, 我是老婆!".
Wah lau eh! 2 years+ got boyfriend liao.
She can come and tell me this,
Raeann : Mummy, 你是老婆 hor.
Me : Then 谁是我的老公?
Raeann : ZUYAO lor!
Super cheeky sia!
That day hor, ZY's sleeping & she called him, "OEI ZUYAO, 起来了!".
ZY got a shock & woke up immediately! Wahahahahahahah
Serve him right for spoiling her so much!!!!
When she's out with me only, she behaves herself very well de! But when ZY's around, her legs will be spoil (cos she always want him to carry) & her crying veins will be activated. =.= And i'll be damn damn damn pekchek! Sigh
OK, till then. I need to work le!!